Residents strive to get work done at DC's office
Amritsar, October 15
With the top administrative officials engaged in preparations for the upcoming foundation laying ceremony of the Valmiki Temple at Ram Tirath, people here are facing inconvenience in getting their work done at the Deputy Commissioner's office.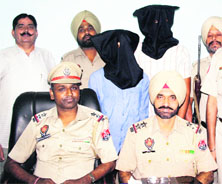 The catch: Two accused who were held for chain snatching in police custody in Amritsar on Tuesday. A Tribune Photograph

From schools and colleges
Science workshop organised
Amritsar, October 15
The Department of Biotechnology, DAV College, Amritsar, organised a two-day workshop on 'Basic Techniques in Recombinant DNA (r-DNA) Technology' for students and faculty of the Science Department on October 15-16. This training programme was sponsored by the Department of Biotechnology (DBT), Government of India, New Delhi.
Food samples from prominent outlets fail quality test
Amritsar, October 15
Samples of food items collected from prominent outlets in the city continue to fail on quality test. Recent reports received by the Health Department in which a sample collected from Reliance Fresh store was kept in "unsafe for consumption" category.
2-day Diwali, Karvachauth expo kicks off
Amritsar, October 15
A two-day shopping festival for Diwali and Karvachauth has commenced at Golden Tulip, organised by Wedding Mantra. Catering to the upcoming festive season, especially for Diwali and Karvachauth, over 70 different stalls catering to various products from 12 cities all over India have been exhibited, including designer Indian and Western wear, jewellery, home décor, etc.
Joshi meets agitating MC workers, forms committee to frame policy
Amritsar, October 15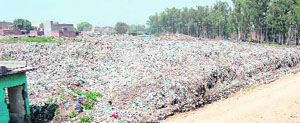 Local Bodies Minister Anil Joshi held a meeting with the representatives of disgruntled workers of the Municipal Corporations of Amritsar and Jalandhar, who are opposing the proposal of setting up solid waste management plants in both the cities, besides their other demands.
The MC workers are opposing the proposed solid waste management project to be set up in Bhagtawala, as they are worried about their job security. A Tribune photograph

Exhibition for art lovers commences
Amritsar, October 15
With the works of more than 30 artists both traditional and contemporary art forms at display, KT Kala, opened an exhibition for art lovers in the city. The exhibition presented new and old school of arts together with the works of senior artists sharing space with some new, talented bunch.
Minor accuses doctor of misbehaviour
Amritsar, October 15
A minor girl has accused a doctor of indecent behaviour while examining her at ESI (employees' state insurance) hospital here today. The girl had gone to the hospital along with her father and reported the matter to her mother after coming back home.
10 arrested for drug trafficking, bootlegging
Amritsar, October 15
In continuation of its drive against drug abuse, the city police has arrested 10 persons on the charges of drug trafficking and bootlegging. The Narcotic Cell of city police nabbed Jagtar Singh of Kaler village, Ram Tirath, and recovered 100 gm of heroin worth Rs 50 lakh in the international market from his possession. The police said he was involved in drug peddling for quite a long time and was nabbed from Jahajgarh area following specific information. The police has also impounded his motorcycle without any number plate.
Teachers' union threatens stir
Amritsar, October 15
Members of the Sikhya Provider Union, Amritsar, have threatened to go on strike from next month if the government does not implement Rs 4,300 salary hike.