Auto-rickshaws throw norms to the wind
Blatantly ferry passengers outside the municipal limits to Attari Wagah Joint Check Post
Neeraj Bagga
Tribune News Service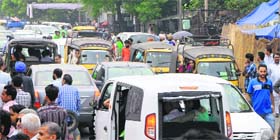 Auto-rickshaws cause a traffic snarl on a road in Amritsar. Photos: Vishal Kumar
Amritsar, October 6
With scant regard to the transport norms, auto-rickshaws here continue to ply outside the city limits.
This came to light in an incident wherein tourists returning from the Wagah border got injured when the auto-rickshaw they were travelling in was hit by a canter on Saturday.
Throwing all norms to the wind, auto-rickshaws are carrying tourists visiting from the city to the Attari Wagah Joint Check Post (JCP).
About 36 kilometres from the city, the Attari Wagah Joint Check Post is located on GT Road, which once connected Amritsar to Lahore.
The highway regularly witnesses traffic of heavy vehicles, especially those carrying import and export products such as vegetables, meat and dry fruit across the border.
Keeping in view the movement of heavy vehicles and anticipating an increase of traffic in future with the normalisation of ties between India and Pakistan, the Central government has widened this arterial road to four lanes.
The auto-rickshaw operators do not mind driving on the highway, thus putting the lives of tourists in danger. Their offering low fare as compared to the charges of taxi services also works as bait to the gullible visitors.
Auto-rickshaw operators approach pilgrims and tourists who visit the Golden Temple and Jallianwala Bagh and offer to take them to the Attari Wagah Joint Check Post to view the retreat ceremony.
The auto-rickshaw operators charge between Rs 70 to Rs 100 per person for the travel. To maximise their margins, they pack their vehicles carrying as much as 10 persons.
Amar Singh, a taxi-owner and driver, said the charges for to and fro journey for the JCP from the city in a four-seat car is Rs 800 while an eight-seat vehicle charged Rs 1,200. Besides, the occupants have to shell out Rs 40 more at two toll plazas, which fall between Naraingarh and Attari.
As per the transport norms, auto-rickshaws can only operate within the municipal limits of the district, where they are registered.
An auto-rickshaw registered in a district can not be ferried to another district. The Transport Department can impose a fine of Rs 2,000 to Rs 4,000 for violating the permit norm.
Ferrying eight to 10 persons in an auto-rickshaw is in blatant violation of the norms as overloading is a punishable crime. It has been noticed that many avoidable accidents take place owing to overloading. The transport law limits the number of passengers in an auto-rickshaw from three to four. The Transport Department can impose a fine of Rs 2,500 for the violation.
When contacted, Baljeet Singh Randhawa, Additional Deputy Commissioner of Police (ADCP), said, "The police personnel deputed with the traffic wing will be directed soon to prevent auto-rickshaws from plying on the highways."
Transport norms
Auto-rickshaws can operate only within the municipal limits of the district, where they are registered
An auto-rickshaw registered in a district can not be ferried to another district. The Transport Department can impose a fine of Rs 2,000 to Rs 4,000 for violating the permit norm
Ferrying eight to 10 persons in an auto-rickshaw is in blatant violation of the norms as overloading is a punishable crime. The transport law limits the number of passengers in an auto-rickshaw from three to four. A fine of Rs 2,500 can be imposed for the violation
How they operate
Auto-rickshaw operators charge between Rs 70 to Rs 100 per person from the city to the Attari Wagah Joint Check Post
To maximise their margins, they pack their vehicles to the fullest carrying as much as 10 persons
The charges for to and fro journey for the the Attari Wagah Joint Check Post from the city in a four-seat car is Rs 800 while an eight-seat vehicle charges Rs 1,200
Besides, the occupants have to pay Rs 40 more at two toll plazas, which fall between Naraingarh and Attari