'Traders spreading rumours to sabotage Chakrata plan'
Dehradun, October 17
As the trader organisations are uniting against Mussoorie Dehradun Development Authority (MDDA) and the state government over the issue of land acquisition to implement Chakrata Road re-development plan, Vice-Chairman, MDDA, RM Sundaram, while talking to The Tribune said these traders were spreading rumours to sabotage re-development plan on Chakrata Road.
Clement Town residents protest against monkey menace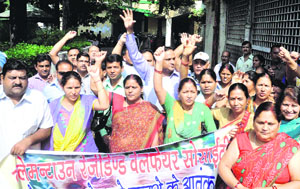 Dehradun, October 17
The menace of monkeys has increased so much at Clement Town that residents under the banner of Clement Town welfare society resorted to protest at district collectorate office here today demanding control over the monkey menace in the area.



Residents of Clemen Town hold a demonstration against the monkey menace in their area in Dehradun on Thursday. Tribune photo: Vinod Pundir

Garhwal Sporting trounce DMK football club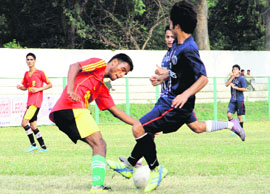 Dehradun, October 17
With the four goals by Gaurav and three by Rahul, Garhwal Sporting thrashed the DMK football club by 9-0 in the ongoing Drona College 70th Nemidas Memorial District Football League here today. Gaurav scored goals at the 15th, 20th, 30th and 31st minutes while Rahul scored at the 24th, 42nd and 47th minute of the match. Abhishek and Monty also contributed one goal each at 47th and 48th minute, respectively.
A match in progress during the Drona College 70th Nemidas Memorial District Football League in Dehradun on Thursday. Tribune photo: Vinod Pundir

Giving the slip
Prisoner flees from Doon Hospital
Dehradun, October 17
A criminal who had been in jail for the last seven months breached police security today and ran away from Doon Hospital, where he was admitted for treatment. Two police constables have been suspended for dereliction of duty in this connection. The miscreant, 45-year-old Titu Mittal, alias 'Kamesh', was brought to Doon Hospital for treatment of lung infection from Suddhuwala Jail on October 8. The prisoner today fled the hospital.
2 lakh state employees go on indefinite strike
Dehradun, October 17
Around 2 lakh employees owing allegiance to the State Employees' Joint Council, Uttarakhand, went on an indefinite strike from today, protesting against the non-fulfilment of their demands. The decision was taken at a meeting held yesterday at the Pparade Ground to chalk out a strategy for the proposed indefinite stir all across the state.
Pomp and splendour mark Aryan School sports meet
Dehradun, October 17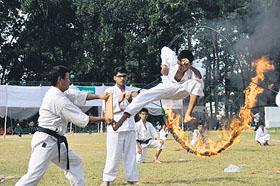 The 13th sports meet of Aryan School was organised at the school campus with pomp and splendour here today with schoolchildren participating in various sport events. To mark the sports meet open, a flight of pigeons and colourful balloons were set free in the sky by the chief guest Colonel KS Jaggi, Commanding Officer 127, Eco Task Force.
Students of Aryan School perform on their annual sports day in Dehradun on Thursday. A Tribune photograph

Cricket tourney
Sophia School beat Doon Global
Dehradun, October 17
Sophia School defeated host Doon Global School in a match during the 1st RK Agarwal Memorial Inter-State School T-20 Cricket Tournament here today. Sophia School had set a target of 152 runs in 20 overs with Abhinav scoring quick 34 runs. Shubham also made 31 runs and helped his team score cross 150 mark.
Tamta seeks ST panel in Uttarakhand
Pithoragarh, October 17
The MP from Almora, Pradeep Tamta, has demanded that a separate schedule tribes commission be soon constituted in the state to take care of the ST community. In a letter to Chief Minister Vijay Bahuguna, Tamta has said the provision for a separate schedule tribes commission had been made in the 86th Amendment of Section 88 of the Constitution which came into effect from the year 2003. "The Centre has constituted a separate commission for schedule tribes under this Section," said Tamta. Tha Almora MP said Uttarakhand should also constitute a commission for schedule tribes which should be separate from that of Schedule Castes. — OC
3 thieves arrested, jewellery recovered
Dehradun, October 17
The Patel Nagar police has arrested three members of a gang of thieves and recovered cash, jewellery and valuables from their possession. After a tip- off, the police arrested Shobit Tyagi, who is said to be the gang leader, and recovered jewellery from him, which was allegedly stolen by him from the house of Kiran Bala in Patel Nagar recently. On the information of Shobit, the police also arrested two of his accomplices who helped him in committing the thefts. According to the police, the accused used to visit a place once or twice before committing the theft. — TNS
Shiwalik boys win
Dehradun, October 17
Shiwalik International School trounced Raja Ram Mohan Rai Academy 18-10 in the Inter-Council School Junior Boys Basketball tournament played at The Heritage School here today. In the first quarter, Shiwalik scored 7 points compare to 6 by Raja Ram Mohan Rai Academy. In the second quarter, Shiwalik gained its one-point lead and scored 11 points and Raja Ram Mohan Rai managed to score 4 points. In the other two matches, The Heritage School and St Jude School got walkovers as their opponent teams did not make it to play their matches. — TNS
Guv greets people on Valmiki Jayanti
Dehradun, October 17
Governor Aziz Qureshi has greeted the people of the state on the occasion of Valmiki Jayanti. He said by creating the great epic, Ramayana, Mahrishi Valmiki had shown us "the value of sacrifice, goodness, harmony, compassion and humanity". "His epic teaches to serve and help the underprivileged in society and the importance of living an idealistic life," he said. — TNS