Fraud charge against firm
Delhi-based builders duped us of Rs 2.5 cr, say investors
Deepkamal Kaur
Tribune News Service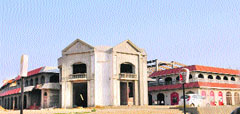 A view of Curo High Street, a commercial project, in Jalandhar.

Jalandhar, October 19
Nearly 30 persons, including five NRIs, who had invested in a mega commercial project Curo High Street coming up at 66 Feet Road in Lohar Nangal village here have alleged that they have been duped by the Delhi-based builders, with their investment to the tune of Rs 2.5 crore declared forfeited.
The applicants expressed their grouse, saying they were lured by representatives of Curo India Pvt Ltd through advertisements and hoardings and were told that the shops would be handed over to them soon. They said after they had invested money about two years ago with the commitment of getting the possession of shops in July 2012, they realised that there was only a little construction activity going on at the site, at which they wanted a meeting and detailed clarification, but the company people turned them away, giving them vague reasons to their queries.
"I even got to know that there had been a litigation going on about a part of the total 3.5 lakh sq feet land. I got suspicious and did not want to waste my money any further. I stopped making payments. I sought refund, but the company people, instead, went ahead declaring me a defaulter. My investment was also declared forfeited. It was the biggest shock of my life. After paying earnest money, I had even paid two instalments. I had been just seeking clarification from the company then. Ever since I have been striving hard to recover my dues, but to no avail," said Harcharan Singh Channi, an investor and a Kartarpur-based poultry breeder.
Rahul Kumar, a UK-based NRI, said he had paid Rs 18 lakh as 25 per cent of the total payment. "I had invested in the project as I intended to run a restaurant back in India. I was told that I had been allotted a shop on the frontal side. However, later I was given a condition that I could not open my restaurant and that my shop falls at the rear of the complex. I was completely dazed at the turn of the events. I, too, stopped making payments and wrote several emails, seeking my refund, but to no avail. Taking leave from England, they forced me to come down to India to fight the case. He said he had a communication with Pawan Garg, managing director of the company, in this connection, but to no avail."
The investors who had gathered for a press conference said each one of them had paid a varied amount, ranging from Rs 1 lakh to Rs 18 lakh. They produced clippings of various newspapers, alleging that a similar fraud had been committed by the same company in a project at Barnala. They said they were all teaming up to get an FIR lodged in this regard.
The applicants produced a copy of a public notice of the company regarding the forfeiture of the amount that appeared on January 22, 2013 which has names of customers, shops allotted to them and their complete address. It reads, "It is informed to the following investors that they had applied for the provisional booking of shops in our project Curo High Street by making part payment towards earnest money. As they failed to make the payment as per the schedule, a demand letter was sent to the investors, calling upon them to make the payment within a period of 10 days of the receipt thereof. However, the said investors failed to make the payment, which constrained us to send them another letter dated December 24, 2012, informing them of the cancellation of their provisional booked and the forfeiture of the part earnest money paid by them. It was noticed that some of the investors avoided the service of the said notices, while others had provided incorrect/incomplete addresses. The present publication is published as a last resort informing the same."
NRI Sabha chairman knocks civil court
Chairman of the NRI Sabha Jasvir Singh Shergill has lodged a case in the civil court against Curo India, Punjab National Bank and Municipal Corporation, Jalandhar. His lawyer Arvind Sharda said a suit for the recovery of the possession of about 17 marlas of encroached agricultural land jointly owned by Jasvir and his family members had been filed in the court of the Civil Judge at Jalandhar. He said a suit for mandatory injunction directing the cancellation of the mortgage deed entered between the company and the bank on the basis of site plan without considering fard jamabandi giving actual demarcation had also been filed. The company has reportedly sought Rs 150 crore loan from the bank. In addition, he said he had also filed a suit for his client for mandatory injunction, directing the MC to cancel the site plan for the commercial mall sanctioned by Local Government on November 18, 2009.
Sharda said owing to the disputes, the MC would not be able to issue the completion certificate. He said without the certificate, the company would not be able to execute the sale deed to the individual buyer.
Company's version
Managing director of Curo India Pvt Ltd Pawan Garg has said that the amount had been forfeited, as the investors did not follow the payment schedule given to them. "It was part of our agreement. We had even got published a list of defaulters in the newspaper. All those who have followed the schedule have been allotted shops. Those making allegations against us are actually small brokers who had been planning to get profit manifold and rotate shops. Some of them had even moved Consumer Forum against us where they have lost the case."
Regarding the ongoing litigation with the NRI Sabha chairman, he said it was only about a small portion which is part of our open setbacks.
"This litigation is not going to have any impact on the investors," he said.
Kamal Soni, AGM, sales and marketing, said the amount forfeited was close to Rs 90 lakh. "The investors have been exaggerating the figure. We have all the receipts and record to prove our point."
The project
Curo High Street has been projected as a commercial complex which would combine the atmosphere of high-street market and comfort of a shopping mall, with visitors getting a feeling like Model Town Jalandhar, Sector 17 Chandigarh and Connaught Place New Delhi. Kamal Soni, AGM, sales and marketing, Curo India Pvt Ltd, said prominent brands such as KFC, McDonalds, Aditya Birla, Madura Garments (F&L) and Cinemax 5 Screen Multiplex, with a seating capacity of 1,000 were taking space.
There will also be a huge hypermarket at the basement level which will cater to around 8,000 neighbourhood families, the company has been claiming. The project got cleared from the MC in 2009.