Environment conservation rally held
Tribune News Service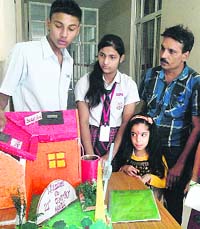 Students display their models at a science exhibition on the campus of DIPS, Suranussi, in Jalandhar on Monday. A Tribune Photograph
Jalandhar, October 14
An environment conservation rally was taken out by the Cantonment Board, Jalandhar, with the cooperation of all its schools as well as students and staff. The rally was flagged off by Cantonment Board president Brigadier IJS Chauhan and CEO Vibha Sharma. Students raised slogans 'stop polythene use', 'protect trees'and 'conserve your environment'.
Science exhibition
On the eve of parent-teacher meeting, science exhibition and best out of waste display was organised on the campus of DIPS, Suranussi. New innovative medals created out of student's creativity were displayed at the event. Various working as well as non-working models were exhibited. Models like conservation of bio-diversity and fossils, 21st century houses, mechanism of breathing, waste water management, rain water harvesting, electric generators, simple machines, volcanoes, and sources of air pollution were a source of great attraction.
Table-tennis tournament
Students of the Delhi Public School, Jalandhar, made the school proud by winning position in CBSE Cluster Table-Tennis Tournament held at DAV School, Phillaur. The championship was between various reputed CBSE schools and went on for four days starting from October 9 till 12th. Four students from Delhi Public School, Jalandhar participated in this championship and won Bronze medals in the Under-19 (boys) category.
Students bring laurels
The students of Innocent Hearts brought laurels to their school by winning bronze medal in the Under-19 category of table tennis organised by DAV Century Public School in which four players took part, namely Mridul Kapur, Manjul Kapur, Naman Mahajan and Vishnu Gupta. Vishnu Gupta won the bronze medal.
Judo championship
A student of DPS, Jalandhar, bagged a bronze at the State-Level Judo Championship held at Government Senior Secondary Model School, Jalandhar. Delhi Public School, Jalandhar, student Sharon Singh of Class X represented the state in this championship, in the Under-17 (girls) category.
Collage-making contest
Lyallpur Khalsa College of Engineering conducted a rangoli and collage-making competition. Keeping the festive theme in their minds, students from various branches i.e. ME, CSE, Civil and ECE came up with wonderful concepts. The enthusiastic students were first short listed. So, finally a total of 10 students participated in rangoli making and 12 students participated in collage-making competition.
Technical event held
The Department of Computer Science of the CT Institute of Engineering Management and Technology (CTIEMT), Jalandhar, organised a technical event under ISTE student chapter. The event named 'Innovision-13, Imaginations Unbound' constituted two technical sub-events quiz paper and paper presentation. All the students of BTech CSE participated in the event. In quiz, in total 65 students participated, out of which 16 were shortlisted under the scheme of technical MCQ test. In the final round, four teams were considered. In paper presentation, 21 papers were submitted and out of which 15 were shortlisted.