Heavy Pak shelling triggers migration from Samba village
Over 50 families of Suchetgarh-Kulian take refuge 8 km away
Ravi Krishnan Khajuria/TNS
Suchetgarh-Kulian, October 20
Intense shelling by Pakistan on October 18-19 night on the international border in the Samba sector triggered migration of over 50 families last night from this village on the Zero Line.
On the 'fateful' night, Pakistan Rangers rained bullets and fired nearly a dozen mortars (82 mm) on the Suchetgarh-Kulian village, causing panic in six forward villages of Sadoh Panchayat - Suchetgarh-Kulian, Avtal Katlan, Rakh Kangwala, Rakh Kangwala SC, Jatan and Channi Jassu. The panicky villagers took refuge 8 km away in a community hall in Kalibari village in Samba district around 8 pm yesterday but none from the district administration visited them except local MLA Yashpal Kundal, who today brought some rice for the starving villagers, including children.
This was first migration from a border village after the 1971 and 1965 conflicts with Pakistan.
"Fifty families having nearly 200 members took refuge in this community hall around 8 pm yesterday but no senior official from the civil administration except a naib tehsildar and an SHO (station house officer) beside local MLA Yashpal Kundal visited us," said village sarpanch Darshan Singh.
"We were forced to flee our homes but look at the indifferent attitude of the administration. No food or bedding has been providing to these women and children," said Som Nath of Avtlan Katlan village.
Roop Singh of Suchetgarh-Kulian said, "One male member from every family that has taken refuge here is staying back in the village to look after the house and cattle."
Kunti Devi (52) of Suchetgarh-Kulian expressed disappointment over the apathetic
attitude of the district administration.
"Shelling of such a magnitude happened after a decade and who else could feel the pain more. I lost my 27-year-old nephew Deepak Kumar, who was killed instantly after being hit by a Pakistani bullet in his house," she said.
"Here in this community hall, we are managing everything, from food to bedding, on our own. No help whatsoever has so far been provided by the administration," she added.
Local MLA Yashpal Kundal, who visited the villagers in the community hall after 30 hours of the development with some rice, said Samba Deputy Commissioner RK Verma had allegedly refused to provide any help to the displaced families.
Another old woman of the same village, Mango Devi, said the Samba DC had not visited the families in the community hall.
Meanwhile, Suchetgarh-Kulian village wore a deserted look today. Locked houses, shops and unattended cattle with a few odd men peeping out of their houses conveyed the fear.

Village surrounded by 3 Pak posts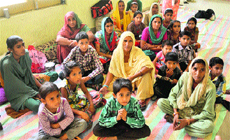 SAMBA: Suchetgarh-Kulian village in Samba district that lost a young man in hostile fire of Pakistan Rangers a decade back is a soft target for the enemy.
Situated virtually on the Zero Line, the village is surrounded by three Pakistani posts — Tandar, Chawal and Tamana — from the three sides.
"We lost 27-year-old Deepak Kumar, when he was hit by a Pakistani bullet in his house some 10 years back," said Bodh Raj, a resident of the village.
"If firing continues like this, our village will be the worst sufferer because we are surrounded by at least three of their posts and their fire comes directly into our houses," he added.
Tirath Ram, another villager, said similar shelling in 2001 after Parliament attack had forced villagers to migrate.
"We had to move to the Panjtilla camp and remain there for several months," he said. — TNS

Pakistan again opens unprovoked firing
Tribune News Service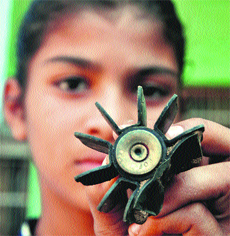 A girl on Sunday shows the tailfin of a 82-mm mortar fired by Pakistan Rangers on October 18 -19 night in Suchetgarh-Kulian village in Samba district. Tribune photo: Amin War
Jammu, October 20
After targeting 26 Indian forward posts on October 18- 19 night, the Pakistan Rangers again opened unprovoked fire today on half a dozen forward posts along the international border in the RS Pura, Pargwal and Hiranagar sectors.
"Pakistan again resorted to unprovoked small arms fire at Abdulian border outpost of the BSF in the RS Pura sector of Jammu district around 12.45 pm," said BSF spokesperson Vinod Yadav.
He said the BSF did not retaliate and exercised restraint. "In the morning, the Rangers also fired on some BSF posts in the Pargwal sector of Akhnoor subdivision and in the Hiranagar sector. While the BSF again exercised restraint in the Hiranagar sector, a mild retaliation was done in Pargwal," he said.
A BSF source said the BSF exercised restraint to de-escalate the tension on the borders.
However, it has been reliably learnt that in the Hiranagar sector the Rangers targeted the Kothe and Pansar posts of the BSF.
Earlier during the day Kathua Deputy Commissioner Jatinder Singh visited Gujjar Chak, a forward village in Hiranagar, where he took stock of the situation and talked to villagers in a bid to instil a sense of security among them.
Sources said the villagers were demanding that they should be given compensation for the loss of their standing crops, which they have not been able to harvest due to Pakistani firing.
The DC assured them that their case would be taken up with Jammu Divisional Commissioner Shantmanu.
Meanwhile, villagers of Saidechak and Dormechak - two forward villages in Samba district — may also migrate in the wake of Pakistani shelling.

Hundreds of villages along border deprived of farming
Ravi Krishnan Khajuria
Tribune News Service
Suchetgarh-Kulian, Oct 20
Shelling by Pakistan along the 191.5-km-long international border seems to have brought back the gory days and starvation for thousands of border residents in the state. Nearly 40,000 villagers living along the international border have been deprived of farming, their only source of livelihood.
"While cattle remain unattended, we are not able to harvest our paddy crop because of shelling," said Balbir Singh, a resident of Jatan village, Samba sector.
"Heavy shelling on October 18 and 19 has instilled a sense of fear and insecurity among us. How can we harvest our crop in such a turbulent situation?" he said.
Pritam Kumar of Suchetgarh Kulian said, "The paddy crop is ready for harvest. We had just started harvesting it when they opened fire. Now, things look bleak."
Surender Singh, a resident of Rakh Kangwala, said a majority of people in the border areas relied upon farming.
"Farming is the most important source of livelihood for the people in the border areas and when they start firing, we not only fear displacement but also starvation," he said. He said it was high time for both the countries to restore the ceasefire agreement in order so that they could live in peace.
"It is not just we who get affected by the firing. People on the other side of the border also have to bear the brunt of the unrest. The BSF has also inflicted serious damage to the Rangers opposite Suchetgarh-Kulian, damaging one of their posts. Villagers on that side have also migrated," he added.
Daleep Sing of Jatan village said Pakistan should realise the futility of violence and instead of forcing India into this dirty game, it should fight poverty and illiteracy.
"Both Pakistan and India should work cohesively to remove poverty than engaging us in cross-border firing and militancy. Violence would do no good to anyone," he said.

Mufti voices concern over LoC firing
Srinagar, October 20
Peoples Democratic Party (PDP) patron Mufti Mohammad Sayeed today expressed "serious concern" over the growing ceasefire violations along the Line of Control (LoC) and the international border.
Mufti said skirmishes on the borders were a result of the "failure of both India and Pakistan governments to take peace process to a logical conclusion".He said instead of reacting in a "knee-jerk manner", India and Pakistan should maintain the "spirit of ceasefire". He also cautioned against dangerous consequences of any escalation. — TNS