PUNJAB

HARYANA

JAMMU & KASHMIR

HIMACHAL

REGIONAL BRIEFS

NATION

OPINIONS

LETTERS

BUSINESS

SPORTS

WORLD


M A I N N E W S
Lull at border, but J-K villagers look for contingency plans
Ravi Krishnan Khajuria & Arteev Sharma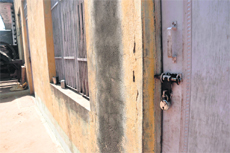 A locked house at a border village in Jammu. Villagers have migrated due to firing by Pakistan Rangers. Tribune photo: Anand Sharma
Jammu/Rajpura, October 27
The guns have fallen silent. "Really?" asks Sewa Ram staring vacuously in the Lalyal Camp in Kanachak sector, barely 8km from border with Pakistan. A two-day lull in heavy firing has made him even bitter: what will happen to his paddy crop? And will he get enough food for his family?
The respite from firing, apparently a result of back-channel diplomacy between India and Pakistan, is showing the cracks in the contingency plans meant for border villages.
Ever since Sewa Ram's family was shifted along with scores of others to the Camp after the 1971 war, he has seen only worse. "We were in the Chhamb area in Pakistan then. After some agreement between the two sides, we were taken to Lalyal Camp. Indian troops never fired on us when we were on the other side. And now, we seem to be nowhere men," says Sewa Ram. He is one of the over 40,000 villagers who live close to the 198-km long International Border alone from Kathua district to Akhnoor sub-division in Jammu district. According to the administration, around 300 villages are located close to the Zero Line from Kathua to Poonch district
Over the years these villagers have had only assurances of "contingency plans" that the government has announced for the border villages in case the border skirmishes get too hot. "We manage everything on our own when Pakistani troops fire mortars. We have not been able to harvest our paddy crop and our children are facing starvations while this government is making tall claims," he says.
Villagers in Balakote, Drati, Ramlutta, Swala, Deri, Dabbi, Basooni, Goulad, Tain, uppar Chajala and Sabra Gali say they have been facing hardships since August, but the district administration has remained a mute spectator.
Rangers use heavy weapons
Jammu: Pakistani forces have fired 82 mm mortars on hapless villagers. These mortars with a range of 5 km cause widespread damage. Villagers, including children in Suchetgarh Kulian in Samba and RS Pura sectors, have borne the brunt of firing since October 17. "In total violation of Geneva conventions, the Pak Rangers have used 82 mm mortars, 60 mm mortars and heavy machinegun fire on forward Indian villages", said a senior BSF officer. He said the BSF has used similar weapons only at military targets.
Amid bullets, the flower power
Rajpura: Amid flying bullets and mortar fire, the sight of marigolds surprises you. Grown by a graduate farmer and his family in Garkhal, a village that sits on Zero Line in the Akhnoor sector, these flowers will show you how passion for something you love can overcome fears of a surrounding strife. "Mortars do fall in my farmland," says Kewal Krishan Sharma, 51. Despite bullets flying over our heads, I and my family take immense pleasure in cultivating marigolds," says Sharma.