In his rally speech, Modi calls Nitish
a backstabber
Patna, October 27
Despite a string of bomb blasts that shook the Bihar capital on the day of his much-awaited 'Hunkar' rally, BJP's prime ministerial candidate Narendra Modi kept his date with Patna on Sunday.
Kutch land mafia eyeing Punjabi farmers' holdings
Bhuj (Gujarat), October 27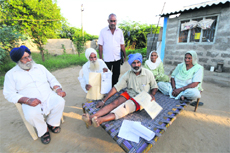 The friendship that existed between local people and Punjabi farmers settled here for more than five decades was shattered on October 8 when armed goons of a land mafia opened fire.
Jaswinder Singh and his family was attacked by goons at Loriya village near Bhuj. Tribune photo: Manoj Mahajan

Akali leader, two aides abducted in Hong Kong
Khanna/Machiwara, Oct 27
The police has swung into action in the reported abduction of three residents of Punjab -- an Akali Dal leader of Machiwara Manmohan Singh Khera, advocate Gurinder Singh Dhillon of Landran and a bank manager Satwinder Singh Mavi -- who had gone to Hong Kong to finalise a big land deal.
Lull at border, but J-K villagers look for contingency plans
Jammu/Rajpura, October 27
The guns have fallen silent. "Really?" asks Sewa Ram staring vacuously in the Lalyal Camp in Kanachak sector, barely 8km from border with Pakistan.