Heaps of filth all over, peeved commuters avoid using footbridge at railway station
Amritsar, October 27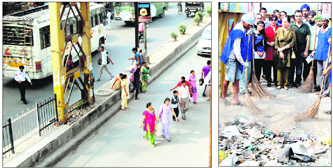 The footbridge built adjacent to the entrance of Amritsar railway station is apparently serving no purpose as people usually refrain from using it due to heaps of filth lying abandoned around the place. The footbridge is used for crossing the busy GT Road to reach the railway entrance gate.
People cross the road after jumping over the divider; (right) NGO workers clean the footbridge in Amritsar on Sunday. Photo: Sameer Sehgal

Construction activities hit as sand prices reach new high
Amritsar, October 27
With the sand prices reaching a new high in the past few days, construction activities have taken a hit in the city. Various under-construction projects initiated by private developers and government agencies have either been stopped or are running at a snail pace for want of building material.
A labourer in Amritsar. Tribune File Photo
Shopping fests a boon for local artists
Amritsar, October 27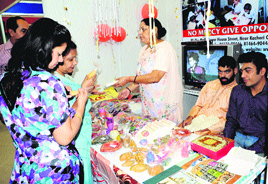 Rajkumar, a mural artisan from city, is busy selling his art to shopaholics for Diwali at the Sifty International shopping fest. He usually sets-up shop along the side lanes of the Mall road or the Lawrance road. He has brought a large collection of mural designs and hopes to make more money than the entire season in just five days. He is among a few small-time handicraft artists, who bets' big during the festive season.
Ibadat, a school for special children put up a stall for hand crafted gifts at the Sifty International Shopping Fest on Sunday. Photo: Vishal Kumar
Risky ride on GT road
Amritsar, October 27
The government's endeavour to provide hassle free and safe ride on the Amritsar-Jalandhar GT road by erecting multi-crore over bridge and elevated road served a little purpose. The police has drastically failed to regulate traffic on this busiest stretch.
Jewellery brands out to woo customers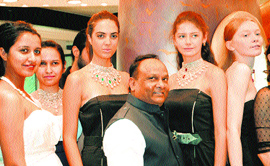 Amritsar, October 27
As the countdown for Diwali begins, there are some important festivities in between, which mark a shopper's delight. Dhanteras being one such festival, a day when buying gold, silver or steel is considered auspicious, has prompted city jewellers to lure customers.
Models showcasing jewellery festive collection by Malliram Jewellers in Amritsar on Sunday. Photo: Vishal Kumar

Cow's carcass sent for postmortem
Amritsar, October 27
In order to dispel the suspicion of a cow being killed by slitting its throat, the C-division Police station today approached the Animal Husbandry Department to conduct a postmortem examination of the animal. The incident took place at Nagar Nigam Colony today.
Consumer forum penalises ICICI Bank
Amritsar, October 27
The District Consumer Disputes Redressal forum has directed ICICI Bank to pay compensation of Rs 10,000 along with Rs 2,000 as litigation expenses to a local resident for misplacing his cheque.
City's oldest guide pedals to mark 20 years of Punjab Darshan
Amritsar, October 27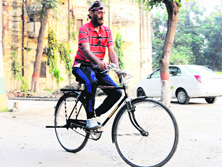 Baljit Singh (in his late fiftees), arguably the oldest guide in Amritsar, today pedalled around the city to commemorate the 20 years of his 'Punjab Darshan' excursion in 1993 during which he clicked different facets of the state in his camera. Darshan paddled across the state from October 22, 1993 to December 14, 1993 and clicked about 500 pictures capturing different interesting places, including religious shrines of Hindus, Sikhs, Christians and Muslims.
Baljit Singh on his bicycle near a historic building in Ram Bagh Garden in Amritsar. Photo: Vishal Kumar

Health Dept workers threaten stir
Amritsar, October 27
The Class-IV Government Employees Union (Health Department) has threatened to hold a rally outside the Vidhan Sabha against the department's failure to give them festival advance ahead of Diwali.
Youth killed in mishap
Amritsar, October 27
A 22-year-old youth, identified as Gursharan Singh, a resident Kotla Tarkhana village, was crushed to death when his scooter collided with a private bus coming from the wrong side. His friend Heera Singh, who was riding pillion, escaped with minor injuries.
Aadhaar card camp
Amritsar, October 27
Mata Charan Kaur Paramedical Education Society organised an Aadhar cards camp at the Tunga Wali road to facilitate people in getting their cards. Chairman of the society Sukhwinder Kaur said the camp was organised keeping in view the problem being faced by the public in getting Aadhar cards.