Musical nite marks International Sufi fest
Neha Saini
Tribune News Service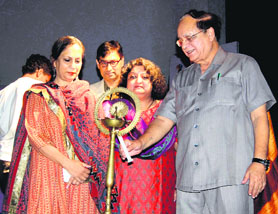 Mayor Bakshi Ram Arora lights the lamp during the inauguration ceremony of the second International Sufi Festival in Amritsar on Thursday. Photo: Sameer Sehgal

Amritsar, October 17
Inaugurating the second International Sufi festival at Guru Nanak Auditorium Mayor Bakshi Ram Arora opened the two-day Sufi music extravaganza in the city. Organised by Punjab Heritage and Tourism in association with Music Today, the evening had live performances by Nizami brothers, Nooran Sisters and Padamshree Hans Raj Hans.
Way to go
The humble appearance, impactful voice and charismatic performances by the artists was a proof of their musical legacy. But Jyoti and Sultana Nooran, or popularly known as Nooran sisters, did not want to tag themselves as stars. "We sing because we worship it, it's like a divine gift and we don't want to corrupt it by pretending to be something we are not," said Sultana, the eldest of the two.
Their performance at the International Sufi Festival was a sellout, spellbinding the audience with one song after another, the young Sufi singers, who are granddaughters of the renowned Sufi singer Bibi Nooran, lived up to their name. "We got a really great audience, which is a rarity as not many people understand and acknowledge Sufi music. But, Amritsar is always a haven for the divine music," said Sultana.
Their musical journey started from their birth, but it only got recognition after their successful and smashing performance on MTV Coke Studio. "It was a different experience for us. We had only performed at regional music festivals, but when we got to know that one of our performance has got more than 75 crore hits online we couldn't believe it. My sister had tears in her eyes," said Jyoti.
Since then, they are a regular feature on cult musical shows like Unplugged and the current season of Coke Studio. "We only sing Sufi qalam. Our grandmother used to sing Bulleh Shah's Tung Tung," said Sultana, the shy one, emphasising how the genre should not be slotted as folk. Jyoti though enjoyed recording with a live rock band.
Sufi on a mission
Padamshree singer Hans Raj Hans may be a name amongst the legends of the entertainment industry in Punjab, the eminence of his name has never come in the way of his mission. The man, who made dargah his home early in his life, said that any other music than Sufi sounds like noise, is set to bring change through the principles of Sufism.
"There are so many Sufi deras in Punjab that became a fighting ground for drug de-addiction. Recently, I was part of a seminar held at a Sufi dera, attended by experts speaking on the fight against drug menace. The change cannot be brought about by force, but through love," said the president of the Vishwa Sufi Foundation. 'That's what Sufism preaches, it's not just a genre of art but a way of life," he said. Performing for a packed audience, Hans Raj Hans, as usual, blended his music and soul to create a spiritual experience that received a resounding applause.