Goodness gracious!
The traditional image of gods has taken a glam turn in the hands of well-known designers. If bling is an integral part of our couture, then it is also present in the wardrobe of gods now...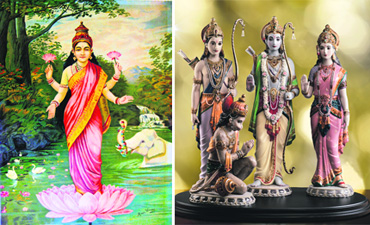 Will Goddess Lakshmi look any less the harbinger of prosperity and wealth if she is dressed in a plain saree minus the jewellery? Maybe; we have been conditioned to visualise her all-decked up to do justice to her role in the Indian mythology. For ages, she has been draped in a red saree with generous embroidery and brocade-like-pattern. Add to it her golden jewellery and stone-studded crown, which makes her personify affluence.
Crack(l)ing affair
Diwali and gifts are synonymous. Here are some celebrities sharing their cherished memories on this festival of lights…
Of course you don't need a special day to make a dent in your wallet! At the same time, there are occasions where you don't mind that dent, no mater how deep it is. Our celebrities tell us how much they splurge on Diwali, their best buy and yes, the gift that did not make them too happy. PS: Gifting is a beautiful way to express your love and respect for the person, which means there is nothing like a good or a bad gift!
Sajid dating Esha?
It seems director Sajid Khan has a fascination for long legged actresses. First he dated Gauhar Khan then Rakshanda Khan, Jacqueline Fernandez and now the latest in the row is Esha Gupta. According to the latest buzz, Sajid after breaking up with Jacqueline has found love in Esha, his Humshakals actress.
Creative instinct
There was a writer inside Sangeeta Suneja always trying to break free. It took its own way, time and circumstances to reach where it wanted to. In Chandigarh, on Saturday to release her book The First Few Minutes, Sangeeta, an airline manager, is happy about her creative journey.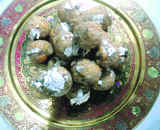 Master Chef
Fruit full
This recipe of dry fruit ladoo is one of the easiest sweets you can make for this Diwali. You don't have to splurge at the mithai shop and where you are not sure of the purity of the ingredients. So serve these ladoos this Diwali and get the compliments.
Astro turf
ARIES: Get into artistic projects at home. A trip to local market for locally grown fresh produce might inspire you to eat nutrition-rich food. Luck will favour you today. Cash crisis resolves after 3 pm. Tarot message: Work could pose minor difficulties. Lucky colour: Green. Magic number: 33
The year ahead
If your birthday is November 3...
Scorpio is ruled by Mars and the number 3 by Jupiter. Mars was the God of War in ancient Roman mythology and is the first ruler of Scorpio. In India, Mars is associated with Lord Hanuman. You are admirable, distinguished, and intelligent. You have extraordinary memory.
Chatter box
I can't pull off rona-dhona: Vahbbiz
Actress Vahbbiz Dorabjee, who is currently seen essaying the role of Kumud's sister-in-law, Alak, in the show Saraswatichandra, talks about her role and more… You are playing the role of a politician for the first time. How is this role different from your previous roles? Alak's character is completely different and its completely opposite of what I've done before. I'm playing the role of a very mature and practical woman, who is a young politician and I'm enjoying it.
Puneet is the new Satya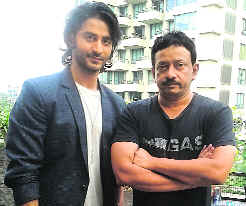 Ram Gopal Verma's 1998 film Satya is considered an all-time gangster classic film and now its sequel Satya 2 is ready for release. The film features debutant actor Puneet Singh Ratn as Satya. We catch up with the actor for a brief chat at a promotional event.
Tell us about the film.
It is RGV's visualisation of the underworld in Mumbai in 2013 after much of the underworld has been destroyed by the police and all dreaded gangsters have taken shelter abroad.
Fresh take: Puneet Singh Ratn (L) and Ram Gopal Verma

Sonam cuts down on costume cost
Sonam Kapoor comes with the tag of being a fashionista and has been reveling in this image ever since the days of Aisha. With costumes worth lakhs being procured from the best of the international labels, Sonam has been pretty much a trendsetter. All of that and more would change with Khubsoorat, her next film that goes on floors in November, which has a wardrobe budget of — hold your breath— a mere Rs 5 lakh.
Winning spree
DLF City Centre Mall's Diwali bonanza -'Free Car, Shopping, Movies' reached a crescendo when a big lucky draw—for a swanky Honda Brio hatchback worth a staggering Rs 4.19 Lakh was held in the shopping & entertainment destination. Shoppers who had made purchases of Rs 3000 or more during the shopping extravaganza were eligible to participate in Mega Draw for Honda Brio.
Sweet temptation
Dunkin' Donuts brings to you eight delicious reasons to break away from the mundane and predictable dabbas of mithai and' laddoos' and add a delicious new twist to this festive season. Dunkin' Donuts has unveiled a completely new range of donuts exclusively for Diwali- premium donuts collection. The collection boasts of exquisite new gourmet donuts that include dark chocolate truffle, very very blueberry, alive by chocolate, classic coffee, chocolate hazelnuts, fresh cherry tart, mandarin chocolate orange and coconut ganache fills.

Lose some, win some
Actress Priyanka Chopra, who has been working on her debut music album is LA, has now hit the gym with a vengeance. She has apparently put on some weight due to travelling. Now she is required to shed a few kilograms in order to play the ripped Olympic medal winning boxer in the biopic being produced by Sanjay Leela Bhansali. Tip top: Priyanka Chopra

Aamir and Salman are friends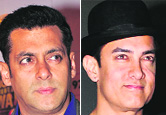 Salman Khan is planning to launch the trailer of his upcoming film Jai Ho somewhere close to the release of Aamir Khan's Dhoom 3, which is scheduled to come out December 20. When Aamir was recently asked at media event if this would affect his Dhoom 3, he said, "Salman is a dear friend."
(L-R) Salman Khan & Aamir Khan

Meet the cast of Humshakals
Filmmaker Sajid Khan recently wrapped up the first shooting schedule for multi-starrer film Humshakals. Actor Ram Kapoor shared a picture of him with co-stars Saif Ali Khan, Riteish Deshmukh, Bipasha Basu, Esha Gupta and Tamannah Bhatia on Twitter. The film, also starring Sonal Chauhan, is a romantic comedy and will release next year.
Sajid Khan

Sallu turns down Hrithik
Rumour has it that Hrithik Roshan was keen to promote Krrish 3 on Bigg Boss but Salman was not keen to host him and chose not to invite him. In the recent past Salman has been inviting a lot of celebrities to his show. We wonder what happened between the two to invite such hostility?
Dream role
Ranveer Singh, who will be next seen as Ram in Sanjay Leela Bhansali's Ram-Leela, wants to play the character of Bhagat Singh. He believes that transforming into somebody else is the toughest job for an actor.
Madhur's pilgrimage
Filmmaker Madhur Bhandarkar recently visited famed Mahakaleshwar temple in Indore. He had a darshan and had some peaceful time at the divine place. The 45-year-old filmmaker also performed the rituals at the temple.