Happy Diwali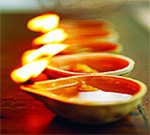 The Tribune wishes its readers a happy and prosperous Diwali. Offices of The Tribune will remain closed on Sunday. The next edition of the paper will appear on Tuesday (Nov 5)

LIFE+STYLE

CHANDIGARH

LUDHIANA

BATHINDA

JALANDHAR

AMRITSAR TRIBUNE

JALANDHAR TRIBUNE

BATHINDA TRIBUNE

JAMMU TRIBUNE

KASHMIR TRIBUNE

DELHI

DEHRADUN

DEHRADUN PLUS
Pak Taliban appoints its caretaker chief
Islamabad, November 2
The Pakistan Taliban today put on hold a decision to make Khan Syed, alias Sajna, its new chief after the killing of warlord Hakimullah Mehsud in a US drone strike when several militant commanders opposed the move.
Kidney racket: 5 doctors among 6 convicted
Amritsar, November 2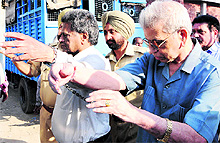 The court of Additional Sessions Judge GS Bakshi today convicted six persons, including five doctors, in one of the cases surrounding the infamous 2002 Amritsar kidney racket.
Dr OP Mahajan (R), former principal, Government Medical College, being taken to jail in Amritsar on Saturday. Photo: Vishal Kumar

Rohit sparkles in India's ODI series win:

India registered their first bilateral ODI series win at home against Australia as they decimated the visitors by 57 runs in the seventh one-day international on Saturday. Rohit Sharma smashed record-breaking 209 runs to help put up a mammoth total of 383/6. The Aussies were bundled out for 326 in 45.1 overs. PTI
(Details on SPORTS page)
10 run over by train in AP
Hyderabad, November 2
At least 10 passengers were run over by a train in Vizianagaram district of Andhra Pradesh today. The mishap occurred near Gotlam in the north coastal region.

OTHER PAGES

HARYANA: On DC's report, NHRC shuts Fatehabad rape victim's case


HIMACHAL: SJVN to generate 500 MW from renewable resources


CHANDIGARH: For them, call of duty above all


LUDHIANA: Burns units all geared up


DELHI: Six dead, 14 injured in factory fire

OPINIONS: Sharif's US visit rekindles hope of cooperation

SPORTS: Raging Rohit runs over Aussies

WORLD: Mehsud's killing: Pak Taliban vow bloody revenge against US


Lahore Log

The tribune guide to best colleges

Budget
2013-14

INDIA CHINA WAR 50 YEAR LATER

EARLIER FEATURES
Punjab cop facing 35-yr jail term held
Amritsar, November 2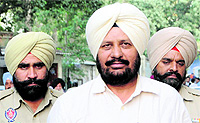 The police today arrested a Punjab Police constable who was sentenced to 35 years of imprisonment by the Supreme Court in a case of disappearance of seven members of a family.
Constable Balwinder Singh being produced in court.
2 Punjabis among 10 Indians stuck in Nigerian jail
New Delhi, November 2
In a tragic tale of a starry dream gone awry, two young boys from Punjab have been languishing in an unknown Nigerian jail for months since the ship they were working on was nabbed by the Nigerian navy for alleged illegal oil bunkering in Bayelsa State. (Details on NATION page)
4 months on, Diwali fails to dispel darkness at Kedarnath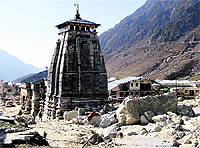 Kedarnath, November 2
As the nation dispels darkness this Diwali, the Kedarnath area in the Himalayas continues to be in its five-month-long gloom. For the people here, the light has gone out of their lives, literally.

A file photo of the Kedarnath temple during its reopening.