For them, duty first, celebrations can wait
Neeraj Bagga
Tribune News Service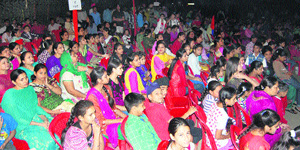 Families of police personnel take part in a cultural function to celebrate Diwali at the Police Lines in Amritsar on Saturday. Photo: Sameer Sehgal

Amritsar, November 2
When residents of the city will celebrate the festival of lights with their families and friends in the cozy environs of their houses on Sunday, there will be professionals and employees of various departments like doctors, firemen, ambulance staff and police personnel who would be working round-the-clock to tackle any exigency.
The Tribune team talked to professionals who will be on duty on Diwali and will celebrate the festival away from their families.
Fire officer Sukhwinder Singh Dhillon has been in the job for the past 23 years and has never celebrated Diwali with his family at their house. The good thing is that it does not disturb him at all as he performs his duty with glee. It is not that his family does not complain about the same, but he ensures that they are provided all necessary things to enjoy a ceaseless celebration. His family comprises his wife, elder son doing BTech and younger son studying at a public school in Dalhousie.
They came together with his colleague Lovpreet Singh's family to celebrate the festival in advance.
"Our job is to ensure the safety of residents and public property during Diwali. Sometimes we feel sad that we could not remain with our family during festivals, including Diwali, but what can we do. Duty comes first," remarked Lovpreet.
Fire station officer Krishan Kumar Kakkar said fire safety staff needed to be highly vigilant during the Diwali celebrations to avert any tragedy.
Monika, wife of a police personnel of the Amritsar Police Commissionerate, feels that it was rare to see his husband celebrating Diwali with the family. She does not even remember a single instance when he celebrated Diwali at home. In the next breath she says "duty is all above. Duty becomes all the more significant during the festive season when there are more chances of untoward incidents."
Elaborate arrangements have been made for the festivities as majority of the police staff would be out on duty on Diwali.
Over a period of time, the ambulance services have become a life saviour for victims of road accidents. Its staff remain on their toes 24x7 to tackle any situation.
It will be the third Diwali for the 108 ambulance squad as the wing was established in 2011. They have decorated their city office and planned to celebrate the festival there. They have also made arrangements for performing a special Diwali puja.
Gurcharan Singh, an ambulance driver, said he was always happy to sacrifice the celebration of festivals for the sufferings of people.
Doctors, paramedic and other staff posted at the local Civil Hospital on the emergency duty during late hours on Diwali feel that nature of their profession made it natural to perform their duty first.
Emergency Numbers
Fire: 101
Fire offices and their numbers:
Town Hall 0183-2557366,
Gilwali Gate 0183-2527000,
Civil Lines 0183-2566212
Beri Gate 2551699.
Police control room: 100, 0183-2225054, 2225056, 9781130666
Medical assistance: Guru Nanak Dev Hospital: 0183- 2422560, 0183-2573928, 0183-2422345.
Guru Ram Das Hospital: 0183-2553668. SGTB Hospital: 0183-2563170, 222173. Blood Bank (GNDH): 0183-2400937.