With polls round the corner, stubble burning goes unchecked
Gurdeep Singh Mann
Tribune News Service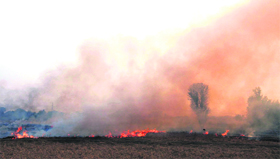 A paddy field set on fire post harvesting at a village near Bathinda. A file photograph
Bathinda, November 2
With elections approaching, the SAD-BJP-run state government seems to be in no mood to annoy farmers, who continue to burn paddy stubble without any legal hitch.
Farmers are burning the paddy leftover to make their agricultural fields ready for sowing of the next crop. With the authorities concerned not ensuring strict adherence to the pollution control norms, farmers resort to putting their post-harvesting fields ablaze thereby polluting the environment and killing a large number of insects and rodents besides micronutrients required for a healthy crop. The practice continues even as they have to spend a lot of money on buying fertilizers to better the quality of soil afterwards.
A blanket of smog was witnessed till 8.30 am today on all the roads leading to Bathinda as farmers had been burning paddy stubble in the fields on the city outskirts.
So far, the district administration has not taken any action against the farmers indulging in the illegal practice. No farmer has been arrested for polluting the environment.
Though no major accident was reported today, four vehicles, including a bus, car and a tractor, collided on the Barnala road at around 8 am owing to poor visibility due to smog.
The pollution generated due to burning of crop leftover causes respiratory problems and proves hazardous for asthma patients.
"We were already upset over the pollution emitted by burning of waste in Guru Nank Dev Thermal Plant Colony. Burning of paddy stubble has only added to our woes," said Jaswant Singh, a resident of nearby Kothe Amarpura village.
He said the government ought to show teeth to offenders in paddy fields.
"Instead, the entire government machinery is busy checking drug menace overnight following the statement of the Deputy Chief Minister to curb the menace in Punjab," Jaswant said. He added that the Deputy CM should rise above politics and issue directions to check the menace of stubble burning.
"Since the equipment offered by the Agriculture Department is expensive, farmers find it easy to burn the crop leftover to ready their fields for the next crop," said Jatinder Brar, a soil expert in Krishi Vigyan Kendra, Bathinda.
On Diwali, the level of pollution will rise further as a large number of people will burst crackers to celebrate the festive occasion.
Earlier, deputy commissioners were directed to check stubble burning by taking strong action against the offenders like snapping power connection to tubewell.
"An immense amount of smoke in the air causes irritation in eyes, respiratory problems, difficulty in driving and affects the eyesight to a great extent," said an eye surgeon Kashish Gupta. He pointed out that there was a rise in the number of patients complaining of irritation in eyes. Those who have undergone eye surgery recently should refrain from going out without sunglasses, Gupta said.