M A I N N E W S
Double trouble for Yamunotri temple
Ajay Ramola/TNS
Mussoorie, November 4
While the Kedarnath shrine, which saw large-scale devastation during the June deluge, still remains under focus, double trouble brews at the Yamunotri temple as several cracks have appeared in the structure of the shrine.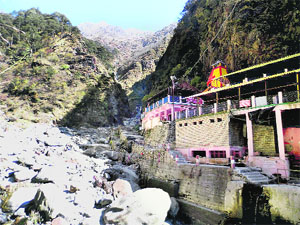 A file photo of the Yamunotri temple
Erosion by the river under the complex and falling rocks from the Kaindi Parvat have left gaping holes across the complex. Priests fear heavy rains could wash away parts of the complex, which houses shrine to goddess Yamuna and is considered as one of the "char dhams" among the Hindus.
Over the years, the temple has borne the brunt of extreme weather conditions. Ingress of glacial waters has led to cracks in the temple structure and also the complex wall, causing concern among the local population. The priests blame it on the absence of measures by the government to protect the shrine despite reminders.
Raman Prasad Uniyal, a local priest, said: "The shrine is facing double trouble in the form of rocks falling from Kalindi Parvat just above the temple and the erosion from below, which has left gaping holes in the shrine. The structural integrity of the complex has been compromised."
The condition may worsen once the shrine closes from November 5 for the winter season, he said. Sandeep Rana from the BJP lamented that no government representative had visited the shrine.
Barkot SDM Devmurti Yadav said they had notified senior officials about the damage to the shrine complex.