Litigants a harried lot as lawyers' strike enters Day 6
Bathinda, November 16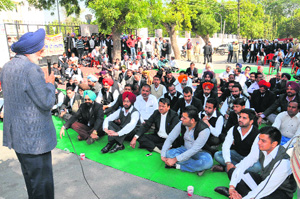 With the strike by lawyers entering its sixth day today, litigants are finding themselves at the receiving end. Litigants visiting the courts cursed the existing system, which allows lawyers to hijack the functioning of courts. Lawyers, however, expressed their helplessness in carrying out the work.
Advocate Sukhdev Singh Bahia addresses the lawyers' dharna against the Civil Line SHO outside the office of the SSP in Bathinda on Saturday. Tribune photo: Pawan Sharma

Battery-operated rickshaw hits city roads
Bathinda, November 16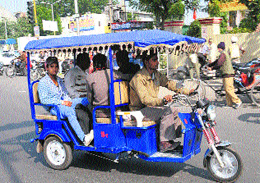 The city has a new battery-operated rickshaw running on its roads drawing attention of the traffic. Owned by Uttam Singh Makkar, a resident of Bibiwala Road, the rickshaw has been operable in the city for the past three months. Designed to carry four people, including the driver, the rickshaw can be operated within city limits only. It has four batteries that are charged in six hours and are of 250 watts.
A battery operated rickshaw plying on Bathinda roads has become a centre of attraction. Tribune photo: Pawan Sharma

Transfer of IG, SSP: Officials say their tenure was eventful
Bathinda, November 16
A number of measures to streamline the police functioning were taken during the one-year stint of Ravcharan Brar as the Bathinda SSP. Brar will now join as SSP Ropar and Gurpreet Bhullar, SSP, SAS Nagar would replace him in Bathinda.
Khilchian looting incident: Two more held
Amritsar, November 16
The Amritsar (rural) police today claimed to have arrested the remaining two persons who were involved in the looting bid at a famous cloth shop in Khilchian last evening.
15 to be honoured at Mohan Singh Mela
Bathinda, November 16
Fifteen persons from different walks of life will be honoured at the 35th Prof Mohan Singh Mela being held here on November 22 and 23. Announcing this, the chairman of Prof Mohan Singh Foundation, Jagdev Singh Jassowal said 15 personalities related to rich heritage and culture of Punjab will be honoured.
Youth fest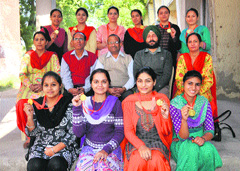 Rajindra college giddha team wins second place
Bathinda, November 16
The giddha team of Government Rajindra College won the second place in the inter-varsity youth fest held at Lyallpur Khalsa College, Jalandhar, was felicitated at the college today.
Students of Government Rajindra College who participated in the inter-university youth festival at a function held in Bathinda on Saturday. Tribune photo: Pawan Sharma

10 girl students among 15 injured as bus overturns
Bathinda, November 16
Fifteen passengers were injured when the private bus they were travelling in overturned while overtaking a truck trailer near Chathewala village at around 9 am today.
Bank official held for graft
Bathinda, November 16
The Vigilance Bureau, Bathinda, today arrested Prahlad Mangla, agriculture field officer at the Rampura branch of Punjab and Sind Bank. The officer is accused of demanding Rs 3,000, one per cent of the Rs 3 lakh loan against agricultural land sanctioned to a farmer.
Civil Services aspirants given tips
Bathinda, November 16
Keshav Goyal from Malout who cleared the Punjab Civil Services exams by scoring 69th rank today gave tips to the students of Abhimanu IAS Study Group, Bathinda branch. Abhimanu Bathinda honoured Keshav Goyal on this occasion for his achievement in the PCS. Keshav gave useful tips on cracking Civil Services to students aiming at it. He said constant hard work, determination, good mentoring and positive attitude played a big role in achieving the goal one aspires to. Speaking on the occasion, Vicky Singal, branch head, Bathinda, said the key to success in the Civil Services lay in dedication, consistency and adequate research material for studying. — TNS
Camp held for scouts and guides
Bathinda, November 16
Camps organised by scouts and guides of various schools, not only fill confidence and vigour among boys and girls, but also instill a sense of patriotism. This was stated today by Additional DGSE Parampal Kaur Maluka while presiding over the five-day camp organised at the Block Resource Centre in Bathinda city. Maluka interacted with students and enquired about the activities done during the camp. Hardarshan Singh Sohal, Amritpal Singh Brar and teachers from different schools were also present during the occasion. — TNS

Congress plans stir against SAD
Bathinda, November 16
The district unit of the Congress today announced to launch a protest against the ruling SAD-BJP government after reports of SAD leaders' involvement in various incidents of crime and drug-peddling. Congress spokesperson Rupinder Bindra alleged that the name of SAD leaders' supporters cropped up during most of the major anti-social eventualities in the state. He said contrary to the claims of the state government to curb the menace, only petty drug-peddlers were being arrested by the police. — TNS