Rehab scheme for slum dwellers hits roadblock for want of land
Bathinda, November 8
The project of rehabilitating urban slums under the Rajiv Gandhi Awas Yojana has hit a roadblock in the city with the district administration being unable to find land for the purpose.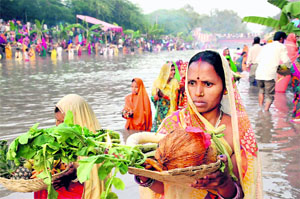 Faith prevails:

Women devotees worship the setting sun on the occasion of Chhath Puja at the Sirhind Canal in Bathinda on Friday. Tribune photo: Pawan Sharma
Faulty RO system: Buyer gets compensation
Bathinda, November 8
Tele Purifier Systems on Ajit Road has been directed by the Consumer Forum to pay Rs 25,000, including Rs 3,000 as cost and Rs 7,000 as compensation, and refund an amount of Rs 15,700 to Gurbachan Singh Bhasin of Khadar Bhandar Wali Gali.
Insurance firm penalised
Bathinda, November 8
United India Insurance Company Limited on Mall road here has been directed to pay Rs 6.37 lakh to a Fazilka resident. The amount includes Rs 50,000 as cost and compensation. The orders were passed by the District Consumer Dispute Redressal Forum on a complaint filed by Ashok Kumar.
Five booked for causing damage to public property
Bathinda, November 8
The Civil Lines police has booked five people for damaging public property. In a complaint to the police, Ved Prakash Khurmi, a resident of Ajit Road, stated that on August 17 few area residents had damaged the tiles on the pavement in the Civil Lines area. The police has booked Aman Jain, Mukesh Jain, Dhanraj Jain and two unidentified people under the Prevention of Damage to Property Act, 1984. The accused allegedly threatened the complainant to withdraw the complaint.
Strike of SSA, RMSA employees enters 19th day
Bathinda, November 8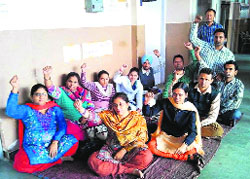 The disbursal of grants to government schools for buying winter uniforms has been hit due to the pen down strike of the SSA, RMSA Non-Teaching Employees' Union that entered its19th day today. Union president Pradeep Bansal said due to the strike the disbursal of grants and the work of sending reports to headquarters was suffering. The union is gearing up to attend the state-level rally to be convened at Ropar on November 9.
Members of the SSA, RMSA Non-Teaching Employees' Union protest outside the DEO office in Bathinda on Friday. A Tribune photograph

Baba Farid students on industrial visit
Bathinda, November 8
Students of Baba Farid Group of Institutes (BFGI) visited different industrial houses under the industrial visit programme of the institute. Students of MBA (final year) of Baba Farid College of Management & Technology visited Nahar Spinning Mills, Ludhiana. Another batch of MBA (semester) students visited Yakult Danone India (P) Ltd.



call of faith:

A woman prostrates during Chhath Puja near the Sirhind Canal in Bathinda on Friday. Tribune photo: Pawan Sharma
from other punjab towns
Another train between Amritsar, Chandigarh soon
Amritsar, November 8
After over a six month-long successful run of the daily Superfast Express train between Chandigarh and Amritsar via New Morinda and Sanehwal, the Railways is anticipating to commence another train between the two cities.
Jhumba school wins drama competition
Bathinda, November 8
The team of Government School, Jhumba, won the district-level science drama competition. the competition was held at Teachers' Home. District science supervisor Jarnail Singh Bhodipura said six teams from three tehsils participated in the competition. The teams that won the first two places at tehsil-level competitions held at Bathinda, Rampura and Talwandi Sabo participated in the event.
Women commission to hold court on Nov 11
Bathinda, November 8
The Punjab State Women Commission will hold a court of four districts in Bathinda on November 11. The event will be held from 10.30 am to 3.30 pm at field hostel, Guru Nanak Dev Thermal Plant Colony.
College releases placement brochure
Bathinda, November 8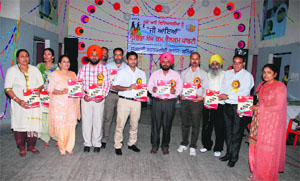 The placement-cum-information brochure of Government Polytechnic College was released today. Principal Yadwinder Singh and Municipal Commissioner Vipul Ujwal released the brochure.


Government Polytechnic College staff releases a placement brochure in Bathinda on Friday. A Tribune photograph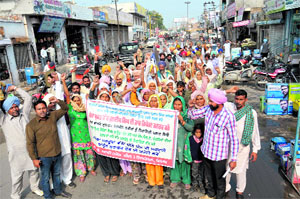 Protest path:

Activists of the CPI (ML) Liberation, Punjab, protest against the Punjab Government and in support of their demands in Bathinda on Friday. Tribune photo: Pawan Sharma
Awareness programme on cancer
Bathinda, November 8
An awareness programme on cancer was held at Government Senior Secondary School, Maiserkhana. Principal Varinderpal Kaur apprised the students of causes of cancer, symptoms and treatment.
Seminar on poet Sant Ram Uddasi held
Bathinda, November 8
Guru Kashi University, Talwandi Sabo, organised a seminar on Punjabi poet Sant Ram Uddasi. Prof Gurbhajan Singh Gill, Director (Planning & Development), GKU, presided over the function.