Fire breaks out at Axis Bank branch
Short circuit suspected to be the reason; records, equipment on the first floor of the two-storey building gutted
Gurdeep Singh Mann
Tribune News Service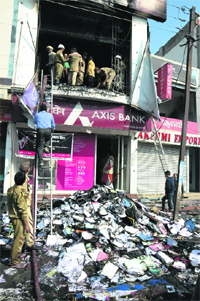 Firemen bring down the files that were burnt. Tribune photographs
Bathinda, November 10
A major fire broke out at the Axis Bank on the Mall road here in the morning today reducing the equipment and other things on the first floor of the building to ashes. Five fire tenders were pressed into service to douse the flames.
Being holiday, the bank was closed today. People saw smoke billowing out of the building and raised an alarm. The Fire Department was informed.
Dr Ajay Gupta, owner of Ludhiana Children Hospital situated opposite the bank building, said he saw the building caught in flames between 8.30 am and 8.45 am. "Fire engulfed the entire first floor within minutes," he said.
Furniture, important files, the server room, loan section, cash counters and banking gadgets kept on the first floor of the building were burnt.
However, the ground floor where the bank's ATM machine and office of the bank manager is situated was saved.
Short circuit in the store room situated on the first floor is being suspected as the cause of fire though exact reason is yet to be established.
Bank officials, who reached the place, claimed that the lost record would be retrieved from the backup maintained in the Chandigarh and Mumbai offices of the bank in the next few days or so. They added that it would take 10 or more days to bring the functioning of the bank back to normal.
Earlier, huge flames had engulfed the entrance, first floor and the rooftop of the building before fire tenders arrived at the scene. Traffic on the road proved hindrance in fire fighting, Gupta said. Traffic policemen reportedly could not cordon off the area to facilitate the job of firemen.
Initially, one fire tender reached the site. Later, four more fire tenders were pressed into service. A fire tender parked at the venue of the Chief Minister's Sangat Darshan was also pressed into service.
Firemen made their way to the first floor by breaking the windowpanes.
Fire officer Jaswinder Singh said the fire was controlled within one and a half hours.
After dousing the flames, the firemen brought down a huge pile of files, including half-burnt ones, and stacked them on the road.