Lighting up lives
Meet the power generators of India who have used renewable energy for rural livelihood. They have transformed the lives of thousands of people in rural areas that are mostly off the power grid
Kavita Kanan Chandra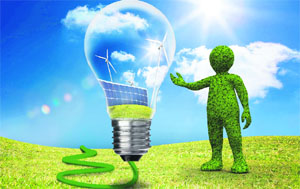 SOCIAL entrepreneurs have turned the crippling power grid problems into an opportunity to offer electricity at low cost and by using local resources to light the lives of rural masses groping in darkness. Where traditional non-renewable energy sources of coal, natural gas and firewood are depleting fast and environment concerns are mounting; use of clean eco-friendly technology to generate electricity from biomass, hydro and solar energy as small-scale enterprises is commendable. Rural youths are employed to operate them and more and more jobs are created.


---
ART & SOUL
B.N. Goswamy
Messages through impersonation
"Being Gandhi," the title of a series of images, is a tribute to the performative art of impersonation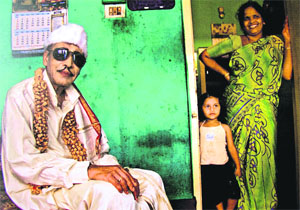 I saw it for the first time during a visit many years ago to the entertainment district of London, the West End; specifically around the Covent Garden tube station. There was a crowd gathered around a man who stood still as a statue atop a box, dressed as Abraham Lincoln, hair on head and beard precisely in place, but face covered with silver paint.


Vidyasagara as MGR at someone's home. The Photographs are by Cop Shiva
---
FITNESS
Good health
For a clear tummy
A diet low in fibre, fluids or high in fat, refined foods or processed foods as well as insufficient physical exercise and prolonged sitting can cause constipation. The ill-effects include headache, foul breath and mental sluggishness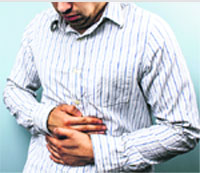 Altered gut motility or irregular bowel movements have become a common condition with the fast-paced lifestyles. While most individuals experience it off and on, constipation is defined as difficulty or infrequent evacuation of the bowels. When the colon's muscle contractions are slow or sluggish, the stools move too slowly. This increase in intestinal transit time causing the colon to absorb too much water and produce hard and dry stools. The normal frequency of the bowel is 3-12/ week varying from person to person, most people feel comfortable with bowel movement at least once a day.
---
Society
"My novel has a deep political context"
Parbina Rashid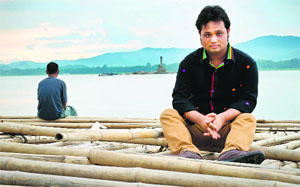 protagonist Pablo's cousin Anil-da stumbles upon an interesting piece of gossip which could leave a marked impact on his sister's wedding. Well, 22 pages after I still hold my breath for that piece of news, but it does not come. "I am waiting for Anil-da to break the news which he brought in from the village market along with the coloured papers," I shoot a mail to Aruni Kashyap, the author of The House with a Thousand Stories.
Aruni Kashyap has created waves with his debut novel. In his non-linear narrative, he wants to focus on all the stories that have been suppressed in Assam
---
Travel
The veritable Garden of Eden
In Seychelles, the sun-kissed, sugary white beaches give a new dimension to paradise
Preeti Verma Lal
Amassive nut hangs precariously from a palm tree, a nut so colossal that you could swap it with elephant legs, or, the trunk of a baobab. A mammoth nut? Yes, in Seychelles, Coco de Mer is gigantic — the largest Coco de Mer, an endemic coconut, weighed — hold your breath — 42 kg! The fruit takes six to seven years to mature; its seed weighs about 18 kg (the world's largest) and the female flowers are the largest of any palm. Its only natural habitat is the Vallee de Mai (May Valley) Palm Forest in Praslin Island, a Unesco World Heritage Site. Vallee is so pristine that in 1881 British General Charles George Gordon propagated the myth that Vallee de Mai was the Garden of Eden and Coco de Mer the forbidden fruit. This forbidden fruit is expensive too — one coconut costs about 13,000 rupees.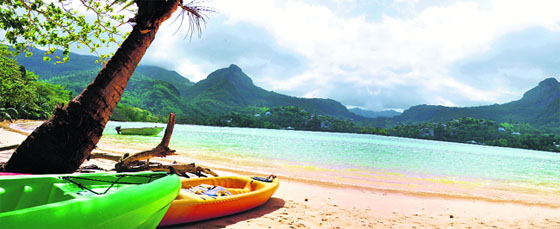 Colourful kayaks in the Port Luanay Wetland Mangrove Reserve
Globetrotting: Snake charmer
---
Entertainment
Faith accompli on small screen
If you are the generation which carries sepia-toned memories of re-runs of the Mahabharata and Ramayana, fear not, there has been a return of mythology on the small screen! Well-researched and slickly produced, mythological shows with massive budgets are giving crash courses in religion
Swati Rai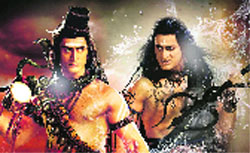 AS the soaps and reality TV wears off its TRP charm, the new kid on the block are the serials based on mythology and history! Mahabharat on Star Plus, Jai Jai Jai Bajarang Bali on Sahara One, Devon ke Dev Mahadev on Life OK now Buddha on Zee TV is already making waves. In this Himanshu Soni, the young Jaipur lad, the chosen one to play the lead of Buddha who went through a rigorous training and grooming sessions to play the part of this historical character is already getting the younger generation hooked on the life and times of Buddha!
Visual raconteur
For Anay Goswamy, cinematography isn't a mélange of pretty visuals but the art of telling stories with images
Nonika Singh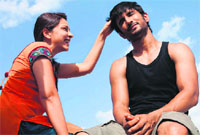 Cinematography can't be viewed in isolation. It's not a standalone art but something that must carry the cinematic narrative forward. So believes ace cinematographer Anay Goswamy of films like Kai Po Che, No One Killed Jessica, The Japanese Wife, etc. He insists that cinema is a collaborative effort.


A still from Kai Po Che