Jaitley stamps BJP-HJC alliance in Haryana
Projects Kuldeep Bishnoi as Chief Minister candidate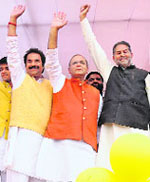 Hisar, December 1
Senior BJP leader Arun Jaitley today put to rest speculation over the fate of the BJP-Haryana Janhit Congress (HJC) coalition in Haryana and projected its party president Kuldeep Bishnoi as the chief ministerial candidate.
From left: HJC chief Kuldeep Bishnoi, BJP leader Arun Jaitley and Haryana BJP chief Ram Bilas Sharma in Hisar on Sunday.

Tejpal in six-day police custody; grilled for 5 hrs
Panjim, December 1
Tarun Tepal, Tehelka magazine's former Editor-in-Chief, was today remanded in police custody for six days, a day after being arrested for allegedly sexually assaulting a woman colleague. Judicial Magistrate Shama Joshi passed the order as the prosecution sought his police remand for 14 days.
Record 75% turnout in Rajasthan polls
Jaipur, December 1
Amid sporadic violence, nearly 75 per cent voters today exercised their franchise in Rajasthan Assembly elections to decide the fate of Chief Minister Ashok Gehlot and his bete noire BJP's Vasundhra Raje among others.