Uprooting of grass leaves hockey players jittery
Renovation of Guru Nanak Stadium ahead of World Cup Kabaddi attracts criticism; officials call it blessing in disguise
Neeraj Bagga
Tribune News Service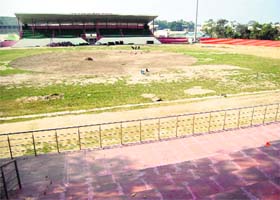 Workers spruce up the Guru Nanak Stadium ahead of World Cup Kabaddi matches in Amritsar on Monday. Photo: Sameer Sehgal
Amritsar, December 2
With the Guru Nanak Stadium being prepared to host five matches of the ongoing World Cup Kabaddi on December 6, the uprooting of grass on the ground has not gone down well with budding hockey players and lovers of the game.
The stadium is regularly used to train hockey players and athletes. The move to uproot grass, however, has perturbed many young players. A budding hockey player said the uprooting of grass right in the middle of the ground would have an adverse impact on their practice.
A student of a government school, he had enrolled to train himself to become a quality player about two years back.
Another young player said, "It is Guru Nanak Dev University (GNDU) in the city which has a synthetic track to train hockey players which meet international standards. There is restricted entry for players and it is not possible that all players can be accommodated in the ground simultaneously. The stadium is located near the bus stand and railway station. It is easily accessible for players coming from inside and outside the city."
A city-based former international hockey player said on condition of anonymity that since there was only one astro-turf ground in the district it was not possible to accommodate all players at the same venue.
The Guru Nanak Stadium offers a good opportunity to budding players to get trained in basics of the game while playing on a grassy ground. Then they can graduate to astro-turf to hone their skills, he added.
About uprooting of grass, he said it would take at least a couple of months to restore the ground with grass which would cost dear to aspiring young players.
Sources in the Sports Department said it cost lakhs of rupees to plant the grass.
District Sports Officer Harpaljeet Kaur said, "Grass got damaged after long spells of rain in August and the ground had turned uneven. The ground needs to be levelled and a road roller has been arranged for the purpose. It is a blessing in disguise as its maintenance has been carried out. We have been assured that grass would be replanted after the matches conclude."
Amount to the tune of Rs 17 lakh was spent to spruce up the ground before the World Cup Kabaddi last year but the government has instructed to keep a tab on expenditure this time, she added.
She further said Rs 4 lakh had been released to the local sports department in advance and the government would pay the rest of the expenses following the kabaddi cup.
The PWD (B&R) and Municipal Corporation have been engaged to give the facelift to the stadium.
Dr Kuljeet Singh, a member of World Anti-Dope Agency (WADA), New Delhi, recently visited the venue of the game. Four rooms have been earmarked for the anti-doping team at the centre. They would conduct dope tests on players during the matches here. The samples taken would be sent to the WADA laboratory in New Delhi.
The district administration has constituted 15 separate committees to smoothly conduct the kabaddi matches. Each committee has certain number of members.
These committees with are welcome committee (10 members); security, traffic parking and parking committee (13 members); VVIP, VIP sitting and refreshment arrangement committee (10 members); meals committee to supply packaged food to visiting players (seven members); transport, fire brigade and recovery vans committee (five members); medical committee (five members); media publicity, folk song, public address sound committee (five members); cleanliness, temporary toilets, potable water committee (seven members); uninterrupted power supply committee (four members); players, senior officials, VIP, VVIP sitting arrangement committee (five members); match ground preparation, beautification, commentary committee (10 members); invitation, duty slips, parking stickers committee (four members); sarpanches, councillors, zila parishad committee (three members); players' refreshment, dope test arrangement committee (seven members) and protocol committee (11 members).
Besides, the district administration is regularly holding meetings to sort out bottlenecks and evaluate work. A meeting under the chairmanship of Deputy Commissioner Ravi Bhagat was also held in this regard.