Authorities baffled as narcotics find their way to Central Jail
Amritsar, December 15
If the high-security Amritsar Central Jail authorities devise one way to prevent the smuggling of narcotics inside the jail, the inmates have other "countless" methods to sneak in contrabands. Recently, a prisoner tried to push in drugs while concealing it in groundnuts.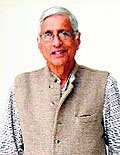 Aurangzeb to Partition, his book explores history of undivided Punjab
Amritsar, December 15
Rajmohan Gandhi, a renowned scholar and grandson of Mahatma Gandhi, was in Amritsar to launch his latest book, "Punjab-A history from Aurangzeb to Mountbatten". Tracing 240 years of the history of Punjab, the book reflects on Punjab in the times of Aurangzeb, Maharaja Ranjit Singh and the British.

Rajmohan Gandhi in Amritsar on Sunday. Photo: Sameer Sehgal

10 booked for ransacking fast food joint
Amritsar, December 15
The city police have booked around 10 persons for allegedly clashing with a fast food shop owner and damaging his shop last evening. Among those, who were booked, are Ravi Shukla, Shiva Shukla, Kalu alias Gujjar, Kunwar, Sonu, Panku, all residents of Dashmesh Nagar, located near Jora Phatak area, and four unidentified persons.
Two held in robbery case
Amritsar, December 15
With the arrest of two persons, the Civil Lines police today claimed to have cracked the robbery case, in which three armed persons snatched three ATM cards from a retired teacher in the Ranjit Avenue area and later debited over Rs one lakh from his bank accounts.
ICICI Bank fined for misplacing sale deed
Amritsar, December 15
The District Consumer Disputes Redressal Forum has directed ICICI Bank to pay a fine of Rs 1 lakh to a local resident for misplacing original sale deed copies of his property, which he had submitted to the bank for securing a housing loan.
Conference acquaints doctors with latest dental techniques
Amritsar, December 15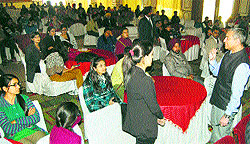 A two day Punjab State Dental Conference, hosted by city-based Indian Dental Association (IDA) Chapter, concluded here today. Speakers and delegates from Delhi, Haryana, Himachal Pradesh, Jammu and Kashmir, Punjab, Rajasthan and Uttar Pradesh participated in the conference.

A doctor addresses participants of the Inter State Dental Congress in Amritsar on Sunday. Photo: Sameer Sehgal

Students urged to save environment
Amritsar, December 15
Spring Blossoms School organised 'Carnival 2013' here today. The theme of the carnival - 'In Harmony with Nature' - had been chosen to sensitise children towards environment and to make them realise the importance of living in harmony with others.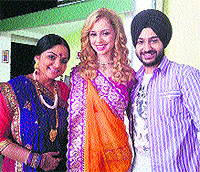 Punjabi roots helped in films: Jas Bhatia
Amritsar, December 15
Is it an advantage to be a Punjabi in the films ? The statement by actor Jas Bhatia reflects the common sentiments of the artistes from Punjab in the entertainment industry. Jas, who has been sharing screen with Farhan Akhtar in the recent biopic Bhaag Milkha Bhaag, said his gradual success in the film industry was due to his Punjabi roots, which gave that extra required push to make his mark.
Actor Jas Bhatia in a drama "Firangi Bahu" being telecast on Sahara One. A Tribune Photograph

Couple keeps up splendid performance in athletics meet for veterans
Amritsar, December 15
A city-based elderly couple Jarnail Singh and Gurmeet Kaur continue to improve their performance in veterans athletics meets. A former commission agent dealing in grains, Jarnail Singh (62), stood first in 5-km walk as he covered the distance in 32:39:06 in the veterans athletics meet concluded recently. Earlier, he secured the second place in the 5-km walk in a time period of 34:30:21.
Gold cup hockey tourneys from today
Amritsar, December 15
Over ten teams will vie for honours at the six-day 11th All India Maharaja Ranjit Singh Junior Gold Cup Hockey Tournament for Boys, which will kick off from Guru Nanak Dev University hockey ground tomorrow.
Political temperature soars: BJP workers and leaders take part in the Run for Unity march in Amritsar on Sunday. Photos: Sameer Sehgal