This school believes in tapping talent
Neeraj Bagga
Tribune News Service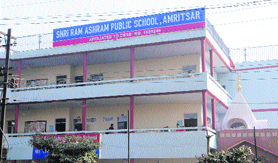 A view of Shri Ram Ashram Public School in Amritsar. Photo: Vishal Kumar

Amritsar, December 10
Shri Ram Ashram Public School has proposed to reinvigorate its teaching to arm its students in the changing world scenario by establishing vocational education centre. The school's managing committee - Shri Ram Educational Society president, Balbir Bajaj, a businessman of the city, said the stress was to evaluate and acknowledge personality of students at the earliest and channelise these accordingly.
He said the objective was to catch them young. He added that the school has taken upon itself the job of developing skills among students so that they need not to hanker after job once completing their education.
Bajaj pointed out that "universities and colleges in the region were striving hard to place their students in companies". The gap between the students appearing for the tests and interviews and the number of successful candidates is appalling. Officials of many companies were found complaining of not finding the right stuff.
Notably, the school was established by Shri Ram Educational Society, which was founded in 1923 in response to the Non-Cooperation Movement call given by Mahatma Gandhi. As a result, the school was established to meet the challenges of the British colonial rule and to promote the spirit of nationalism among students.
The school stands out among plenty of schools, even run by religious educational societies, as it does not charge any capitation fee and donations.
On the reason for moderate fee structure in comparison to other CBSE affiliated schools, Bajaj said the educational society was of the firm belief that there were a large number of families in the city which had limited means and income but were not ready to seek financial assistance. The school has designed its fee structure accordingly.
School principal Vinodita Sankhyan said apart from curriculum, the stress was laid on providing value based quality education at an affordable fee structure. She said the school offered liberal financial assistance and even gizmos to brilliant students.
The school has thrown open a library, e-library, small gymnasium, a health gym, smart classrooms for its students.
Following internal wrangling in the society, the student strength plummeted to 19 in 1999. It was then that the society, headed by late Dr Harbilas Rai, got the school affiliated to the CBSE. After 14 years, now the school has a strength of 3,200 students. Another school of the society is located on Batala road. The school will seek its affiliation to the CBSE from the next academic session.