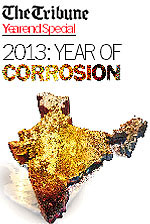 The Tribune presents a perspective of personalities and events that shaped the year in a special 16-page colour supplement today. Please note that there will be no issue of Spectrum today.
— Editor-in-Chief
26 killed as Nanded express catches fire
Hyderabad, December 28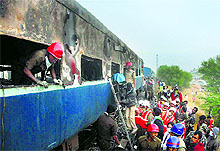 At least 26 passengers, including two children, were killed and 15 others injured when two air-conditioned coaches of an express train caught fire in Anantapur district of Andhra Pradesh today.
Rescue operations under way after an AC coach of the Bangalore-Nanded Express caught fire in Anantapur on Saturday. PTI

Will challenge ban on plastic: HP traders
Shimla, December 28
Imagine a day without chocolates, biscuits, noodles and soft drinks. Come January 26, it may become a reality in Himachal Pradesh if the recent high court verdict is strictly enforced.
India, Pak to send back stray border crossers
Lahore, December 28
India and Pakistan today agreed that people who inadvertently cross the frontier would be immediately returned to their respective countries.
Muzaffarnagar Mayhem
Riots triggered a wave of early marriages
Shamli/Muzaffarnagar, December 28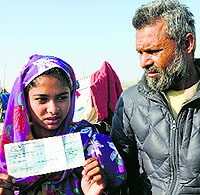 Only three months ago, Gulshana was nurturing golden dreams about her future. Though not formally educated — like most Muslim girls in western UP — she had convinced her father about enrolling herself in a technical course and doing the family proud.

Mohd Raees' daughter Gulshana shows a cheque she got during a mass wedding.

OTHER PAGES

PUNJAB: Consortium partner to blame for PIMS crisis, says Society director


HIMACHAL: Virbhadra's winter sojourn begins


CHANDIGARH: HC Kalyan is Congress mayoral candidate


LUDHIANA: Finally, some takers


DELHI: Portfolios allotted to sworn-in ministers

OPINIONS: On foreign policy, Sharif on right track


NATION: Rahul effect: Haryana, Himachal lokayuktas may get more teeth


SPORTS: Jadeja keeps South Africa in check

WORLD: Thai tension rises as protester shot dead




Lahore Log

The tribune guide to best colleges

Budget
2013-14

INDIA CHINA WAR 50 YEAR LATER

EARLIER FEATURES
Actor Farooq Sheikh dies at 65
Dubai/Mumbai, December 28
Veteran actor Farooq Sheikh, best known for his memorable performances in films like 'Garm Hava', 'Shatranj Ke Khiladi', 'Chashme Buddoor', 'Umrao Jaan' and 'Bazaar', died after suffering a heart attack in Dubai. (Details on NATION page)
Punjab investment— Part I
Post 'investor tsunami', tide of commitments yet to turn
After hosting its maiden investors' summit on December 9 and being promised Rs 65,000-crore investment, Punjab has portrayed itself as a key business destination. The Tribune, in the first part of the series, gives an insight into what has been promised for various sectors of the industry and whether the state has the required wherewithal to create infrastructure for facilitating the investment.
Hisar coldest in plains at 0°C
Chandigarh, December 28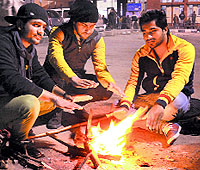 Cold conditions further tightened their grip in Punjab and Haryana where minimum temperature dipped by several notches. Hisar in Haryana was the coldest place as minimum dropped to 0 °C.

Youngsters keep warm around a bonfire at the Jalandhar railway station. Tribune photo: Malkiat Singh

2002 riots: Modi says he was 'shaken to the core'
December 28, 2013

All in a day: Relief, jolt for Modi
December 27, 2013

Army orders court martial of 6 men in Machil encounter case
December 26, 2013
India, Pak DGMOs agree on new peace mechanism along border
December 25, 2013
Arvind Kejriwal to be Delhi CM
December 24, 2013
AAP all set to form govt in Delhi with Cong support
December 23, 2013
Kishenganga: India's right upheld
December 22, 2013
US adamant, not to drop charges against Devyani
December 21, 2013
Drop case against Devyani: India
December 20, 2013
Parliament clears historic Lokpal Bill
December 19, 2013