Deputy CM launches city bus service
40 buses, including AC and non-AC, introduced in Ist phase; to run in a span of 15 minutes
GS Paul
Tribune News Service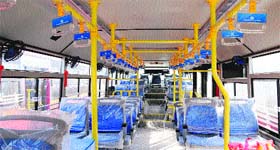 An inside view of a city bus. Photo: Vishal Kumar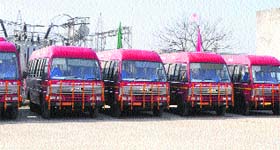 The city bus services will start from 7 am onwards from Wednesday on different routes. Photo: Vishal Kumar
Amritsar, January 28
It's now official. After a long wait of around seven years, the customary launch of the city bus service was carried out by Deputy Chief Minister Sukhbir Badal today at Mall Mandi Bus Stand especially readied to station the city buses. The service will start from 7 am onwards from tomorrow on different routes.
As many as 40 buses have been introduced in the first phase which will run within a span of 10-15 minutes for different destinations. The fleet includes AC low-floor buses, semi low-floor, non-AC and Standard AC buses.
For the non-AC buses, the least fare will be Rs 2 (up to 5 kms), Rs 5 (5-10 km) and Rs 10 (more than 10 km). The fare for AC buses will be Rs 5 (up to 5 km), Rs 10 (5-10 km) and Rs 15 (more than 10 km).
To provide a secure, transparent and hassle-free journey to the residents, special arrangements have been made to install the GPS system and CCTV cameras in the city. Efforts are on to smarten up the minute detailing of this first-ever public transport system of the holy city. MC Commissioner DPS Kharbanda said the move was on to introduce electronic ticketing and the Fare Card System.
"We wanted it to be a flawless service. It may take us a few days to fine tune minute details," he said. Besides this, the GPS system is being installed to locate the position of the buses. A centralised office is being set up at the Mall Mandi Bus Stand, specially built for these buses.
On the one hand, electronic ticketing will bring in more transparency, on the other hand, the Fare Card System will facilitate daily passengers to pay the fare by just swiping the card, on the lines of the debit or credit card use. The MC authorities have procured around 50 swipe machines for the purpose and their trial run has already been done.
MC authorities have also conceptualised the idea of introducing pre-paid bus passes for daily commuters as another option.
The buses, run under Amritsar City Transport Service Ltd., will cover from Doburji to India Gate via bus stand, Hussianpura Chowk, 4S Chowk, Rattan Singh Chowk, District Courts, Circuit House, Railway Station, Putlighat, Khalsa College Chowk, Chheharta Chowk, Doburji to Meera Kot via Sultanwind Chowk, Dharm Singh Market, Railway Station, Sadar Thana, Saroop Rani Govt College for Women, Hartej Nursing to Meera Kot and the third route will be from Indian Oil Corporation Petrol Pump Verka to Mandir Baba Mulla Ji, bypass Verka, Bijli Ghar Verka, Vijay Nagar, Dental College Chowk, Bus Stand, Ram Bagh, Durgiana Mandir, Khazana Gate, Chattiwind and back.
These buses are being operated on NCC (net-cost contract) mode by hiring a Karnataka-based company. It will be the liability of the company to operate and maintain the buses. In lieu, the company will also pay the MC an amount of Rs 1,250 every month for each bus. This contract will be for one year and further renewal will increase this amount to Rs 2,000 for each bus per month. From the third year, there will be an automatic increase of 7 per cent for another 10 years.
The project was proposed under the Centre's Jawaharlal Nehru National Urban Renewal Mission (JNNURM) programme in 2007 initially for Rs 33 crore but the delay has escalated the cost to Rs 49 crore.
The Deputy Chief Minister said in the coming month the foundation stone of the prestigious Rs 600-crore project of Metro Rapid Bus Service would also be laid.
Badal was accompanied by Local Bodies Minister, Punjab, Anil Joshi, Chief Parliamentary Secretary Inderbir Singh Bolaria, Mayor Bakshi Ram Arora, Sunil Chatra, Director, ACTL Company, Deputy Commissioner Ravi Bhagat and Commissioner, Corporation, DPS Kharbanda.