M A I N N E W S
Fisticuffs & pepper spray: House hits new low
Theatre of absurd: Anti & pro-Telangana MPs slug it out as Parliament takes up Bill
KV Prasad
Tribune News Service
New Delhi, February 13
India's parliamentary democracy hit a new low today as members in the Lok Sabha were subjected to pepper spray by a colleague during a fracas in the House as the government introduced the Telangana Bill. At least 16 MPs of the Seemandhra region were suspended for five days.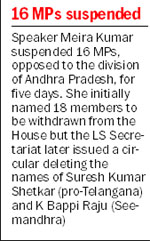 Uproarious scenes were also witnessed in the Rajya Sabha with members staging protests in the well and TDP MP CM Ramesh attempting to pull out a mike from the podium. This prompted the Chair to adjourn the House till afternoon and later till Monday.
Acrimony over the emotive issue, which has kept Andhra Pradesh on the boil over the past few months, reflected in the Lok Sabha as members from the Congress, the Telugu Desam Party, the Telangana Rashtra Samiti and the YSR Congress stormed into the well of the House just as Home Minister Sushilkumar Shinde introduced the Bill.
Problem arose after Venugopala Reddy (TDP) was seen uprooting the mike on Secretary General's table and another member smashing a glass protecting a computer.
As members from Seemandhra and Telangana broke into a scuffle, others, including Raj Babbar and Mohd Azharuddin, attempted to intervene. Congress MP L Rajagopal then pulled out a can of pepper spray and let it out in the air.
Many MPs in the vicinity experienced cough and watery eyes, with three — Union Minister Balram Naik, Ponnam Prabhakar and Vinay Kumar Pande — requiring medical assistance. The chamber was vacated after the House was adjourned by the Speaker. Ambulances were used to ferry the injured MPs.
In the post-lunch session, TDP MP Narayana Rao with cardiac condition collapsed while MPs were in the well. He was taken to the hospital.
The Speaker later read out the names of the MPs suspended and dismissed the no-confidence motion moved by some Andhra MPs. The House was adjourned till Monday.
Interacting with the media, Rajagopal sought to justify his actions saying he used the spray in "self-defence". Rajagopal, who is among the 16 suspended, claimed he came under attack while trying to rescue Venugopala Reddy.
Initial reports suggested Reddy carried a knife but he later clarified that it was a piece of mike that he had uprooted.
The Lok Sabha Secretariat is expected to look into the matter and suggest action. Congress parliamentary managers suggested it may result in registration of case against MPs.