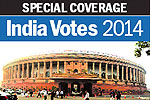 Govt says Bill tabled; BJP questions claim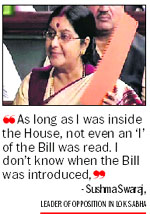 New Delhi, February 13
While Home Minister Sushilkumar Shinde today said the Telangana Bill had been introduced in the Lok Sabha and it was now "the property of the House", the BJP questioned the government's claim. The main Opposition said the "disgraceful" pepper spraying incident in the Lok Sabha was a "drama" enacted by the Congress and vowed not to engage with the government on any issue again.
Cong may extend session to push Bill
New Delhi, February 13
Unfazed by the unprecedented mayhem in Parliament, the UPA government is ready to pull all stops to push the controversial Telangana Bill, and is even open to extending the session if necessary.

OTHER PAGES

HIMACHAL:CM says decision on opening, upgrading of schools soon


CHANDIGARH: Banker dies in car crash


LUDHIANA: 30 hospitals served notices


DELHI: Ruckus in House over Bharti


OPINIONS: A pre-election budget


BUSINESS:2G spectrum auction over; govt mops up over Rs 61k cr


SPORTS: It's now or never for India

WORLD: 13 killed, 50 injured as suicide bomber targets bus in Karachi


The tribune yearender 2013 : year of corrosion

Lahore Log

The tribune guide to best colleges

Budget
2013-14

INDIA CHINA WAR 50 YEAR LATER

EARLIER FEATURES
Powell meets Modi as US ends 9-year boycott
Gandhinagar, February 13
Ending a nine-year boycott, US Ambassador Nancy Powell today met Narendra Modi and said her country looked forward to working closely with the government India chose after the Lok Sabha elections, an indication that it has no reservations of doing business with him if he becomes Prime Minister.
Shabir surrenders in Srinagar, gets bail
Srinagar, February 13
Former Minister of State (MoS) for Health Shabir Ahmad Khan, who resigned last week following a case of molestation against him filed by a doctor, presented himself before the police in the city here today and was granted bail. Khan surrendered at Shaheed Gunj police station around 5 pm, sources said. "He surrendered and then he was granted bail," sources said.
Eight secret Akali-Centre meetings before Bluestar
Chandigarh hosted three parleys, Delhi five, claims former Deputy Commissioner Raghbir Singh
Chandigarh, February 13
"I received a call from Chief Commissioner Krishna Banerji asking me to see him immediately. As soon as I entered his room, he signalled all those already present there to leave immediately. He told me to make preparations for a top-secret meeting between some top politicians from the Centre and Akali leaders lodged in the Burail jail. I was asked not to involve anyone in the mission, and keep the police out of the loop."

UPA-II spares fares, offers 72 new trains
February 13, 2014
Free-for-all in J&K House; MLA hurt
February 12, 2014
SC panel indicts BCCI chief's son-in-law over IPL betting
February 11, 2014
Foodgrain output set for new high: Pawar
February 10, 2014
AAP refuses to yield on Jan Lokpal Bill, slams Centre
February 9, 2014
Booked for molestation, J&K minister steps down
February 8, 2014
Kejri takes CWG swipe at Cong
February 7, 2014
Communal violence Bill, Telangana rock House
February 6, 2014
UK says it advised India on Bluestar
February 5, 2014