Plant trees in Vaishno Devi shrine area: Guv
Jammu, March 2
Governor NN Vohra has emphasised the need for preserving the germplasm of local plant species. Local varieties which are hardy, ornamental and provide shade should be planted in the yatra area, Vohra said while inspecting the nursery complex being developed by the Shri Mata Vaishno Devi Shrine Board at Kun-Kanyala near Panthal today.

Governor NN Vohra inspects a nursery at Panthal in Jammu on Sunday. A Tribune photograph

Guv reviews infrastructure at Katra Railway Station
Jammu, March 2
Governor NN Vohra yesterday visited the Katra Railway Station where he was briefed about the facilities for the Vaishno Devi pilgrims. The pilgrims will arrive directly at Katra when the Udhampur-Katra rail link is commissioned.


Governor NN Vohra reviews facilities at the Katra Railway Station on Saturday. A Tribune photograph



As critical year unfolds, security forces intensify operations in Kashmir
Srinagar, March 2
As the critical year unfolds, the Army and the police have gone into an offensive mode launching operations against militants across the region. The latest operation, launched on Monday afternoon in a remote forest of north Kashmir's frontier Kupwara district, left seven militants dead after a "heavy exchange of fire" in a thick forest near Dardpora.


In 5 years, 4.4 lakh new vehicles hit J&K roads
Jammu, March 2
The pace of registration of new vehicles seems to be accelerating in the state as nearly 4.4 lakh new vehicles have been registered in the state during the last five years. The total vehicle population of the state has touched 10 lakh.

The total vehicle population of the state has touched 10 lakh. A Tribune photograph
Panel set up for revision of teachers' training course
Jammu, March 2
The state government has constituted a committee to review the curriculum of the Elementary Teachers Training Course (ETTC), now renamed as the Diploma in Elementary Education (DEEd), in reference to the National Council for Teacher Education (NCFTE)-2009.
Govt keen on improving infrastructure: Bhalla
Jammu, March 2
Minister for Housing, Horticulture, Culture and Youth Services and Sports Raman Bhalla today said the government was making efforts to provide modern infrastructural facilities across the state.


Jehangir Chowk flyover project
No end in sight to traffic woes of city residents
Srinagar, March 2
Although the city administration has announced alternative routes for traffic movement along Jehangir Chowk-Rambagh route in the wake of flyover construction from March 1, there is no end to traffic woes for city residents.
Labourers work on the Jehangir Chowk-Rambagh flyover in Srinagar. A Tribune file photo

Illegal parking creates traffic chaos
Srinagar, March 2
Illegal parking of vehicles across the city has made life difficult for residents. To tackle the problem, the traffic department has only two towing cranes to handle thousands of illegally parked vehicles.

Motorists stuck in a traffic jam in the Old City of Srinagar on Sunday. Tribune photo: Yawar Kabli


Awami Ittihad Party accuses NC, PDP of playing vote bank politics
Srinagar, March 2
The Awami Ittihad Party (AIP) today accused both the ruling and the opposition parties of playing vote bank politics.
Hindustan Petroleum launches 24X7 LPG refill booking
Srinagar, March 2
Amid complaints related to home delivery of Liquid Petroleum Gas (LPG) cylinders, Hindustan Petroleum has launched a 24x7 refill booking system. "Hindustan Petroleum has launched 'HP ANY TIME', which will enable customers book refills and obtain confirmation round the clock.
Minister reviews functioning of various depts
Jammu, March 2
Minister for Public Health Engineering (PHE) and Irrigation and Flood Control (I&FC) Sham Lal Sharma on Friday asked the PHE Department to ensure better maintenance of the water stations and start restoration of defunct hand pumps in the Jammu region before the onset of summer.
8 lakh consumers without electricity meters in state
Jammu, March 2
About 50 per cent of the consumers do not have electronic meters in Jammu and Kashmir despite a decade-long power reforms programme initiated by the state government. Out of 15 lakh connection holders, only eight lakh have installed meters to check the usage of electricity.
Mahila Cong cautions people against 'evil designs' of BJP
Jammu, March 2
Cautioning people against "nefarious designs" of the BJP and other parties, the Pradesh Mahila Congress claimed that the Congress was the only party which had the potential to project interests of all sections of society.
Agri Minister wants Tangmarg to be district
Srinagar, March 2
Agriculture Minister Ghulam Hassan Mir yesterday said Tangmarg tehsil would get a district status soon. Mir, who heads the Democratic Party (Nationalist), an ally of the Congress in the coalition government, was today addressing a public meeting in his home constituency of Tangmarg, Baramulla district.


Kidnapping case: BCP protests against police 'inaction'
Jammu, March 2
The Bhartiya Chaitanya Party (BCP) today staged a protest against the alleged inaction of police in the kidnapping case of Sneha (13), a resident of Nanak Nagar.

Members of the Bhartiya Chaitanya Party hold a protest in Jammu on Sunday. Tribune photo: Inderjeet Singh
Lone calls for job-oriented courses in colleges
Jammu, March 2
Minister for Higher Education Mohammad Akbar Lone today stressed the need for introduction of job-oriented courses in colleges. He was speaking during the annual day function of GGM Science College today.
People protest drinking water shortage
Rajouri, March 2
Residents of Manjakot town and its adjoining areas yesterday held a protest in the town over the non-availability of drinking water. They alleged that the Public Health Engineering (PHE) Department had failed to provide them safe drinking water. They covered their mouths with black cloth in protest.
Ex-servicemen lash out at govt for silence on VAT relief
Jammu, March 2
Members of the Ex-Services League have welcomed "One Rank, One Pension" but criticised the state government for its silence over relief in VAT and the implementation of other decisions such as enrollment of ex-servicemen in the police under reservations etc.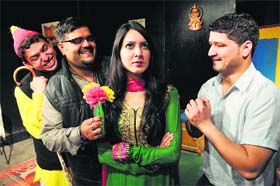 Sunday theatre: A scene from the play 'Intezaar', directed by Sumeet Sharma, which was performed at Natrang Studio Theatre in Jammu on Sunday. Tribune photo: Inderjeet Singh
UGC refresher course ends
Jammu, March 2
A three-week-long UGC Refresher Course in Environmental Science organised by Academic Staff College (ASC), University of Jammu, at the Department of Environmental Science concluded here.
Three boys selected for Asian Games
Jammu, March 2
Three wushu players from the state have been selected for the 17th Asian Games to be hosted by Korea in September. The selections have been made on the basis of their performance in the recently concluded 22nd Senior National Wushu Championship in Rajasthan.
Dogri poetry book released
Jammu, March 2
Minister for Planning, Development, Labour and Employment Ajay Sadhotra today released a Dogri poetry book, "Solhan aanne sachch", written by Rakesh Sharma. The book release function was organised by the Nami Dogri Sansthan (NDA).
Backward Classes union stages dharna
Jammu, March 2
The All-India Backward Classes Union staged a dharna in support of their demands here today. The union members said the coalition government in J&K had been abusing Article 370 to deprive weaker sections of their constitutional rights.
Arms haul in Kishtwar
Doda, March 2
Security forces and the police have busted a militant hideout and recovered arms and ammunition in Kishtwar district. A joint operation by the Rashtriya Rifles Battalion (RRB) and the Jammu and Kashmir Police led to the arms bust in the Athar area of Kishtwar district last evening, a defence spokesman said.
40-yr-old man found dead
Srinagar, March 2
The body of a 40-year-old man has been recovered from the city's Batamaloo area, the police said today. A spokesman for the police said the body was recovered under mysterious circumstances from a bus terminal at Batamaloo on Saturday morning.


| | |
| --- | --- |
| Treat for the eyes: A sublime retreat amid peaceful paddy fields on the banks of the Jhelum river in Uri, 100 km west of Srinagar. Tribune photo: Yawar Kabli | Mirror effect: The Zabarwan mountain range is reflected in the waters of the Dal lake in Srinagar. Tribune photo: Yawar Kabli |