No check on red beacons in city
Jalandhar, Patiala police issue 40 & 37 challans, respectively
Gurdeep Singh Mann
Tribune News Service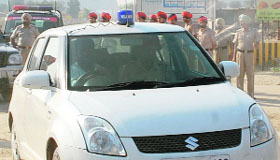 Bathinda, March 4
Notwithstanding the recent directives on the use of red and blue beacons by the state government, the Punjab Police seem to have spent its entire energy in issuing 40 challans in Jalandhar (Central) and 37 in Patiala only.
Interestingly, not even a single challan slip has been issued in other districts, including Bathinda, Mansa, Pathankot, Barnala, Khanna, Gurdaspur, Tarn Taran, Muktsar, Jalandhar (rural) and Ropar during the same period.
Despite the fact that one sees vehicles sporting red-blue beacons and flashers on almost all the roads in the state which are in violation of the strict guidelines and concern the Supreme Court over their unauthorised use. It seems that the guidelines are observed more in breach than in compliance.
This has been revealed during a perusal of the detail of all the traffic challans procured under the RTI Act by an advocate Shahbharat Sidhu from 19 districts of Punjab. Strangely, let alone issue challans, the same exercise was not even mooted by the police of the districts concerned in the state.
While the challan issued for other violations for the common man runs in the hundred in every district, but none for the use of red/blue beacons.
"The traffic police never fish in troubled waters as anyone using the red or blue beacon is an influential person and we always hesitate to take action in this regard. For instance, we know the son of a Punjab minister who uses red beacon on all his vehicles whether he himself drives the vehicle or not. But no one dares to stop him," said a senior police officer on the condition of anonymity.
Even if any officer dares to issue the challan slip for the illegal use of red or blue beacon, the offender would pay the paltry sum as challan and carry on regardless, he pointed out.
Sidhu said that the Motor Vehicles Act should be amended so that a heavy penalty could be imposed for the unauthorised use of the red beacons. In fact, the provision of impounding the vehicle for a set period for repeated offences should be incorporated in the Act, he said.
The policemen said that the highest number of challans in Jalandhar (Central) was issued due to the pilot project of RS-10 of the World Health Organisation (WHO). The project in 10 countries was launched in Jalandhar in association of the city police and its nodal agency was a Chandigarh-based NGO Arrivesafe.
In the case of Patiala, it was zero tolerance of the local police lead by its SSP HS Mann towards such violations that has resulted in so many challans being issued.


The traffic police never fish in troubled waters as anyone using the red or blue beacon is an influential person and we always hesitate to take action in this regard. For instance, we know the son of a Punjab minister who uses red beacon on all his vehicles whether he himself drives the vehicle or not. But no one dare stop him
—A senior police officer