STOCK-TAKING: Sandeep Dikshit (East Delhi)

Elected twice, but voters say he is missing in action
With locals looking forward to a change, AAP's Rajmohan Gandhi may give him tough competition
Himani Chandel
Tribune News Service
New Delhi, March 7


After the Congress got a drubbing in the last year's Assembly elections, East Delhi's Member of Parliament Sandeep Dikshit, if given the party ticket once again, might face a tough battle in the forthcoming Lok Sabha elections.
Though the BJP has not announced a candidate from the constituency yet, Dikshit will be challenged by Aam Aadmi Party's (AAP) Rajmohan Gandhi, grandson of Mahatma Gandhi.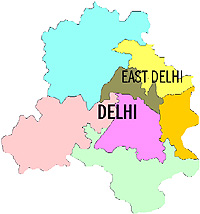 Dikshit, who was elected to the 14th Lok Sabha in 2004 and re-elected in 2009, headed a social development group and worked on rural and human development issues before joining politics.
In the past 10 years of his political career, Dikshit, son of former Delhi Chief Minister Sheila Dikshit, has failed to live up to expectations of residents of trans-Yamuna area.
"We have not seen any development in the area in the past five years. The roads are in bad shape and we don't have a community centre here. I would rate him 10 out of 100 as an MP," said Sanjay Saxena, president, Resident Welfare Association, Mandawli.
He said apart from installing semi-high-mast-light poles in some areas, there had been no other major project launched by the MP in East Delhi.
"His 10-year rule failed to solve our basic problems, including parking, water shortage, unauthorised colonies and builder mafia," Saxena said.
Dikshit's popularity might suffer a dent due to his apparent inaccessibility and unfriendliness towards voters. Local residents complain that he had never lent an ear to their problems.
Anil Bajpai, president, Federation of more than 70 Resident Welfare Associations in East Delhi, said Dikshit never tried to reach out to people and redress their grievances.
"In the past 10 years, he has not visited his constituency even 10 times," he said.
Bajpai, who played an important role in the protest against Delhi Electricity Regularity Commission for increasing power tariff last year, said Dikshit never supported the Federation for the cause.
"We approached Dikshit several times during 'Bijli Andolan', but he never responded. Rather, he asked us to meet the local MLA," Bajpai said.
Dikshit's name was also dragged in the allegations levelled by those protesting against increase in electricity tariff, claiming that he had teamed up with the firms involved in the business of manufacturing electricity and water meters.
Congress's 15-year rule in Delhi came as an advantage for Dikshit and helped him bag an easy victory in both 2004 and 2009 Lok Sabha elections as most of the Assembly seats in his constituency were ruled by the Congress. In both the elections, Dikshit defeated his BJP rival by nearly 2 lakh votes.
However, in 2013 Assembly polls, the major chunk of Congress's vote share was taken by debutant AAP, giving only two of 10 seats in East Delhi to the Congress. This can also be an indication of the party's exit from the constituency in the upcoming elections.
"The mood of voters has changed this time. There are issues such as inflation, corruption and law and order on the basis of which people will choose their candidates," said BJP's Chetan Chauhan, who was defeated by Dikshit in 2009 Lok Sabha polls.
He said: "If we talk about development projects, Dikshit has failed to properly utilise the funds allotted to him under the Member of Parliament Local Area Development Scheme (MPLADS)."
Where he stands
Party Congress
Current Profile
MP from East Delhi
Entered Lok Sabha in 2004
Constituency break-up
Ten Assembly segments (Jangpura, Okhla, Trilokpuri, Kondli, Patparganj, Laxmi Nagar, Vishwas Nagar, Krishna Nagar, Gandhi Nagar, Shahdara)
In Parliament
Participated in debates 20
Questions asked 3
MPLADS funds
Granted Rs 7.89 crore
Utilised Rs 3.67 crore
Unspent Rs 4.22 crore
Total voters in constituency 15,57,229
Opponentspeak

The LS polls will not be a competition between the BJP and the Congress, but between 10 years of Congress misrule and the common people who are bearing the brunt of inflation, unemployment, poor growth and rampant corruption.
Harsh Vardhan, Delhi bjp president
Voterspeak
We have not seen any development in our area in the past five years. I will rate Sandeep Dikshit 10 out of 100 as an MP.
Sanjay Saxena, president, Resident Welfare Association
Dikshit never tried to reach out to people to redress their grievances. In the past 10 years, he has not visited his constituency even 10 times.
Anil Bajpai, president, federation of 70 resident welfare associations