STOCK-TAKING: Rattan Singh Ajnala (Khadoor Sahib)

Failing to strike a chord with his people, he is out of the race
Having sensed 'anti-incumbency' against him, the SAD opted to replace him with stalwart Ranjit Singh Brahampura
GS Paul and Gurbax Puri
Tribune News Service
Khadoor Sahib, March 2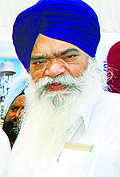 Though he has been denied a party ticket this time, Shiromani Akali Dal's sitting Khadoor Sahib MP Rattan Singh Ajnala has been lucky enough to win the public mandate twice in succession (2004 and 2009) despite being "inaccessible", as alleged by residents of his constituency.

Apparently having sensed the anti-incumbency against him, the ruling party opted to replace him with SAD stalwart Ranjit Singh Brahampura, who had been out of action ever since he lost the state Assembly elections in 2012. The controversy over the drug racket also did Ajnala in.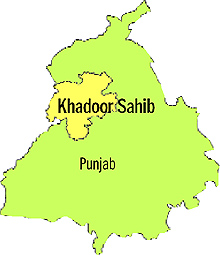 Ajnala boasts of procuring and "utilising" almost the entire Member of Parliament Local Area Development (MPLAD) fund, but it seems that it failed to yield the desired result, as the grant distribution was found to be "politically driven".
Local residents allege that towns and villages in the constituency lack basic amenities and there has been no major investment by any public or private sector in the area.
Hailing from the border town of Ajnala, the Badal loyalist has remained an MLA, a minister and the district party chief for around 18 years.
Khadoor Sahib had been proclaimed the capital of Khalistan in 1980s and the Akali Dal had always won the seat, except in 1991 when it had boycotted the elections.
The ground situation
A look at the MPLAD fund transactions at the ministry's website reveals that health, education and social security were low on Ajnala's priority list.
All promises of transforming Khadoor Sahib into an industrial hub, too, ended up as a distant dream with not even a single major project being launched here. As far as civic amenities are concerned, funds to the tune of Rs 5-6 lakh could hardly bring any change in the area. Ajnala's focus seems to have been on cementing the vote bank in the rural border belt. He contributed tremendously to the farming community and disbursed grants to villages and smaller border towns of Bhikhiwind, Jhabbal and Khemkaran sector.
Though he is a doctor, the government health institutions in his constituency are crying for attention. There is no old age home or multi-specialty hospital in the entire constituency. Though the border belt is infamous for youth being addicted to drugs, no de-addiction centres have been opened in the area.
The Primary Health Centre in Fatehabad has inadequate medical facilities, and reels under severe staff crunch. The only Senior Medical Officer and pharmacists are deputed in neighbouring districts on stopgap arrangement in the civil hospitals of Khadoor Sahib and Sarhali.
He had released funds for many government schools in small denominations, yet most of the schools lack basic infrastructure. The area neither has a huge stadium nor any sports facility. On being asked, he could recall just one major sports project for which he claimed to have released a grant of Rs 40 lakh. The project was to elevate the 16-acre ground of Jiwan Mal Government Model Senior Secondary School in Ferozepur to a multi-specialty sports stadium.
A visit to the site revealed that it was an incomplete structure. Principal Kuldeep Kaur alleged that the school did not receive the grant.
"Except for Rs 3.5 lakh, out of the Rs 5-lakh grant released by the Punjab Sports department, we never received a single penny. Our school management committee had contacted the local authorities, but never received any communication in this regard," she said.
Ferozepur Deputy Commissioner Manjit Singh Narang said: "The work has to be done through Block Development Panchayat Officer, who has to provide us cost details. It was his job to co-ordinate with the Panchayati Raj Junior Engineer concerned and the school managing committee. I am sending them a reminder."
What Ajnala says
"Despite several constraints from the Central pool, I was able to disburse maximum funds. Residents of my constituency repose faith in me for voicing their concern and I have worked for the holistic development of my area," Ajnala said. "The allegations that I remained absent from my constituency is nothing but a false propaganda. I was a part of the constituency as the president of the District Akali Dal, Amritsar, for around two decades, which includes two terms as the Lok Sabha MP. People consider me uncommunicative because I do not attend programmes organised by individuals," he said. He said to carry out development in the health and education sectors, the Central nod was must.
MPLADS funds
Official figures reveal that Ajnala was granted Rs 16.5 crore under the Member of Parliament Local Area Development Scheme (MPLADS). With the interest accrued on his funds, which amount to Rs 18.57 lakh in addition to an amount of Rs 32.26 lakh as carry-forward funds from the predecessor MP quota, he was able to procure an amount of Rs 19.58 crore for his constituency.
The projects
Ajnala launched 781 projects, of which 110 have been completed. The total cost of works sanctioned is Rs 19.19 crore. With unsanctioned balance of Rs 31.09 lakh, the actual expenditure for the sanctioned works is Rs 18.31 crore. According to the norms set by the Centre, it is compulsory to submit the Utilisation Certificates against the funds released by the MP concerned. At present, an amount of Rs 11.9 crore is lying unspent with the district administration and Rs. 88.08 lakh is lying unspent with the executive agencies (unutilised sanctioned money).
In Parliament
Ajnala had raised issues regarding uplift of farmers on the border areas and flaws in procurement of produce, minimum support price, tax rebate on industry in the state and reported threat to the Sikh community from militants in Jammu and Kashmir. He also sought recognition of Sikhism as a full-fledged religion and demanded amendment in Article 25 of Constitution (Amendment) Bill, 2012.
Where he stands
Name Rattan Singh Ajnala
Party Shiromani Akali Dal
Current profile MP from Khadoor Sahib
Entered LS in 2004
Constituency break-up
Nine Assembly segments: Jandiala, Tarn Taran, Khem Karan, Patti, Khadoor Sahib, Baba Bakala, Kapurthala, Sultanpur Lodhi, Zira
In Parliament
Attendance 87%
Questions asked 157
Participated in debates 47
MPLADS funds
Granted Rs 19.58 crore
Utilised 96.4%
Expenditure incurred on works completed and utility certificate received Rs 3.5 crore
Expenditure incurred on works under progress Rs 14.69 crore
Unspent Rs 1.39 crore
Opponentspeak

I refrain from commenting on anybody's performance. The public is the best judge. Rattan Singh Ajnala's ability to connect with the common man would be revealed in the upcoming elections.
Rana Gurjit Singh, Congress leader
VOTERSPEAK

Ajnala may be honest but as an MP, he has disappointed us. He never met us, let alone issuing grants for our benefit. The only person who is bringing a constructive change in this rural belt blessed with rich Sikh heritage is Baba Sewa Singh Khadoor Sahib.
Chanchal Singh, Bharowal village resident

The water and sewerage supply lines in our locality are damaged. Ajnala won just because majority of the local residents are puppets in the hands of their respective sarpanches who are manipulated by politicians.
Santokh Singh, Goindwal Sahib resident

Ajnala failed to live up to our expectations. A majority of the educated youth is still unemployed because there are no job avenues in the government and private sectors.
Dilbagh Singh, Bhair village resident