STOCK-TAKING: Jitender Singh Malik Sonepat

Now, Legislative Assembly, not Parliament, is his dream
No more in the race from Sonepat, he wants to focus on Gannaur, the segment his ancestors had represented

Dharmendra Joshi and BS Malik
Tribune News Service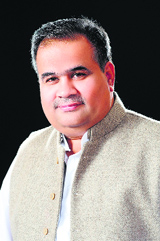 SONEPAT, FEBRUARY 26
This parliamentary seat is different from other segments in the sense that it will witness a contest between new faces in the upcoming Lok Sabha elections. Sitting Congress MP Jitender Singh Malik has announced to contest the Assembly elections from Gannaur instead of the Parliamentary elections, while former BJP MP Kishan Singh Sangwan is no more.
Eight of nine segments 'ignored'
Malik had been embroiled in controversies for "ignoring" eight of total nine Assembly segments of his constituency — Sonepat, Rai, Kharkhoda (reserved), Gohana and Baroda of Sonepat district and Julana, Jind and Safidon of Jind district.
As Malik has already decided to contest the Assembly elections from Gannaur, he concentrated more on the area as far as development works are concerned.
When asked as to why he was not interested in contesting the Parliamentary elections, he said: "Gannaur is the ancestral seat of our family. My father was elected from this constituency twice and now my supporters in Gannaur want me to remain in close contact with them and work for them as an MLA. As MP, I was expected to take care of nine Assembly segments due to which it was impossible for me to devote time to the people of Gannaur. So, I have decided to contest the Assembly elections from Gannaur."
Jat-dominated seat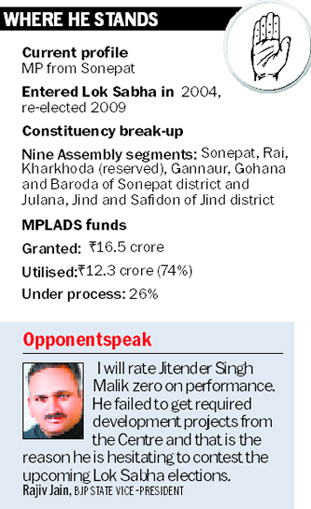 Malik defeated his nearest rival and three-time BJP MP Kishan Singh Sangwan (now no more) from this seat with a margin of around 3 lakh votes in 2009.
With voter strength of around 15 lakh, the area is considered to be dominated by Jats (40 per cent of the total population). It was for the first time in the history of Haryana that an independent Brahmin Arvind Sharma was elected to power in the 1996 Parliamentary elections. But in 1977, 1980, 1983 byelection, 1984, 1989, 1991, 1998, 1999, 2004 and 2009, Jat candidates had emerged victorious.
Before his victory in the 2009 Parliamentary elections, Malik was elected as Gannaur MLA twice, in 2000 and 2005. He has also been holding the post of the DCC president for the past 15 years.
Malik's father Rajinder Singh Malik was a Cabinet minister in the Haryana Government. Renowned political leaders of the united Punjab, late Lehri Singh Malik and late Mukhtiyar Singh Malik, were his ancestors.
The projects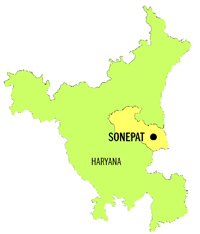 He claims that it was on his demand that the Haryana Chief Minister had sanctioned a number of projects, including a railway overbridge (RoB) at a level crossing, sewerage-treatment plant, storm-water project, rainy well scheme and construction of bypass in Sonepat town.
"As far as the projects of the Central Government are concerned, the government sanctioned an RoB on the Jind-Patiala road in Jind town and a flyover at Bahalgarh crossing on the GT road in Sonepat district," he said.
Denying the allegations that he was being overshadowed by frequent visits of Rohtak MP Deepender Singh Hooda, Malik said Deepender's visits had helped him sanction and launch new development projects in the area.
In Parliament
The key issues he raised in Parliament were the construction of the Sonepat-Gohana-Jind rail line, metro for Sonepat, increase in number of passenger trains from Sonepat to Delhi and construction of RoBs at different level crossings of the segment.
After being elected to the 15th Lok Sabha in 2009, he became the member of consultative committee on law and justice on August 31, 2009, as member of the Committee on Home Affairs and on September 23, 2009, as member of the Committee on Subordinate Legislation in Parliament.
MPLADS funds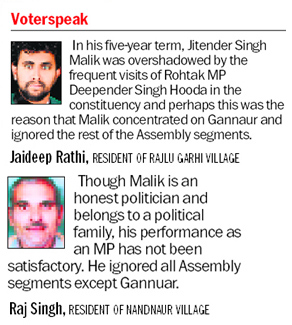 As per the government records, the Central Government had granted Rs 16.5 crore to Malik under the Member of Parliament Local Area Development Fund Scheme (MPLADS) and the amount increased to Rs 16.85 crore after inclusion of Rs 25.17 lakh crore from the interest accrued on funds and Rs 10.5 lakh received in the name of contribution.
A total of Rs 12.3 crore have already been untilised to complete 250 development works and 72 works are under process out of 359 development works sanctioned during the period.
Of total 359 sanctioned development works for all nine Assembly segments, 130 had been in Gannaur and of the total funds, more than Rs 6 crore had been allocated to carry out works in Gannaur.
The rival's take
As Kishan Singh Sangwan, BJP runner-up in the last Lok Sabha elections, passed away last year, the party's state vice-president Rajiv Jain alleged that sitting MP Jitender Singh Malik's performance was almost zero. "He failed to get required development projects from the Centre and this is the reason he is hesitating from contesting the upcoming Lok Sabha elections," he added.