The good old times are gone for good
There is a huge range of design issues outside the kitchen that needs to be refined. We have done it with our textiles, it is only right that we turn our attention now to better designed signage, public toilets, public transport and trains.
Ira Pande

A recent car accident that left me with several broken ribs and a broken collar bone was responsible for this longish silence. I am finally free of the sling and brace that had made typing difficult and thankful that my husband and I did not suffer any lasting damage. One learns several lessons from adversity and accidents are life-changing experiences. So what are some that I will remember? One, that accidents can happen to anyone at any time. Two, that even if you are seated in the back seat of the car, please do not forget to fasten your seat belt: if only we had taken this simple precaution, we would have gotten away without a scratch (like the driver, who had worn his seat belt).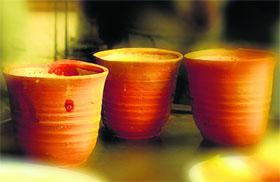 The biodegradable kulhar is missing.
That said, let me briefly touch upon the many cultural events that I had to sadly miss this winter. Among them was the Art Fair that has now become a popular event with the works of established and new artists on display. There was also a brilliant design show at the Indira Gandhi National Centre for the Arts that brought together some outstanding designers from India and abroad. Designing products is now slowly gaining importance, thanks to the dedication of the National Institute of Design, Ahmedabad, and the smaller, but no less significant, design institutes set up by some states and private individuals. India can safely claim that it has a history of design that predates several cultures. Take, for example, the humble terracotta pitcher — from pre-historical times, it has served as the perfect receptacle to keep water cool and fragrant. Its shape and the delicate artistry traced on its surface are some of the best designs that one can think of. The same can be said of the kulhar that once slaked the thirst of tea-addicts all over the country. It was biodegradable and did not leave a trail of garbage.
If you have inherited any old utensils from your parents and grandparents, you will be struck by the perfect marriage of design with utility. Every kitchen 'gadget' was once a work of art, lovingly crafted by someone. The chakla-belan, brass grater (often in the shape of a tortoise for good luck), huge vats for cooking meals for large joint families — they were all made from metals that probably had medicinal properties. It pains one to realise that this rich heritage is slowly disappearing. In villages, you are now more likely to see women carry plastic pitchers rather than terracotta ones, or use ugly aluminium vessels (that are said to be a cause of Alzheimer's) rather than the shining brass and copper vessels that were once an essential part of a bride's dowry and proudly displayed.
Long before these humble items were recognised for their antique value, a large open-air museum named Vishala was set up in Ahmedabad to showcase traditional kitchen vessels. Shining brass vats and cookware, exquisite nut-crackers, tongs and cooking spoons — the museum was stunning in what it had unearthed from old homes and scrap dealers. Vishala also served wonderful traditional Gujarati thaali meals, where one sat on bamboo mats and ate along with hundreds of others. So popular was this aam aadmi diner that the idea was soon picked up by more elegant restaurants. In the same city, I was once taken for a memorable meal at the terrace-restaurant Agashye of the iconic Seth Mangaldas ki Haveli, which overlooked the famous Sidipet Mosque. We were greeted with chilled nimbu-pani served in silver glasses, along with a small platter of bhajis. Then we were taken to our 'table', which was a traditional chowki and a maharaj served us a delectable vegetarian meal that sits on my tongue till today.
The simplicity and elegance of that experience brought home to me that no matter where in the world you may travel, that touch of loving hospitality is so hard to find outside India. The warmth of the Indian kitchen, the hot ghee-smeared chapatis and the banter that went into impromptu eating competitions — all these are memories of a lifestyle that is over for good. Harried working mothers can hardly be expected to slave over stoves and coax children to eat vegetables that they screw up their noses at. The irony is that the more stylish our designer kitchens get, the less actual cooking is done in them.
It is futile to wish that the old-fashioned family style food and kitchens come back. However, can we please persuade our designers to make ketchup bottles that do not have to be thwacked to release precious drops of their contents on our plates? Or to ask for tetra-packed cartons to have lips that make pouring milk or lassi less messy?
There is a huge range of design issues outside the kitchen that needs to be rediscovered and refined. We have done it with our textiles, it is only right that we turn our attention now to better designed signage, public toilets, public transport and trains. The mind boggles at what wonders can be wrought if utility alone does not dictate our products.