Poetry in motion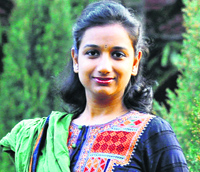 When she dances, she is livewire energy, simply scintillating. In person gentle and genteel she is quite an antithesis of the taandav ras she brings alive in her dance performances. Of course, be it on stage or off it, Kuchipudi dancer Yamini Reddy, daughter of famed dancers Raja and Radha Reddy, wears the mantle of her rich legacy with effortless ease. In Chandigarh for a dance recital organised by the Chandigarh Sangeet Natak Akademi, in a no holds barred chat, the gifted dancer talks about her father, her two mothers and how becoming a mother has changed her as an artiste.
Magic of mythology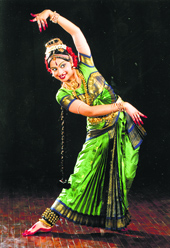 It was Payal Ramchandani's parents who sensed her sensitivity to rhythm when she was young. They introduced her to Kuchipudi when she was just four. Twenty two years on, Payal has established her place in the classical dance scene. In Chandigarh recently on the invitation of Pracheen Kala Kendra, Payal acknowledges that when she started she was too young to know Kuchipudi from any other dance form but by and by Kuchipudi grew on her. She began training under Guru Raja and Radha Reddy and continued her dance training along with her studies. Under the guidance of Padmashri Guru Jayarama Rao and Vanashree Rao, Payal has continued her remarkable journey that has taken her to prestigious platforms all over the world.

Classical moves: Payal Ramchandani
Mind games!
It wasn't so much the fact that it was possible to produce rabbits out a hat or levitate a woman in the air or make her completely disappear. It was the fact that all along the magic

lay in the mind of the performer and the eyes of the beholder. A summer camp at the impressionable age of 11 was all it took to get hooked and last checked, Karan Singh Magic was getting to lay his hands on everything he could, books, DVDs, films, shows, Youtube et al, just to get on first name basis with tricks, magic, showmanship, hypnosis illusions and all things surreal.

New trick: Karan Singh Magic

star track
Dress up like Lisa
With traffic-halting looks and a fantastic screen presence, the statuesque Lisa Haydon captures every man's imagination. Haydon, who is seen in latest flick Queen, shares her styling tips...
Black and blue: You can never go wrong with navy blue or black. No matter what is your shape or skin colour, these are two colours that always look sophisticated and flattering.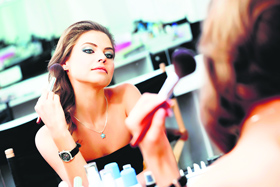 Vanity box
Left high and dry?
It doesn't really matter what the reason; environmental damage, premature aging, harsh ingredients, seasonal changes or genetics. Once the skin is dry, the make-up routine becomes a rigmarole. Dry skin could be seasonal or a perennial problem, but flaky skin needs some extra care and attention. A few techniques here and a few essential products there is all it takes to let the make-up stay. Celebrity make-up artist Bobbi Brown, popularly advocates the power of right moisturizer. "I believe that using the right moisturizer for your skin type makes a lot of difference. Those with dry skin can go for hydrating balm as the base."
Chatter box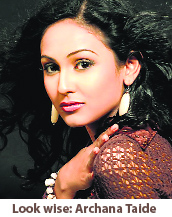 For a better living
Miditech's successfully running environmental series- Lakshaya: EK Living Planet', in the upcoming episode will focus on five stories. The first story talks about Mumbai Mangroves, which are known as the first barrier to any natural calamity in the coastal areas. The other story that will be a part of the episode will take into concern the Men Elephant Conflict in Odisha. It will elaborate on how the rapid rise in human population and the corresponding demand for resources have had a dramatic impact on the natural world. The next story will be from Matheranon Nisarguna biogas that will help the viewers to understand how each component is reusable in terms of energy regeneration.
Master Chef
Apple quickie!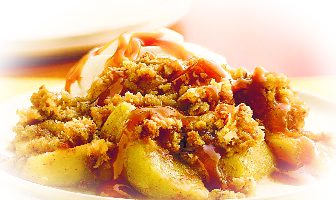 Apples give us some wondrous winter delights, the best among them being apple pie! But baking one makes a novice nervous. There's a nagging fear of the pastry remaining undone, or worse still, getting burnt. When I was an uninitiated fool, I used to even worry about the apples sandwiched between two layers of rolled pastry. Once they went hiding out of sight, I never could fathom if they were cooking to the right tenderness or not. Readers, there is a bypass in the pie world by which you can get almost the same taste and texture as apple pie with half the effort and none of the nail-biting suspense.
CELEB POINT
A city that enchants
The bird's eye view of Chandigarh is so delightful. It's a well-planned green beautiful city. Coming here for a new film added to the excitement. This trip has had a lot for me in store and I am not complaining at all!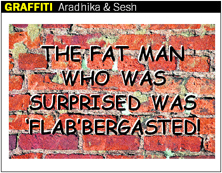 Astro turf
ARIES: It is vital that you plan everything and deal with all the hurdles that come your way, either at work or in your personal life. Some of you may splurge. Do not overlook a doctor's advice. Tarot message: Strive for perfection at work.
The year ahead
If your birthday is March 9...
Flying high
Piccadily Square organised a Kite Flying festival on Saturday. According to Aditya Nath Sharma, MD, Piccadily Square, "Kite Flying has been a popular activity and tradition in North India. However, in modern times the culture seems to be dying, so we thought of organising a festival to buck the downtrend associated with Kite Flying." Adds Sharma, "Our Mall, is one of Chandigarh's oldest landmarks, which has always endeavored to provide impeccable service and entertainment to visitors.