Dress up like Lisa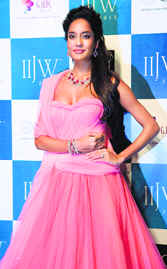 With traffic-halting looks and a fantastic screen presence, the statuesque Lisa Haydon captures every man's imagination. Haydon, who is seen in latest flick Queen, shares her styling tips...
Black and blue: You can never go wrong with navy blue or black. No matter what is your shape or skin colour, these are two colours that always look sophisticated and flattering.
Head over shoulders: Show off your shoulders and back. Baring skin need not always be vulgar. In fact, it is beautiful when a woman wears tops, blouses or dresses that are one shoulder, off shoulder or straight cut across the chest or low dipping at the back. Shoulders are always beautiful and never inappropriate to bare if you are large or small. It's always in fashion to show off your shoulders.
Gold chain: Invest in one long gold chain that you can wear around your neck wrapped 2 or 3 times, or it can double up as a bracelet if wrapped around your wrist multiple times. I have one which I carry in my handbag all the time.
Personality test: Mix your clothes up! For example wear a girly dress or a formal blazer with converse sneakers. Think of ways you can mix up your message in your clothes. A dress shows innocent femininity while converses show a rugged sporty boyishness. It makes for an interesting personality statement. See what you can come up with that displays different sides to your personality. It's fun. Or, a leather jacket or tracksuit jacket with a frilly skirt and boots for a biker ballerina look. Different garments send out different personality messages so mix it up to describe your versatile personality!
Shopping funda: Invest in two good strapless bras… a nude coloured one and a black one. You can get great strapless bras at La Senza. This will assist you in baring those shoulders. It's also a sure bra to go well under almost any outfit. As a rule for shopping, I often buy simple silhouettes in beautiful fabrics and change them around with various accessories. Accessorize well. This way you can also wear and re-wear your clothes many times but it will always look different.
Real touch
Vikas Bahl, director of Queen, is pleased as his flick centred around Kangana Ranaut has whipped up ample curiosity on the social media circuit. Although the movie illumines Kangana in the role of the protagonist Rani, there is another actress who acts as a catalyst in the transformation of the screen character.
Lisa Haydon, model and actress who started her career with Aisha, play Vijaylakshmi in Queen. Vikas says, "The character of Vijaylakshmi in Queen is that of a free-spirited girl. I met Lisa and I found her to be such an interesting person, that I re-worked the character of Vijaylakshmi. I tweaked the character to suit Lisa."
He significantly adds, "I thought Lisa was way more free-spirited than what I could conceive as a person. So, I was willing to re-look at that character and do it in such a manner that Lisa would do an even better job of it, than what I had conceived."
Queen details the life and times of a small-town Indian girl, who decides to go on her honeymoon alone…owing to a twist of destiny. Queen premiered at the Busan Film Festival in October 2013 and won rave reviews too.
No entry for Sunny
Recently when Balaji was in the midst of organising Sunny Leone's visit to Indore to promote Ragini MMS-2, her entry was reportedly barred. One hears that a political party (actually, a Hindu radical group) warned the owners of a mall that they would resort to violence if the former adult star set foot there to promote the forthcoming Horrex (horror and sex.)
In all likelihood, Sunny may just end up doing promotions within the confines of a hotel and not in a public place, in order to avoid pre-election agitation from the political group. Interestingly, Pakistani rock star Mustafa Zahid who has rendered Sunny's love-making track (Maine Khud Ko) in Ragini MMS-2, in his first ever concert in Indore, will be rendering the song for a live audience. Ragini MMS-2 releases in cinemas on March 21.
No sci-fi for Aamir
It seems that Aamir Khan will have to wait a little longer for a sci-fi adventure. The actor was in talks with Excel Entertainment for an upcoming time-travel drama to be directed by debutant Nitya Mehra. Aamir had several script narrations with Nitya. He was really impressed with the script. But eventually they couldn't reach a common ground on financial matters. It is an amicable separation between the two.
Replacement theory
It is learnt that the makers are eager to find a replacement and are in talks with other actors for the role, one of them being Hrithik Roshan.
Leading lady
As far as the leading lady is concerned, Deepika Padukone was reportedly in talks to star opposite Aamir. But with him out of the project, it remains uncertain if she'll still be a part of the film.
I'm loving the hate: Juhi Chawla
Juhi Chawla is revelling in the reviews of her latest release Gulaab Gang, in which she has played a negative role for the first time.
"I am loving the hate. For the first time, I'm actually glad you could hate me," Juhi posted on her Twitter page, along with the links of reviews where she has been lauded for playing a villain in the women-oriented movie.
"Thank you very very much...Am amazed and grateful for the overwhelming response to the movie 'Gulaab Gang'. Thank you ALL," she had posted earlier.
The movie that stars Madhuri Dixit too, released Friday, a day before International Women's Day.
Shraddha's mentor
Shraddha Kapoor considers Aditya Chopra to be her mentor. She did the film Luv Ka the End for YRF Films and left her three-film deal to do Aashiqui 2 which was a humongous hit. She is waiting for Aditya Chopra to call her and offer her a film.
What's brewing?
Siddharth Malhotra may not be single. He was seen hanging out in suburban Mumbai with Izabelle Leite, a popular model who also appeared in the movie Sixteen last year. He has a thing for models.
Quality time in Colombo
Katrina Kaif had a few days free during the shoot of Bang Bang in Delhi, so she flew to Colombo to be with her man, Ranbir Kapoor as he is over there shooting for Bombay Velvet.
Scent of Irrfan
Irrfan Khan travels extensively due to his work commitments and he buys tons of perfumes and deodorants whenever and wherever he can. He has quite a collection now and has been made the brand ambassador of a deodorant brand.
Farhan out of Raees
Farhan Akhtar has opted out of Rahul Dholakia's Raees and will let somebody else do his role of a cop. He is still producing the film and had to opt out of it due to date issues.
Prachi teams up with Adhuna
Actress Prachi Desai recently shot with celebrity hairstylist Adhuna Akhtar for a photo-shoot which was inspired by Maharani Gayatri Devi. The two go back a long way when Prachi made her debut in Bollywood with 2008 film Rock On!! which had Adhuna's husband Farhan Akhtar as her co-star. The actress and the stylist share a warm rapport so when she needed someone who could exude royalty, Adhuna felt Prachi was an apt choice. Currently, she has no films.
Bald step
Ranveer Singh might do Bajirao Mastani. He will have to shave his famous head save for a little braid at the end. He will also have to dedicate eleven months of next year to the movie.