vision for amritsar

He intends to restore old grandeur of holy city
Dr DALJIT SINGH: AAP candidate for the Amritsar LS seat shares his vision for the city with Amritsar Tribune
Neeraj Bagga
Tribune News Service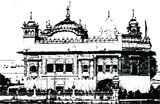 Amritsar, April 4
The 79-year-old internationally acclaimed eye surgeon, Dr Daljit Singh, intends to restore the old grandeur of the holy city. He wishes to achieve this by reviving its industrial and trade hubs to take the benefit of the location of the integrated check-post at the border with Pakistan and its close proximity to the Central Asian countries.


factfile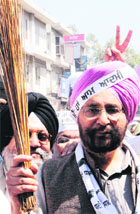 Born on October 11, 1934, in Amritsar


Schooling at Khalsa College Senior Secondary Public School. MBBS, DOMS and MS degrees from Government Medical College, Amritsar


He has been in the field of ophthalmology for the past 54 years


Remained professor and head of the department of ophthalmology at Government Medical College, Amritsar


Professor Emeritus of Government Medical College, Amritsar, since 1986


Running his own eye hospital in Amritsar since 1985


Recipient of Padma Shri award, Shromani Lekhak award and Punjab Ratan Award


Author of many books, both technical and literary


Credited with introducing lens implantation for cataract cases in India in 1976


Trained over 600 eye surgeons in India


Contesting election for the first time
He is for planned comprehensive infrastructural development of the city to resolve its consistent traffic problems. He intends to set up a 24X7 people's office in Amritsar, to spare a day of the week to interact with local residents. Every three months, he would be giving his report card to the people of the city on what he has done, what he could not do and what he propose to do once he comes to power.
In an exclusive interview with the Amritsar Tribune, the doctor shares his vision for the border constituency.
Many areas of the city are still grappling for access to basic amenities like clean drinking water and proper sewerage system. How do you intend to address it?

I would make separate plans for the (a) walled city, (b) old areas outside the city and (c) news areas of the city. Clean drinking water would be the top-most priority— the aim would be to make tap water potable. Sewerage would be the next priority. All city garbage would be segregated before being disposed of. All this would be a part of "Amritsar 2020" perspective plan.
What will be your roadmap to develop the city into a tourism hub in the true sense of the word? Successive state governments have promised it but failed to deliver.
An Amritsar Tourism Agency would be set up to promote tourism in and around the city. Since, religious tourism is big in Amritsar, this agency will directly facilitate bookings from abroad. There would be over 12 new budget hotels— both in public and private sector, besides a 1,000-bed youth hostel for students visiting the city. On the lines of Lahore, three food street hubs would be created in the city. One in the vicinity of the Golden Temple (vegetarian food), second outside the Gandhi Gate (non- vegetarian food) and the third in the newer areas of the city (non-vegetarian food).
Though crores of rupees have been spent on building great infrastructure at the Amritsar airport, still it doesn't have adequate air connectivity. What steps you will initiate to address this issue?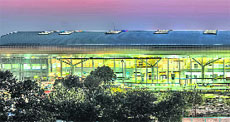 I would push for making Raja Sansi Airport on the lines of the airport in Delhi. I will fight for having direct flights from Amritsar to Birmingham, Vancouver and Toronto (not via Delhi).
Meanwhile, I will take up with the governments of the UK, Canada and the US the issue of setting up visa consulates in Amritsar so that people don't have to go to Delhi/Chandigarh for getting visa.
Once a hub of trade and industry, Amritsar now has hardly any major industry left due to government policies. How do you plan to revive the industry?
Efforts will be made to revive trade and industry in places like Chehratta by providing facilities and incentives. Viability of the revival of all old industrial hubs would be studied and taken up. On the basis of this, efforts to enhance the connectivity/rail cargo-facility of the city would also be taken up.
No city/ trade can develop without proper connectivity with the periphery. I will fight for extending the local bus facility to all townships in Amritsar's vicinity— Majitha, Raja Sansi, Attari and Ajnala.
Drug addiction among youth is rampant in Amritsar, whether it is in urban or rural areas. What are your plans to curb drug abuse and bring them into mainstream?
There will be zero tolerance on drugs. A citizen's committee will oversee police functioning. Efforts will be made to set up Drug De-addiction Centres in the urban and rural areas. NGOs will be roped in to make these free of charge.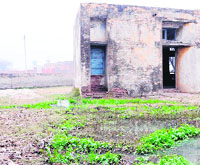 Navjot Singh Sidhu had vociferously taken up the matter for granting heritage status to Amritsar in Parliament. Will you also pursue it?
Amritsar city needs no "heritage tag". But whatever facilities are required to preserve its rich heritage and monuments will be taken up. I will use the services of the Punjabis abroad to preserve the city's heritage on modern lines.
Border areas present a picture of utter neglect with the people having no access to basic amenities like healthcare, education, roads and drinking water. How do you plan to ensure their all-round development?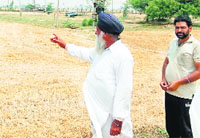 The border areas need special focus. I will get a study group to identify their problems in the fields of education, health and civic amenities and then take them up in a systematic manner.
Border farmers having their land across the fence are a harried lot for decades now, as they can't cultivate their land properly. Will you take up their demand for adequate compensation?
I will ensure that the farmers whose land falls on the border face no problems. The farmers of these areas will have a say in the policies that govern those areas. In case they face problems, I will take up with the Union Government the matter of compensating them by calculating the average income of areas away from the borders.
Indo-Pak trade plays a key role in the constituency's economy. How will you address the issues of trading community like poor rail cargo facility in Amritsar?
Since, there is a huge scope of trade with Lahore, I will fight for a day visa between traders of Amritsar and Lahore (6 am to 6 pm) enabling people to cross over by road. I will also vie for greater frequency of Amritsar-Lahore buses on a daily basis.