Why Cong may need Plan B
Party generals finally agree — Modi has to be made the primary target. But the old guard continues to confuse strategy with pushing a soft approach like promoting UPA positives.
by Aditi Tandon
FOR the most part this election season, the BJP's prime-ministerial nominee, Narendra Modi, has kept the Congress think tank busy finding ways and means to deal with him and his claims about Gujarat's development. Such has been the level of churning in the Congress that for a good five months after Modi was anointed leader of the BJP on September 13 last, the grand old party was still debating how to counter his phenomenal emergence on the political scene.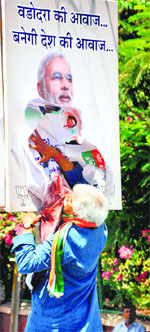 Vadodara Congress candidate Madhusudan Mistry was detained for pasting his poster over that of Narendra Modi in the city. PTI
The Gujarat Chief Minister's aggressive stake for the country's prime-ministership was something the Congress was simply not used to, something it is still struggling to counter on a daily basis. So much so, with just a day to go for the 16th Lok Sabha elections starting April 7, Congress strategists are constantly revisiting their strategy to fine-tune their campaign in a last ditch effort to woo voters away from Modi.
News also is that the party's all powerful Campaign Committee, which Congress chief Sonia Gandhi chairs and her son, party vice-president Rahul Gandhi, co-chairs, will meet next week in the Capital to reassess the party strategy, which has been under constant deliberation since the rise of Modi.
COUNTERING MODI
It was only on February 27 this year that the Congress formally decided to go after Modi in a big way. The idea was to "expose" his so-called lies about the Gujarat development model and address him in the political space for what he is — the carrier of BJP's "exclusionary and divisive agenda".
The decision was taken at the maiden meeting of the Congress campaign committee, where top leaders spoke of Modi's rise and his tactical strategy to use propaganda for capturing mind spaces. Many Congressmen even lamented how big business and the media were backing Modi's claim. Among the vocal lot was Information Minister Manish Tewari, who this Friday took charge as Congress' communications team to substitute for incumbent Ajay Makan, who is away contesting elections from the New Delhi segment.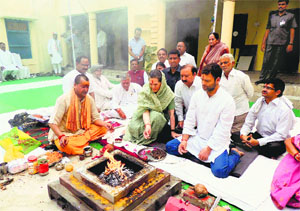 Congress chief Sonia Gandhi and vice-president Rahul Gandhi performing a prayer before Sonia's filing of her nomination for the Rae Bareli Lok Sabha constituency in Uttar Pradesh on April 2. PTI
"In the BJP, you see an entire narrative building around one person. This does not augur well for any nation. This is the point we need to stress, rather than get overwhelmed by one individual or the personality cult he is spawning," says Tewari, indicating that the projection of Modi as a "polarising, individualistic force" would be the Congress' strategy now.
Sonia and Rahul are directly leading this charge against Modi, repeatedly terming him in their speeches as the embodiment of the BJP's "exclusionary and communal ideology".
"This election is a struggle for India where religion and caste is not relevant. We are fighting for a secular India, which is not for some but for all…," Sonia repeats in her rallies projecting 2014 polls as a battle between the Congress' 'inclusive ideology' that believes in taking everyone along and the BJP's 'exclusionary communal pitch' that centres on one individual.
TO BASH OR NOT TO BASH
Not everyone in the Congress sees merit in Modi bashing. There is a section of the old guard led by senior-most general secretary Janardan Dwivedi which has its reservations on the Congress' Modi-centric pitch. It feels the Congress is building Modi by constantly engaging him and reacting to his teasers.
Dwivedi, till the time he was in charge of the Congress' communications department (until June 2013, when Makan took over), never allowed Modi related queries to be raised at the AICC platform. He deflected all such questions to the Congress' Gujarat unit, consciously avoiding references to the Gujarat CM. His line — by reacting to Modi, you would give him the importance he doesn't deserve.
Dwivedi's line was temporarily reflected in Sonia's January 17 AICC session address, where she described the 2014 polls as a battle of ideologies rather than individuals. The idea was to avoid falling into Modi's trap of 'presidentialising' the elections by getting the Congress to name Rahul as their PM candidate. Sonia deftly escaped the trap but Dwivedi's line went on getting diluted with the majority of Rahul-led Congress preferring a frontal attack on Modi, who continues to dictate the Congress' campaign as leaders vie with each other to slam him, his style and statements.
Over the past week, ministers P Chidambaram and Anand Sharma and Congress spokespersons Abhishek Singhvi and Randeep Surjewala have come out all guns blazing against Modi. Their statements range from attacks on Modi's personality to dismissals of his aggressive functioning.
Chidambaram, for instance, while recently defending the UPA's economic record which Modi has constantly attacked, said, "There are deep flaws in Modi's character. I am ashamed he is a PM aspirant." A day later, Sharma urged people not to waste their votes after Modi.
"Modi has anointed himself the PM before elections. Can an individual be bigger than the country? People must decide and not ruin their votes for a dictatorial, divisive person." Singhvi fuelled the fire further when he took a dig at the recent rumblings within the BJP which expelled veteran leader Jaswant Singh and sidelined Lalji Tandon, MM Joshi and Kalraj Mishra by denying them the Lok Sabha ticket of their choice. "Can Modi take the country along when he can't take his party along?" he asked. Most recently Surjewala said, "Modi has decimated his party. People won't let him decimate India."
A senior Congress leader said the party will sharpen its attack on Modi as elections draw near. "Our onslaught will only increase. We are not abusing Modi. We are exposing his canards. We are already behind schedule in taking him on," says Shakeel Ahmed, Congress general secretary handling Punjab, Haryana, Chandigarh and Delhi.
CONFUSION LINGERS
One on hand the Congress has decided to counter Modi with facts by exposing him on several fronts (recently Anand Sharma spoke of how the Gujarat CM has never replied to any questions in the state Assembly nor engaged in any debate); on the other it is gradually pulling off the first phase of its advertising campaign which focused on Modi's character flaws.
The first campaign comprising TV, radio and print spots, launched around February, was satirical and sought to attack Modi indirectly. The tags read: "Main Nahi Hum"; "Naseehat Nahi Nateeje", "Raajneeti Nahi Jaajneeti" and "Kattar Soch Nahi Yuva Josh"….
The Congress is now withdrawing these 'spots' and replacing them with positive tags to communicate to voters what exactly it wants to do for them. The move follows internal assessments which reflected poor voter response to negatively oriented ads, forcing Congress strategists to rethink.
A party leader admits, "In the first phase we highlighted the flaws in our opponent's character, his tendency to lord over BJP's organisational structure and his highly centralised style of working. In the next phase starting soon we will talk of where we want to take the country. Our agenda of continuity with change, rights to health and shelter, four new industrial corridors and cities and jobs, which our manifesto has promised, will all be featured."
The Congress' positive messaging is already beginning to show and the new spots in the media space read: "Yuva payen nai raahen", "Badhegi kisan ki shaan", and "Mahilaon ki suraksha hamari zimmedaari… 24 pc mahilaen hongi police mein bharti". The focus of the new campaign is 80 crore Indians sandwiched between the poverty line and the middle class whom the party celebrates with a smart tagline: "Bharat ke mazboot haath… hum sab hain ek saath". The shift to a new target constituency is driven by the realisation that the Congress has lost the urban middle class to the BJP and perhaps the traditional voter base of rural and minority vote to AAP.
Importantly, while the first phase of the campaign had Rahul as the central figure, in the second the party has brought in Sonia to complement Rahul's appeal. PM Manmohan Singh is absent.
PM'S ABSENCE: AN EDGE LOST
Congress insiders admit the party had a mighty edge in the 2009 election campaign when it was riding the euphoric wave generated by the signing of the Indo-US nuke deal. The PM was clearly the hero of that moment; his clean image a huge dividend.
"That edge is now missing. A series of scams have rocked our confidence. The PM has nearly retired and is conspicuously absent from electioneering but for a few rallies. Unlike 2009 when we were reaping the benefits of the RTI Act, MNREGA, farm debt waiver, nuke deal, etc, this time our projections are not resonating with the people. Corruption and inflation have hit us; food security, land acquisition, and Lokpal are long term laws with consequences for the future. Our campaign focus is missing though we have improved by junking communication spots like "Main Nahi Hum" which said nothing. We still don't seem to be able to tell voters why they should vote for us," said a senior party leader who did not wish to be quoted.
As for the PM, most state units are yet to send requests for his rallies on the back of senior leaders like PC Chacko and Anil Shastri blaming him for his silence. Congress spokesperson Randeep Surjewala, however, defended the PM saying, "The PM and Congress president on account of their age and health will decide their own campaign schedules."
PLAN B: STOP MODI
It is now evident that the Congress, aware of its slim chances of victory, has decided to pull all stops to halt Modi in his tracks. Sonia Gandhi has openly called upon voters to guard against bringing communal forces (aka Modi) to power.
Recently she got the top Muslim cleric, Shahi Imam of Jama Masjid, to pledge open support for Congress candidates on the grounds of the BJP's communal credentials. Defence Minister AK Antony, leader of the Congress' alliances committee, has more than once called on the secular parties to unite against Modi. Even from the official AICC platform, the Congress is selling itself as the only pan-India party that can in Sonia's words, "stop Modi's bid for PM-ship".
"We have to prevent Modi from coming to power," said a Congress leader indicating Congress' Plan B. That's also why the Congress did not slam the Third Front in its manifesto this time, unlike in 2009 when it had dubbed it a recipe for chaos. "We could support another formation from outside, let them rule for a year or two and then see how it goes," said a Congress leader, reflecting the long-term strategy behind the anti-Modi pitch.
Besides constantly appealing to secular parties for support, the Congress has also consciously asked its top leaders to contest the polls to send the message that it means business. From Amarinder Singh and Ambika Soni in Punjab to Ghulam Nabi Azad and Madhusudan Mistry in J&K and Gujarat, respectively, all seniors are in the battlefield leaving few leaders free for campaigns.
Out of the 13 Congress general secretaries, six are contesting elections and out of the 41 secretaries, 13 are in the fray. With the generals out fighting, it remains to be seen if the Congress can get enough war veterans to strategise.
THE CHEQUERBOARD
STRUGGLE Congress revisiting strategy to fine-tune campaign in last-ditch effort to woo voters away from Modi.
TARGET MODI Started with "exposing" Modi's Gujarat development model, also calling him carrier of BJP's "exclusionary and divisive agenda".
CONTRADICTION Cong old guard has reservations on the Modi-centric pitch, which it fears helps build Modi. So the first campaign of attacking Modi indirectly with taglines such as "Main Nahi Hum" are now quietly withdrawn.
END GAME Cong is prepared for a loss too, with a Plan B. It is to keep Modi out of power, anyhow. For that it is prepared to support any other coalition, so is not fouling relations with possible 'Third Front' elements.