Congress councillors file complain against Mayor
Jalandhar, April 11
These seem to be extremely bad days for Mayor Sunil Jyoti, who is from the BJP, as the residents have already been showing their angst against him on social media for the poor civic amenities and there have been complaints against the MC for waking up and starting multiple road construction projects all of a sudden, there have been bigger problems for him now.
Fake visa racket
Police wake up after agents dupe innocents
Jalandhar April 11
Term it a lackadaisical approach of the police towards the unscrupulous travel agents and sham immigration firms or the 'who cares' attitude of the officials concerned, it seems that the city police are unaware of fake travel agents operating from the city.
Doctorate professors, lecturers assigned duties equivalent to peons
Jalandhar, April 11
In another alarming disregard to the guidelines of the Election Commission of India, number of professors (whose grade is equivalent to class one officer) has been assigned duties - equivalent to peons' grade - in the parliamentary polls.
Arvind Kejriwal to visit Khatkar Kalan today
Jalandhar, April 11
While vital elements in the ideology of the Aam Admi Party bear their roots in the vision of Shaheed Bhagat Singh, AAP supremo Arvind Kejriwal will be paying obeisance at the ancestral home and memorial of the martyr in Khatkar Kalan tomorrow morning.
Poll code violation
Kapurthala road wears out in a day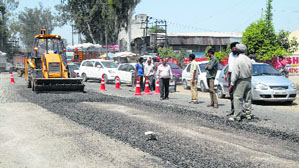 Jalandhar, April 11
Coming as another humiliation for the Mayor who has been making all efforts to get the roads re-carpeted in the city ahead of the April 15 deadline, Kapurthala Road which was laid yesterday only at a cost of Rs 99.54 lakh started showing signs of damage.

Re-carpeting of the Kapurthala Road underway in Jalandhar. Tribune Photo: Malkiat Singh

Track symptoms to fight cancer: CME
Jalandhar, April 11
The Council of Super Specialists on Friday organised a Continuing Medical Education (CME) programme in the city for medical practitioners. Basic issues related to liver transplantation, indications and results, treatment of chronic viral hepatitis and management of HBV malignancy were discussed in the programme, which was organised in association with Apollo Hospital, New Delhi.
Voter awareness programme
DC launches signature campaign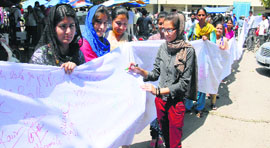 Jalandhar, April 11
As many as 3,740 electors from the city today signed on a 220 m-long cloth giving their consent in participating in the voting for the April 30 Lok Sabha polls. The campaign was a joint initiative of the District Election Office and Lally Infosys, a private educational institute, here.

Girls takes part in a signature campaign in Jalandhar on Friday. Tribune Photo: Malkiat Singh

Five booked for attempt to murder
Jalandhar, April 11
Five persons were booked by the city police in an attempt to murder case. Accused had allegedly injured a person after barging into his house in the Gandhi Camp locality. The accused have been identified as Raju, Soni, Vicky, Deepu and Madan. A case has been registered under Sections 307, 452, 323, 324, 148 and 149 of the IPC. All accused are still at large.
Independent withdraws
Jalandhar, April 11
After the withdrawal of nomination papers for the Lok Sabha polls by an Independent candidate today, now 25 candidates are left in fray. Mela Singh, an Independent candidate from Rurka Kalan, today withdrew his papers. Tomorrow is the last date for the withdrawal. The picture of the final tally will be clear after 3 pm. The candidates, in the poll battle, include Chaudhary Santokh Singh of Congress, Pawan Kumar Tinu of SAD, Sukhwinder Singh Kotli of BSP, Jyoti Mann of AAP, Tarsem Peter and Hans Raj of CPI (ML) New Democracy, Vijay Hans of Democratic Bhartiya Samaj Party, Paramjit Kumar of Bahujan Mukti Morcha and Subhash Goria of Shiv Sena. — TNS
Feedback
Jalandhar Tribune invites feedback from its readers on issues of public concern relating to Jalandhar, Phagwara, Kapurthala and the nearby areas. Readers can email their views to jalandhar.feedback@gmail.com. They can also send their views to: Feedback, Jalandhar Tribune, Sector 29, Chandigarh - 160029. Letters sent by post must mention 'Feedback for Jalandhar Tribune' on the envelope and it should be signed and must contain the address and telephone number of the sender. It should not be more than 150 words.