After landlines, BSNL mobiles to sing election tune
Jalandhar, April 15
In yet another effort to make the public aware of their voting right, Bharat Sanchar Nigam Limited (BSNL), Jalandhar Circle, at the behest of Varun Roojam, Deputy Commissioner (DC) of Jalandhar, has started the voice messaging service in one of its landline exchanges at the focal point and is now planning to include its 4.5 lakh mobile users as well in the next phase of the voters awareness campaign (VAC) to begin in the district from Thursday.
Cong councillors flay Mayor on Rs 13-cr patchwork issue
Jalandhar, April 15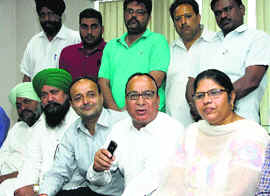 Congress councillors today flayed Mayor Sunil Jyoti again on the issue of the Rs 13 crore spent on the patchwork of city roads last year. The councillors, led by the Leader of Opposition Jagdish Raj Raja, said while they had on April 10 submitted before SE (B&R) that they be given the details of the Rs 36 crore spent on road paving and Rs 13 crore spent on patch work last year, the MC authorities had, instead, chosen to upload the detailed list on the official website.

Congress councillors address mediapersons at the MC office in Jalandhar on Tuesday. Photo: Sarabjit Singh

District Transport Office nets Rs 96.71 crore
Jalandhar, April 15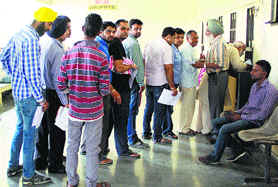 Not having a regular District Transport Officer (DTO) in Jalandhar for most of the time of the last financial year has resulted in the annual revenue collection of the department going up just marginally by Rs 1.4 crore. Being one of the highest revenue generation departments, the District Transport Office has fetched the state exchequer an amount of nearly Rs 96.71 crore in the current financial year, vis-a-vis Rs 95.30 crore last year.

Applicants at the DTO in Jalandhar. Tribune photo: Sarabjit Singh
Karampal elected as bar assn president
Jalandhar April 15
For the first time, the District Bar Association (DBA) managed to elect its president unanimously here today. Karampal Singh Gill (51), was declared the DBA president after no one filed papers to contest against him. Elated over his selection, Karampal said he had been practising as lawyer for the past 25 years. "I am feeling happy that I have been chosen as president of the District Bar Association unanimously by my lawyer friends. I will definitely work for the betterment of lawyer community and fulfil all promises made to them," he added.
Organic farmers seek govt help in marketing
Jalandhjar, April 15
The organic farmers of the region are highly disappointed at government's apathy to provide any assistance in the marketing of organic products. They said their produce, including turmeric, desi wheat, jaggery (gurh), basmati were high in demand and organised assistance from the government agencies could have proved to be a big advantage.
This techie loves taking deep creative dips
Jalandhar, April 15
Technology and creativity blend in the personality of a 20-year-old computer science engineering student at Lovely Professional University, BS Sarwagna Kumar, who has authored a novel titled 'Heaven and Hell Alliance', a fantasy love story in which a demon and an angel fall in love with each other.
City lawyer clears PCS (Judicial) exam
Jalandhar, April 15
Chandan Hans, a Jalandhar-based lawyer, has recently cleared the Punjab Civil Services (PCS- Judicial) examination. He secured third position in the state in the reserved category. Born and brought up in the Guru Nanakpura area, Chandan cleared the exam in his third attempt, with unconditional support from his father, who backed him all through his preparations.
AAP candidate gets threatening call
Jalandhar, April 15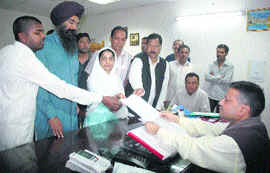 Jyoti Mann, the candidate of the Aam Aadmi Party (AAP) in the Lok Sabha elections, today received a life-threatening call from some unknown number. She, along with her party workers, submitted a written complaint to the SDM Neeraj Kumar and demanded action against the miscreant.

AAP candidate Jyoti Mann submits her memorandum pertaining threat to her life to SDM-1-cum-Assistant Returning Officer Neeraj Kumar in Jalandhar on Tuesday. Tribune photo: Malkiat Singh

Govt officials pledge to vote
Jalandhar, April 15
On the directions of the Election Commission (EC) of India, all government officials today took a pledge to cast their vote in the forthcoming Lok Sabha polls. Deputy Commissioner Varun Roojam, his entire team of officials and about 100 other government employees gathered in a small open area in front of the office of the ADC (G) at 11 am to take the oath, a copy of which had been sent by the EC. At the same time, the oath-taking ceremony was held in all Central and state government offices in the city.