Advanced Cancer Institute misses March deadline
Bathinda, April 16

The state-of-the-art Advanced Cancer Research and Diagnostic Centre (ACRDC), coming up in the Industrial Growth Centre, which was to be made functional by March this year, has jumped its deadline. The outdoor patient (OPD) services at the ACRDC may start by the end of May or in the middle of June.
Construction work at the Advanced Cancer Research and Diagnostic Centre in Bathinda is lying incomplete. A Tribune photograph

Sewer leakage leaves GT Road potholed
Bathinda, April 16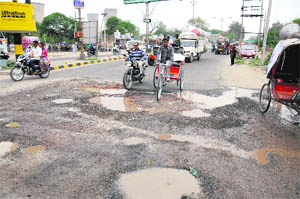 Leakage of sewer near the Rose Garden has led to potholes on the GT Road near the Rose Garden Chowk. The damaged road is causing inconvenience to free flow of traffic on the stretch. Assistant Municipal Commissioner Kamal Kant Goyal said the road has developed potholes due to leakage of sewage. The Municipal Corporation Bathinda (MCB) had decided to take up the project of repairing fault before Baisskhi.
A damaged portion of the GT road near the Rose Garden due to leakage in a sewer pipeline Bathinda on Wednesday. Tribune photo: Pawan Sharma

INTUC: No Modi wave in country
Bathinda, April 16
The Bathinda unit of the Indian National Trade Union Congress (INTUC) has extended its support to the Congress-PPP-CPI joint candidate for the Bathinda Lok Sabha constituency.
Chandigarh University to hold scholarship test
Bathinda, April 16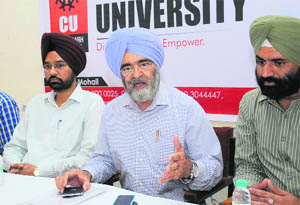 Chandigarh University, Gharuan, today announced the dates for its national-level scholarship-cum- admission test (CU-SAT 2014) for the engineering students. Issuing a press release here today, Vice-Chancellor of the university, Dr RS Bawa stated that as many as 300 engineering seats in the field computer science, mechanical, electronics & communication, civil electrical, petroleum, and automobile would be offered under the CU-SAT 2014 to the students passing-out their 10+2 examination with non-medical stream.
Vice-Chancellor of Chandigarh University Dr RS Bawa addresses mediapersons in Bathinda on Wednesday. Tribune photo: Pawan Sharma

Sabji Rehri union holds protest with black badges
Bathinda, April 16
Members of the Sabji Rehri Union members today held a rally protesting against the incidence of Rajpura wherein a vegetable vendor committed suicide alleging harassment at the hands of officials of the local bodies.
General observer visits polling stations
Bathinda, April 16
The general observer for the Lok Sabha elections, Dilip Kumar Wasnikar, visited polling stations in some of the villages today. He visited the polling stations located at Veerkandi, Ganga, Daan Singh Wala, Aklia Khurd, Aklia Kalan and Balahad Mehma villages.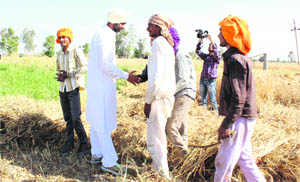 Mass contact:

Congress-PPP candidate from Bathinda Manpreet Singh Badal meets farmers during an election campaign at a village in Mansa. Tribune photo: Pawan Sharma
Single window system gets maximum requests for vehicles during polls
Bathinda, April 16
The single window of the Bathinda parliamentary seat has granted permissions to as many as 45 vehicles to be used for election purposes with the Aam Aadmi Party (AAP) topping the charts.
My wife is my lucky charm: Gippy
Bathinda, April 16
Singe-turned-actor Gippy Grewal called his wife Ravneet Kaur his lucky charm. "Before I got married, one of my albums did poorly in the market. Six months after marrying Ravneet, one of the songs from the album gained popularity and went on to become a blockbuster. Since then, I have believed that my wife is my lucky charm," said Gippy.
Two get 10-year imprisonment for carrying medicines illegally
Bathinda, April 16
Carrying huge quantities of medicinal drugs without having any prescribed bills or licence cost 10-year jail to two teenagers along with a fine of Rs 2 lakh to both. A judgment was pronounced by the Special Court of Jasjit Singh Bhinder in an open court today.
Four held for gambling
Bathinda, April 16
The Kotwali police have arrested four people for gambling and recovered Rs 3,710 in cash from their possession. The accused have been identified as Suresh Kumar from Dhobiana Basti, Des Raj and Bablu from kachi Dhobiana and Amandeep Singh from the Namdev Road. They were arrested gambling in a park near Amrik Singh Road.