Sessions Judge RK Sondhi conducts surprise check
Panchkula, April 25
Security lapses were detected at the Bal Niketan, a home for destitute boys and girls in Sector 2, during a surprise check conducted by the District and Sessions Judge-cum-Chairman of the District Legal Services Authority (DLSA), RK Sondhi, here today.
Panchkula District and Sessions Judge RK Sondhi (sitting extreme right) checks a register at Bal Niketan, Sector 2, Panchkula, on Friday. Tribune photo: Nitin Mittal

Pvt destitute homes avoid govt aid to escape interference
Chandigarh, April 25
To avoid the UT Social Welfare Department's intervention in running of affairs, the NGOs running private homes for destitutes in the city do not seek financial aid from government.

Officials from the Social Welfare Department at Bal Niketan in Sector 15, Chandigarh, on Friday. Tribune photo: Pradeept Tewari


Bal Niketan Case
AAP seeks time-bound investigation
Chandigarh, April 25
A delegation of Aam Aadmi Party (AAP) today met UT Home Secretary Anil Kumar over the Bal Niketan issue and submitted a letter to him. AAP volunteer Gurjusjit Singh said they requested the Home Secretary that the entire episode should be investigated in a stipulated time and the functioning of the Bal Niketan Society and it's office-bearers should be looked into.
Taps won't go dry this summer
Chandigarh, April 25
Taps will not go dry this summer in Chandigarh, as 38 new tubewells will be operational by June, which will supply 7.5 million gallons per day (MGD) water to the city. The Chandigarh Municipal Corporation (MC) is hopeful that the new tubewells will help in meeting the demand of water during peak summers.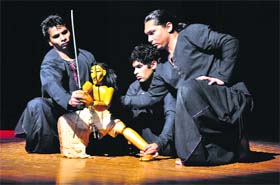 In Sync: Artistes perform the play, "About Ram", at the Fifth National Theatre Festival at the Tagore Theatre, Sector 18, Chandigarh, on Friday. Tribune photo: Parvesh Chauhan
P'kula ACP awarded Padma Shri
Panchkula, April 25
Panchkula Assistant Commissioner of Police Mamta Sauda, will be awarded Padma Shri tomorrow.The Hayana police officer has scaled the highest peaks, which includes Mt. Everest.
Pinki murder case
Charges framed against 4 accused
Chandigarh, April 25
A local court today framed charges of murder against the four accused in the murder and rape case of 11-year-old girl Pinki, last year. The court framed charges against Anirudh, Rajkumar, Suneeta, alias Billa and Bhagat Singh, alias Manga, in the case.
Advanced neuro centre: PGI gets Ministry's nod
Chandigarh, April 25
Thirty years after the proposal was mooted, PGIMER's 300-bedded advanced neuro-centre has finally received an approval from the Union Health Ministry. The centre, which is now awaiting approval for land by the UT Administration under the Master Plan, will bring respite to patients, who suffer as there are shortage of beds and ventilators at the premier institutes.
UT traffic cops told to stop 'targeting' vehicles from other states
Chandigarh, April 25
After receiving a number of complaints from residents of the neighbouring states, the UT Home Secretary Anil Kumar has directed the UT police to stop unnecessarily harassing drivers of vehicles with outstation registration numbers.
GMSH-16 shuts evening dental OPD
Chandigarh, April 25
Six months after all other evening OPDs were discontinued at the Government Multi-Specialty Hospital, Sector 16, the evening OPD being run by the Department of Dentistry has also been closed down.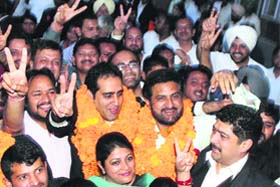 V for victory: Anmol Rattan Sidhu (right) and Saurav Khurana after being elected the president and the secretary, respectively, of the Punjab and Haryana Bar Association at the Punjab and Haryana High Court in Chandigarh on Friday. Tribune photo: S Chandan
State panel sets aside order against Grover Hospital
Chandigarh, April 25
The Chandigarh State Consumer Disputes Redressal Commission has set aside orders of the District Consumer Disputes Redressal Forum wherein Grover Eye Laser and ENT Hospital, Sector 35, was asked to pay a compensation of Rs 70,000 for alleged medical negligence in post-operative care.
Traditional ways of campaigning fade into oblivion
Mohali, April 25
With changing times, the traditional ways of canvassing, using rickshaws and auto-rickshaws playing patriotic songs and distributing pamphlets, have become a rare sight.
Paramilitary personnel flay denial of exemption from property tax
Chandigarh, April 25
Members of the Paramilitary Forces Retired Officers' Association have flayed the decision of the Punjab government and the Municipal Corporation, Chandigarh, against exempting paramilitary personnel from property tax.
MC issues challan to 96 for misuse of water
Chandigarh, April 25
In 10 days of its drive against misuse of potable water, the Municipal Corporation (MC), Chandigarh, issued 96 challans and served 347 warning notices to violators. The MC has constituted around 16 teams that visit different parts of the city during the morning hours to catch people washing cars or courtyards, and watering lawns.
Paid news: Panel recommends action in nine cases
Mohali, April 25
The Media Certification and Monitoring Committee set up in the Mohali district, in connection with the Lok Sabha elections, today recommended the issuance of notices in nine cases of suspected paid news.
11 KV wire falls at house
Panchkula, April 25
A loose hanging 11 KV wire fell at a house in Sector 12 A causing a minor blast. No injuries have been reported. Notably, the same wire had damaged a few houses some time ago.
Pensioners to hold rally today
Mohali, April 25
To expose anti-pensioner policies of the Punjab Government, members of the Punjab Government Pensioners Association will hold a rally on April 26 at 10.30 am. The rally will be held outside Rose Garden in Phase 3B-II here and will be followed by a protest march.



Classes IX and XI
Institute for Blind gets CBSE affiliation
Chandigarh, April 25
A ray of hope has filled the premises of the Institute for the Blind, Sector 26, here. After a-year-and-a-half of rigorous pursuance by the school authorities, the Central Board of Secondary Education (CBSE) has finally given a green signal to the school for affiliation.


Institute for the Blind at Sector 26 in Chandigarh. Tribune photo Manoj Mahajan
Visually impaired to enjoy nature's bounty through quiz
Chandigarh, April 25
In an effort to take the visually impaired students one step closer to nature and make them more aware of the sounds of wild and tamed animals, Nature Conservation Society, a Punjab-based NGO, will organise a quiz competition for the students of Institute for the Blind, Sector 26, here on Saturday.
NIIFT students present final diploma projects
Mohali, April 25
Fashion Marketing and Management (FMM) and Garment Manufacturing and Technology (GMT) students of the Northern India Institute of Fashion Technology (NIIFT), Mohali, presented their final diploma projects today.
Senior secondary schools
PSEB detects fraud in sale of books
Mohali, April 25
The Punjab School Education Board (PSEB) has detected a fraud in the sale of books in senior secondary schools in the state. The board has asked the Mohali SSP to take legal action against a Ludhiana-based publishing firm in this connection.
COLLEGE NOTES
Proposal approved
Chandigarh: Desh Bhagat Dental College & Research Centre, Sri Muktsar Sahib, has got the permission to admit students to the MDS course. The Dental Council of India and the Government of India (Ministry of Health & Family Welfare) have approved the proposal of Desh Bhagat Dental College for granting 3 seats in the Master of Dental Surgery (MDS) course to meet the higher education needs of the Bachelor of Dental Surgery (BDS) graduates, said Dr Zora Singh, chairman, Desh Bhagat Group.


FROM SCHOOLS
Poster-making contest
Chandigarh: The eco-club of Tribune Model School celebrated Earth Day on its premises on Friday. An inter-school poster-making competition was conducted on the theme, "Tomorrow's Earth is today's Responsibility and The Face of Climate Change" in association with the Lions Club, Chandigarh.
Students of Tribune Model School take part in a poster-making competition on Friday. Tribune photo: Manoj Mahajan