Two cases registered under Defacement of Property Act
Ludhiana, April 25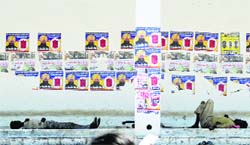 The police registered two cases under the Defacement of Property Act yesterday. Supporters of SAD-BJP candidate Manpreet Singh Ayali and Independent candidate Simarjit Singh Bains defaced public property, following which the cases were registered.


Posters of Lok Sabha candidates pasted on a wall near Orient Cinema in Ludhiana. Tribune photo: Himanshu Mahajan
Sand mining mafia tries its luck, makes a quick buck
Ludhiana, April 25
The visit of BJP's prime ministerial candidate Narendra Modi to the city turned out to be a boon for the sand mining mafia as illegal mining continued for the second consecutive day.



Sand mining goes unchecked on the Sutlej riverbed near Chaunta village; and (right) a sand-laden truck passes through Mattewara. Tribune photographs
Future comes together for a better tomorrow
Ludhiana, April 25
Everybody is dancing to the tune of democracy. Efforts are being made by the district administration to exhort voters to exercise their franchise. Social organisations too are doing their bit to encourage voting.
Amninder makes village proud
Mandi Ahmedgarh, April 25


Residents of Ghudani village in Payal sub-division were in a jubilant mood as Amninder Kaur Aman Gill, whose family hails from the village, has been appointed police commissioner of Abbotsford in British Columbia, Canada. She is daughter of former superintendent of police late Harbans Singh Boparai. She was felicitated by BC Finance Minister Michel De Jong and office bearers of social and religious organisations of Canada led by Gurdeep Singh Grewal.
Amninder Kaur Aman Gill. A Tribune photograph
Punjabi Sahit Akademi's election on May 4
Ludhiana, April 25
Elections of Punjabi Sahit Akademi will be held on May 4. Chief election officer Dr Surjit Singh Gill announced the final list of candidates contesting for different posts. Yesterday was the last day for withdrawing nomination papers.
Right to Education still remains on paper
Ludhiana, April 25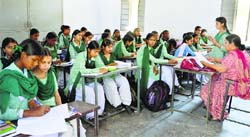 Although the United Progressive Alliance (UPA) projected the Right to Education (RTE) Act 2009 as an achievement of the Central Government yet it failed to implement the Act properly.


Schools do not have sufficient number of teachers to restrict the number of students per teacher to 30. Photo: Inderjeet Verma
DC instructs DEOs to chalk out a plan for unsafe buildings
Ludhiana, April 25
Ludhiana Deputy Commissioner Rajat Aggarwal issued instructions to the District Education Officers (Secondary and Primary) to get details about unsafe school buildings and look for alternative land for the schools which are running in dharamshalas.
Candidates hold meetings across city
Ludhiana, April 25
With the polling day round the corner, candidates contesting from the Ludhiana Lok Sabha constituency made their presence felt across the city.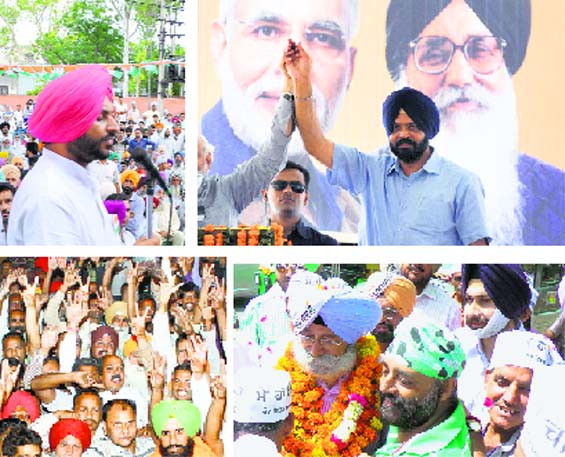 (Top, L)Congress candidate Ravneet Singh Bittu addresses a gathering in Ludhiana on Friday. A tribune photograph; (R) BJPís prime ministerial candidate Narendra Modi makes the poll pitch for SAD-BJP candidate Manpreet Singh Ayali during a rally in Ludhiana on Friday. Tribune photo: Himanshu Mahajan and (Bottom L) Independent candidate Simarjit Singh Bains flanked by supporters during a public meeting; and (right) AAP volunteers welcome party candidate HS Phoolka during a roadshow in Ludhiana on Friday. Tribune photographs
Donations made to parties eligible for tax deduction
Ludhiana, April 25
Any citizen donating money to political parties is entitled to 100 per cent tax deduction.
SAD, BJP leaders make poll pitch for Kulwant Singh
Doraha, April 25
Inder Iqbal Singh Atwal, national senior vice-president of the Shiromani Akali Dalís youth wing and former MLA, today campaigned for party candidate from the Fatehgarh Sahib constituency Kulwant Singh.
Posters pasted on walls of houses irk Jagraon residents
Jagraon, April 25
With Lok Sabha elections just round the corner, supporters have pasted thousands of posters of the candidates in various residential areas of the town.
2 women arrested with 15 kg of poppy husk
Ludhiana, April 25
The police have arrested two women and recovered 15 kg of poppy husk from their possession.


ML Markan Trophy: Locals restrict Hoshiarpur to 171 runs
Ludhiana, April 25
Ludhiana restricted Hoshiarpur to a modest total of 171 runs on the first day of the fourth match in the ongoing Punjab State Inter District Cricket Tournament (U-16) for ML Markan Trophy.
Bicep competition: Gaurav adjudged overall champion
Ludhiana, April, 25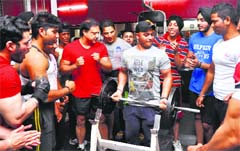 A large number of participants competed in various weight categories during the bicep competition organised at Prime Bodies Health Club, Shastri Nagar. Gaurav Chowdhary with a lift of 90 kg on the barbell was declared the overall champion.


A participant lifts weight during a bicep competition at Prime Bodies Health Club in Ludhiana. A Tribune photograph