Two arrested, police speed up investigation
Rachna Khaira
Tribune News Service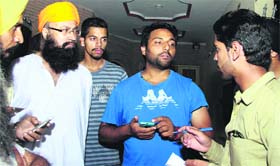 Harvinder Singh, husband of Pradeep Kaur, talks to media in Jalandhar. Photo: Sarabjit Singh
Jalandhar, May 4
Within hours of the alleged suicide by 30-year-old Pradeep Kaur at her Green Avenue residence yesterday, the police today arrested Gurmej Singh (45), a head constable in the Punjab Police, and his wife Davinder Kaur (44) in the case.
Pradeep Kaur, mother of eight-month-old twins, had held both of them, including their son Amritpal, responsible for her taking the extreme step. She had accused both of sexually abusing her since she was nine-year-old and later blackmailing her through an MMS that was made during one of the indecent assaults made by her uncle to bequeath him her entire property.
"We have arrested two of the three accused mentioned in the suicide note. However, the third accused, Amritpal, could not be arrested despite his name being mentioned in the suicide note, as no charges were made against him by the deceased," said Rajinder Sharma, Station House officer, Police Station, Division 1. He said the boy had been put under observation and the investigating team was probing the matter to find any crucial clue about his alleged involvement into the case.
Meanwhile, post-mortem was conducted at the Civil Hospital and her viscera was sent to a Kharar laboratory for forensic analysis. In the evening, her last rites were performed at the Maqsudan crematorium.
Mystery death or murder
Exploring Pradeep's family history, other cases of death under mysterious circumstances have also been found. To begin with, her grandfather was found dead under mysterious circumstances near the village well in 1985. Surprisingly, the local police did not conduct any investigation into the matter and without post-mortem, he was cremated. More shockingly, her father was declared mentally ill in 1987 by the local village doctor. He is till date surviving on heavy sedatives which, according to Davinder Kaur, her sister, made him sleep for long durations. Then, her only uncle (chacha) Gurinder Singh also committed suicide in 1991. Again no investigation was conducted into the matter and he, too, was cremated without any post-mortem. The fact in all this is is that all mysterious deaths in the family started happening from 1985, just one year after Pradeep's aunt Davinder Kaur married Gurmej Singh, a head constable in 1984.
Property dispute?
The controversial death is also pointing towards a possible property dispute pertaining to the ownership of around 40 acres. After the death of her grandmother and her uncle (chacha), both their shares (around 20 acres of land) were claimed easily by Davinder Kaur. The remaining 10 acres, owned by Pradeep's father, were also being claimed by Davinder after it was allegedly sold by Pradeep to them for Rs 15 lakh.
Fabricated story?
The story is also pointing towards another angle as to why Pradeep was quiet all these years while she was a regular MA student at Guru Nanak Dev University and later did her BEd by staying at a private hostel at Kathua in J&K for a year. She didn't even come up with these charges even during her first marriage to Harmeet Singh of Gurdaspur. Then what happened suddenly that immediately after her marriage to Harvinder Singh in 2012, she came up with the sexual abuse charges against her uncle. Was someone forcing and torturing her to levy serious charges against her aunt's family who are presently owning around 40 acres. The most important fact in this matter is that although Pradeep has named Amritpal, her aunt's son also in her suicide note, she had nowhere mentioned any specific charge against him of any type pertaining to torturing, blackmailing, physically abusing or assaulting etc. In case, her aunt's family got convicted in the case, the 40 acres of land with an estimated cost of Rs 30 crore would be solely, owned by the eight-month-old children of Harvinder Singh.
Victims
Whether it is a property dispute or a case of sexual abuse, it is ultimately the children who have become the victims. During investigations, the twins Noor (girl) and Dilaawar (son) were looking perplexed with repeated camera lights flashing on their faces. The poor twins have not even realised that after such a "limelight", their life will go deep into darkness where they will not find a way to hold the hand of their mother.