M A I N N E W S
Campaigning ends for 64 LS seats
Ph-VIII polling in HP, U'khand, J-K tomorrow
Tribune News Service & PTI
New Delhi/Shimla, May 5
Campaigning for the penultimate of the nine-phase Lok Sabha elections ended in 64 constituencies today. Polling on these seats, including Amethi where Rahul Gandhi is seeking a re-election and 25 seats in Seemandhra, will take place on Wednesday.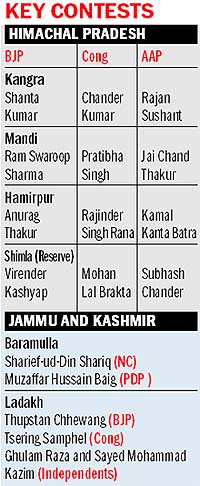 Himachal Pradesh and Uttarakhand are going for a single-phase election. While Himachal Pradesh has four seats, Uttarakhand has five. Polling will also take place at Baramulla and Ladakh in Jammu and Kashmir the same day.
BJP leader Varun Gandhi from Sultanpur in UP, LJP president Ramvilas Paswan from Hajipur in Bihar and BJP stalwart Shanta Kumar from Kangra in Himachal Pradesh are among the nearly 900 candidates in fray in seven states in this phase.
In Himachal, the campaigning for the four Lok Sabha seats and one Assembly segment of Sujanpur concluded today. This turned out to be one of the most bitter and personalised electoral battles that the hill state has ever witnessed.
The polling for the Lok Sabha as well as the Sujanpur Assembly by-poll will take place on May 7. A total of 48, 13,071 voters (24, 77,430 male and 23, 35,641 female), including 84,461 first time voters, will exercise their franchise. The main fight in the hill state is between the Congress and the BJP with the Aam Admi party (AAP) having a mere token presence despite fielding its candidates from all the four seats. A total of 38 candidates are in the fray for the four parliamentary seats. The Congress, the BJP, AAP and the BSP have fielded candidates in all four seats while the CPM is contesting only two seats.
Twelve candidates are in the fray in Kangra, 10 in Hamirpur, nine in Mandi and seven in Shimla (reserve) parliamentary constituency. A total of four women are contesting. Kargil hero Vikram Batra's mother Kamal Kanta Batra is contesting on the AAP ticket from Hamirpur. The stakes are high for Virbhadra whose wife Pratibha Singh is contesting from Mandi and for Dhumal whose son Anurag Thakur is in the fray from Hamirpur. Former Chief Minister Shanta Kumar is also testing his luck from Kangra.
Elaborate security arrangements have been made to ensure free, fair and peaceful polls. As many as 352 polling booths have been declared hyper-sensitive and 999 sensitive.
While Mandi has the highest number of 1,985 polling booths, Shimla has 1,922, Kangra 1,795 and Hamirpur 1,660. Twelve model booths have been set up in each of the 12 districts.
In Uttarakhand, campaigning in Haridwar, Tehri, Pauri, Nainital and Almora, where 74 candidates are in the fray, ended at 5 pm. Three former BJP CMs BC Khanduri, Bhagat Singh Koshiyari and Ramesh Pokhariyal Nishank are among those contesting. Chief Minister Harish Rawat's wife Renuka and former CM Vijay Bahuguna's son Saket are also contesting the polls from Haridwar and Tehri seats, respectively. All five seats had gone to the Congress in the last General Election.