Voting percentage of women higher than men
Dehradun, May 12
The overall voting percentage of women who cast their votes in the May 7 Lok Sabha polls is 2 per cent higher than the male voters in the five constituencies. According to the Chief Electoral Office, the female voting percentage in the state stood at 63 and the male voting percentage at 61, which is 2 per cent higher than the male voters.
Counting for LS poll to be held at 14 places
Dehradun, May 12
The counting of votes for the Lok Sabha poll will be held at 14 venues in the state. As many as 842 counting tables will be set up at the 14 venues in the 13 districts. According to the Chief Electoral office, the maximum number of counting tables (140) will be set up in Dehradun.


Mussoorie couple develops site to attract tourists to the hill town
Mussoorie, May 12
An artist couple from Mussoorie has succeeded in developing a site to attract tourists despite no help from the Tourism Department that is yet work on any new tourist destination in Mussoorie.

Culture on display: Kashi Devasthanam, highlights the Himalyan culture. The site was developed by the Shukl couple in Mussoorie for tourists. A Tribune photograph

Unregulated parking cripples vehicular movement
Dehradun, May 12
Unregulated parking of vehicles that transport students to their schools resulting in the congestion on city roads during the opening and closing of the schools. The whole city comes to a standstill every afternoon.

Vehicles parked outside St Joseph Academy in Dehradun on Monday. A Tribune photograph


UPCL head wants UERC to announce power tariff hike
Dehradun, May 12
Annoyed for not sanctioning the proposed tariff hike of about 19.42 per cent by Uttarakhand Electricity Regulatory Commission (UERC) against annual revenue requirement (ARR) for the current financial year, Managing Director of Uttarakhand Power Corporation Limited (UPCL) SS Yadav said that department will appeal to the commission to reconsider its decision.
Govt failed to implement panel suggestions: IFFCO
Dehradun, May 12
The director of the Indian Farmers Fertiliser Cooperative Limited (IFFCO) and president of the Uttarakhand State Cooperative Federation Limited in Dehradun, Pramod Kumar Singh, alleged that the Congress-led state government had not implemented Vaidyanathan Committee recommendations for the welfare of the farmers in the state.


Dalit leader Vidhya Gautam breaks fast
Haridwar, May 12
Vidhya Gautam, a young Dalit leader,who was on hunger strike for the past seven days,broke her agitation in the wake of Supreme Court stay on yog guru Swami Ramdev's arrest.

Gritty youth leader: Dalit youth leader Vidhya Gautam and other community leaders talk about their anti-Swami Ramdev stance in Haridwar on Monday. a tribune photograph

Nishank claims he will win Haridwar seat by 1 lakh votes
Haridwar, May 12
BJP candidate from Haridwar Ramesh Pokhriyal Nishank has claimed that he will win by a margin of 1 lakh votes against his Congress opponent Renuka Rawat, wife of Chief Minister Harish Rawat.

Thanking supporters: BJP candidate from Haridwar Ramesh Pokhriyal Nishank thanks party workers in Roorkee on Monday. A Tribune photograph


Geo symposium of Himalayan Geographical Society
Dehradun, May 12
The second geo symposium of Himalayan Geographical Society took place at Welham Girls' School on Sunday evening. The programme was started with screening of the national geographic documentary on Himalayan Tsunami.


U'khand girl given gold medal by US varsity
Haridwar, May 12
An Uttarakhand-origin girl was given a gold medal for her research work in a joint bio informatics programme in USA by University of Arkansas recently. Shraddha Thakkar, daughter of Harish Thakkar, who studied in Gayatri Vidyapeeth, Shantikunj, has brought laurels to the state and country as she was the lone Asian to be accorded gold medal this year.

Proud moment: Shantikunj alumni Shraddha Thakkar shows her gold medal. A Tribune photograph
CM for water policy
Dehradun, May 12
Chief Minister Harish Rawat has instructed the Water Corporation and Jal Sansthan to prepare a 10-year water policy keeping in view the rise in the population of various cities in the state.


Filth smears Haridwar's image
Haridwar, May 12
As the Char Dham yatra and summer have set in, the municipal corporation and the district administration need to take immediate steps to make the city clean and green. Heaps of garbage can be seen everywhere in the city.

Feeding on waste: Cattle graze on garbage in Haridwar on Monday. Tribune photo: Rameshwar Gaur
Fake RTI activists resorting to blackmail: SIC
Pithoragarh, May 12
Many people, including some fake mediapersons, resort to blackmailing while posing as RTI activists. Their activities are demoralising honest RTI activists. The State Information Commission has asked district magistrates to take action against fake RTI activists.


IIM interns remove posters from murals
Dehradun, May 12
A team of interns from IIM-Indore removed posters of a private institute pasted on the murals, made by the state government to beautify the city at the Darshan Lal Chowk, here today.

Indian Institute of Management, Indore, interns after clearing posters from murals in Dehradun on Monday. A Tribune photograph
Canadian singer roped in for leopard conservation
Dehradun, May 12
Leopard conservation charity organisation Panthera that has been working for leopard conservation in India has roped in Canadian pop singer Shania Twain as global ambassador for its newly launched leopard conservation initiative, Project Pardus.
Upgraded Almora schools fall short of teachers
Pithoragarh, May 12
Though nine high schools were upgraded as intermediate colleges in Almora district three years ago, school teachers are still taking classes at these institutions as the government has not appointed the required staff.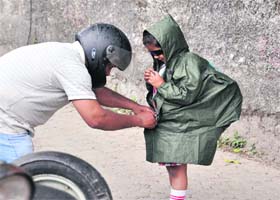 Protecting the child: A father covers his daughter with a raincoat in Dehradun on Monday. A Tribune photograph
Officials given training at ONGC hall
Dehradun, May 12
Ahead of the poll counting scheduled on May 16, the officials, who were assigned the counting duty, were given training at the ONGC hall here today.Elaborating further on the first phase of the training, Additional District Magistrate Pratap Shah said 195 micro-observers have been appointed for the counting, out of which six remained unavailable for the training.
Bird sanctuary mooted for Nainital
Pithoragarh, May 12
After Assan barrage in Dehradun district and Pawalgarh at Corbett Tiger Reserve, Ramnagar, a third bird sanctuary is likely to come up in the state in coming months in Nainital under the name of Naina Devi conservation reserve, forest officers said."


Soccer match ends in draw
Dehradun, May 12
A match between Pachwa Doon and KV Sporting Football Club during the ongoing District Football League at Pavilion Ground ended in a 1-1 draw here today. Vaibhav scored the lone goal for Pachwa Doon while Rohit scored for KV Sporting.


Players vie for the ball at Pavillion Ground in Dehradun on Monday. A Tribune photograph
Welham girls reach hockey final
Dehradun, May 12
Welham Girls' School and IDPL, Rishikesh, have stormed into the finals of ongoing 4th Invitational Hockey Tournament after winning their semifinal matches played at Welham Girls' School here today.