Punjabi film replaces mustard fields with chasing cars
Tribune News Service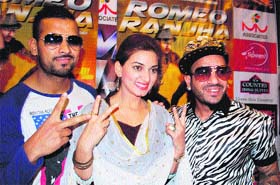 Garry Sandhu (left), Parul Gulati (centre) and Jazzy B, the star cast of the upcoming Punjabi movie, "Romeo Ranjha", at a press conference in Amritsar. Photo: RK Soni
Amritsar, May 13
Chasing cars, water skiing, free falling from buildings have managed to replace the mustard fields and tractors at least for once on the screen. Upcoming Punjabi film "Romeo Ranjha", starring Jazzy B and debutant singer, Garry Sandhu, will be an action thriller, rather than being a rom-com, which has become the only genre Punjabi box-office has seen.
The stars of the film, Jazzy B (with bling in tow) and newcomers Garry Sandhu and Parul Gulati along with director Navniat Singh were in Amritsar to promote the film. Adressing a press conference at Country Inn, director Navniat Singh said, "I always wanted to make such a film, with thrills and class apart action sequences. The story of the film has lots of twists and turns, something not seen before in Punjabi films." The stunts and action sequences of the film, which have been directed by popular Bollywood action-director Allan Amin, too, will be something to look forward to. "The stunts are not over-the-top, the action sequences fall in line with the story and have not been overplayed," said Navniat.
Jazzy B, who will be seen in his second film post-"Best of Luck", too, shared his excitement, especilally about doing action. "No doubles or stuntsmen have been used for the action sequences. Both, Garry and me, performed these stunts. Though sometimes it became a bit tough, the quality of action you will see in the film is comparable to Bollywood, even Hollywood standards. He also cited an instance when he had a minor accident while performing a stunt. "We were supposed to shoot an action sequence riding a jet ski and we got it off balance. Thankfully, we were wearing safety gear and didn't get hurt."
Singer Garry Sandhu, who is making his acting debut with the film, too, enjoyed doing the stunts. "I am glad that I got this film to make my debut. I play a conman in the film." Actor Parul Gulati, too, is making a debut with the film opposite Garry Sandhu. The film also stars Aman Grewal, Monika Bedi, Yograj Singh and Rana Ranbir. The story has been penned by Dheeraj Rattan and the film releases on May 16. A high-end eatery also launched a special recipe dedicated to Jazzy B on the ocassion. The stuffed Thai Chicken Tikka with basil sauce ïs a fusion of tandoori and French cuisine, just like Jazzy B is a fusion of desi and international music," said the spokesperson.