His job: Satisfying a billion-plus expectations
Modi would do well to dispel fears of RSS doing backseat driving. The vote was not for a 'Hindu Rashtra' but, as Modi described it, for ensuring the 21st century belonged to India.
Raj Chengappa

By mid this week Narenda Modi is expected to be sworn in as India's 15th Prime Minister. Whatever the strength of the mandate that Modi has come with and the history he has made by becoming the first non-Congress PM to have a clear majority, once he gets down to the job he will soon realise what a tough ask it is to lead a country with a billion-plus expectations.
I had once asked India's most respected industrialist JRD Tata what he would do if he were made the Prime Minister of India. Tata answered promptly with a twinkle in his eye: "I would commit suicide." Tata told me that he thought India was too chaotic a country to be able to govern easily. This was in 1987, a year before he anointed Ratan Tata to run the mighty business empire that Tata and Sons had become under his stewardship.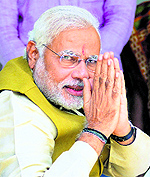 When Rajiv Gandhi was voted to power in 1984 with the Congress winning an unprecedented 411 seats in the Lok Sabha he described the expectations that people had of him "as scary". While Rajiv made a good beginning, midway through his rule he began to falter and suffered the ignominy of being defeated in the 1989 General Election. Modi must learn from the follies committed by Rajiv who by the end of his term as PM had become party to the very system he abhorred and had promised to change.
To his credit, in his hour of triumph, Modi, ever the master communicator, ensured that he got the symbolism just right. On counting day, soon after it was clear that the BJP was headed for a historic win, he visited his ageing mother and sought her blessings in full view of TV cameras. In the evening he addressed a rally where he flashed his famous two-fingered V sign and promised that he would make development a peoples programme.
Yesterday he first went to Vadodara to thank the voters who had elected him from that constituency and flew into Delhi for a victory road-show and the BJP Parliamentary Board meeting, where in front of the media he hugged senior party leader LK Advani, who has had differences with him. In the evening, Modi air-dashed to Varanasi to perform the Ganga Aarti denied to him during his election campaign in the temple city.
In sharp contrast to the media-shy outgoing Prime Minister Manmohan Singh, Modi was willing to make a public exhibition of even his most private and personal moments. He was in many ways setting the tone for his reign as the big boss of the world's most populous democracy. That while he respected elders and tradition, development was going to be his primary focus. That he was keen to carry his party-men along, including his opponents, and that whatever he did would be in full glare of public light and he would be accountable for his actions.
As the rest of the political parties come to terms with the political tsunami that hit them, there is no doubt that the massive majority given to Modi was a positive vote for change. Indian voters gave Modi a decisive mandate because they wanted a strong government that would bring down inflation, ensure that the economy grew, brought jobs and all-round development rapidly. Modi had convinced them with his campaign narrative that he was the man for the task. That saw the voters cut across caste, community and identity lines and give him and the BJP-led alliance a handsome majority.
Modi supporters are clear that the NDA government led by him will not commit the mistake of having dual centres of power like that of the Manmohan Singh-Sonia Gandhi duo during the UPA regime. Modi's critics say that the RSS leadership, which had propelled Modi to centre-stage despite stiff opposition from BJP stalwarts like Advani, may have a significant influence on the new government. That instead of a 'Ma-Beta sarkar', as Modi had mocked Sonia and Rahul Gandhi during the election campaign, his government would be a 'Baap-Beta sarkar', with the 'fatherly' RSS ruling from behind the scenes.
Modi would do well to dispel such fears early in his tenure. The vote was certainly not for a "Hindu Rashtra" but, as Modi rhetorically described it in his victory rally, for laying the "foundation of a truly modern India that would ensure that the 21st century belongs to it". If Modi starts pushing forward with the now ancient pet projects of the Sangh Parivar of the Ram temple, abolishing Article 370 and ushering in a uniform civil code it would again bring to the fore fears that he would prove to be a divisive Prime Minister. Modi has been given a historic opportunity by the people of India — he shouldn't botch it up.