Since a weak economy has been among the main reasons that catapulted Narendra Modi from Gandhinagar to 7 Race Course Road, New Delhi, resurrecting the economy will be top of the agenda for the new Prime Minister. In his campaign, Modi had pitched the Gujarat model of development which included 24x7 power supply, pipelines for carrying water, good infrastructure, minimum government and maximum governance and out-of-the-box administrative solutions for growth. He attacked the UPA's handling of the economy, price rise, lack of jobs, policy paralysis, governance deficit, failure to track black money overseas and migration from villages among others. The last two years have been the worst for the economy for decades, with growth whittling down to sub-5 per cent levels.
What needs to be done
Investments: The immediate priority is to revive sentiment and kick start the economic activity. The first task is to get investments going again, which will have the effect of projects kicking off, employment creation and as the sentiment improves, consumers will spend more, leading to more goods being sold.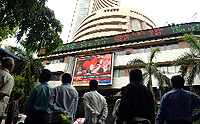 Short-term steps: Introduce short-term measures like goods and services tax (GST). Continue on the path of fiscal consolidation to moderate interest rates and address the issue of fragmented supply chain in agriculture by delisting perishables from the APMC Acts of states.
Reforms: The stock which are the barometer for the economy have given a thumbs up to the NDA government. Foreign broking major, JP Morgan, says expectation from the new government would be to expedite the reform and execution process. If the government's action and RBI's focus on inflation control manage to win household savers back into financial assets, dependence on external capital and vulnerability would reduce.
Infrastructure: The creation of infrastructure will be vital. New roads, ports, highways, airports and rail network will push growth and unlock new areas of development.
Manufacturing: The manufacturing sector is in a bad shape. Since it creates more jobs than services, the government should focus on it. Ficci president Sidharth Birla says they look to the next government and hold out hope that bold reforms and implementation will enable a high growth path.
Fiscal deficit: Keep the fiscal deficit in check. Kotak Equities says investors may want to focus on the steps being taken for the implementation of the GST and measures to reduce fuel subsidies as short-term guides on the government's commitment to reforms.
The challenges
GDP growth: Analysts caution that the recovery will be slow. For this fiscal, they are working with 5-5.5 per cent GDP target.
Inflation: The challenges are erratic rains, inflation and a fiscal burden. Foreign brokerage CLSA says a strong government would still have to deal with potentially weak monsoon, inherited fiscal burden of 65-70 basis points of GDP (advanced PSU dividends, food Bill) and high inflation.
Stability: Framing stable policies for investors and a transparent system for the allocation of natural resources will be crucial.
Slow pickup: The lift-up will be laboured. A report by Kotak Equities says there is limited scope for positive surprise and a pickup in investment will take time. FY2015 will be a year of consolidation and the right decisions with respect to fiscal consolidation and investment will set the stage for faster economic growth in subsequent years.
Clearances: The report also says pending approvals and clearances from various government agencies can be addressed through executive decisions. Issues such as land acquisition, labour laws and resource allocation can be addressed through the legislative route if they fall under the purview of state governments. The increased scrutiny on approvals may also slow down the process. No government can short-circuit the process of approvals.
What the manifesto says
Will restore confidence in decision making.
Focus on 'Building India'. This includes 100 new cities, a massive low-cost housing programme, setting up gas grids for households and the industry, launching diamond quadrilateral project of bullet trains, programme for rural rejuvenation, a national optical fibre network, and developing 100 most backward districts.
For fiscal discipline without compromising on fund availability for development.
Will deliver a tax policy roadmap.
Usher in the GST regime; and has advocated several steps to check price, including special courts to stop hoarding, setting up price stabilisation fund and unbundling of the FCI.
FDI will be allowed in sectors wherever needed for job and asset creation, infrastructure and acquisition of niche technology and specialised expertise.
Advocates a strong manufacturing sector to bridge the demand-supply gap, leading to price stabilisation, create millions of jobs, increase incomes for the working class, generate revenue for government and lead to import substitution to bring down the import bill.
"GST a good start"
Some measures that can be implemented in the short-term are introduction of goods and services tax, which can add 1.5 per cent to the GDP growth due to increased efficiency, fast-tracking of stalled projects and boost in public investment. We require rapid economic growth for job creation.
Ajay Shriram, cii president
— Sanjeev Sharma
Corruption

Be accountable
What needs to be done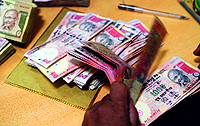 Build confidence: Instill confidence among the people by taking a zero-tolerance view of corruption. The spate of scams gave rise to the anti-corruption mood and led to the emergence of the Jan Lokpal movement. It forced the government on the back-foot and then fizzled out, only to be revived feebly with the launch of AA. While raising the issue, it eventually ended up attacking BJP's campaign committee chairman Modi more than sticking to the issue.
Awareness: Senior lawyer Gautam Sabharwal says inclusion of law as a subject at the school level, which would make citizens aware of their rights and also laws, is important. Making the government liable would also go a long way. Once a civil servant is made accountable, half of the problem of corruption would vanish, he says.
The challenges
Scams: Transparency will have to be ensured in all administrative and public dealings. Mega scams rocked the two terms of the UPA government which included the Rs 1.76 lakh crore 2G spectrum scam, Rs 1.86 lakh crore Coalgate and Commonwealth Games scam. The same story was played out in Maharashtra where the Congress and its alliance partner, the NCP, were embroiled in the Adarsh Housing Society scam and the irrigation department scam.
Transparency: Making ministers and officials liable will be a challenge, especially in the wake of the innumerable scams that hit the UPA government.
What the manifesto says
It comes down hard on corruption. Says it would ensure minimisation of black money and will set up of a task force for this.
It also assures putting in place strict measures and special courts to stop hoarding and black marketing.
Promises the setting up of a price stabilisation fund.
"Quota policy did disservice"
I was given the task of removing corruption from the country by former Prime Minister VP Singh. The biggest issue that stalls the weeding out of corruption is the reservation policy. It has divided civil servants, who work on caste lines. Neutrality and impartial aspect of the civil service is often given the go-by. Officers with integrity should be posted in key positions. They should not be transferred at the drop of the hat.
Dr Bhure Lal, former Director, Enforcement Directorate (fera)
— Girja Shankar Kaura
education

Get RTE rolling in all states
What needs to be done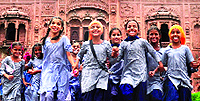 Review Act: The RTE Act was rolled out in 2010 and states were obliged under the law to meet the March 31, 2013, deadline for putting the basic infrastructure in place, including classrooms, toilets, drinking water facilities, ramps and libraries. A review of the performance of the states must be undertaken as several are yet to meet the deadline.
School education: Community building organisations engaged in education have pointed to the low quality of learning in schools, especially elementary level government schools. The 12th Plan Commission document acknowledges the challenge of poor learning outcomes and speaks of evolving measures to assess teaching. This agenda needs to go forward.
Access: Out of 125 million students who seek entry to higher education every year, only 25 million get admissions. The rest are lost in the system on account of lack of access, dearth of finances or other factors. Access must be strengthened through more colleges and universities in partnership with private players. Educational loaning system for students must become easy and flexible.
Skilling: Industry chambers say a very small fraction of graduates (5 to 20 per cent) are employable and even they have to undergo training to be industry ready. The government must engage with the industry to vocationalise education and ensure students land jobs when they exit the system.
The challenges
Finances: Although the 11th Plan stressed the expansion of higher education with several new IITs, IIMs, IISERs, IIITs and central universities, India will require 700 new universities and 35,000 colleges to meet its target of 30 per cent Gross Enrolment Ratio in higher education by 2020. India has 480 universities and 22,000 colleges. Financing the expansion is a challenge though per capita expenditure on education went up from Rs 888 in 2004 to Rs 2,985 in 2011-12.
Jobs: The International Labour Organisation estimates that by 2050, the percentage of people above the age of 65 will be 39 in the US, 53 in Germany, 67 in Japan, but only 19 in India. Former HRD Minister Kapil Sibal had said if this population is not employed well, India's demographic dividend could turn into a disaster. By 2020, 240 million students (double of today) will seek entry to colleges, and later jobs.
Lack of teachers: The higher education system is working with half the teachers' strength. Faculty shortage is pegged at 54 per cent. The student ratio is 1:20.9 against the UGC's prescribed 1:13.5.
Global ranking: The 2013 Times Higher Education Rankings showed that no higher educational institution was among the global top 200. The PU, Chandigarh, was the closest in the 226-250 group rank. No IIT made it to the list.
What the manifesto says
Promises performance audit of Sarva Shiksha Abhiyan.
Universalisation of secondary education.
Review of school curricula content.
Highest priority to shortage of teachers and employability of students through skill mapping.
Setting up a national multi skills mission.
Amendment to Apprenticeship Act to ensure students can earn while they learn.
— Aditi Tandon
health

Work towards universal coverage
What needs to be done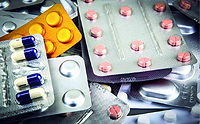 Out-of-pocket spending: The latest WHO report on health expenditure in South East Asia reveals that over 60 per cent of the health spending in India is being paid by the common man. India is third on its list of countries with the highest out-of-pocket (OOP) expenditure.
The cover: Universal Health Coverage (UHC) will ensure health security for all by guaranteeing cashless delivery of facilities of a basic minimum standard. The 2011 report of the Planning Commission's high-level expert group on coverage is gathering dust.
The outlay: Current public spending on health is 1.2 per cent of the GDP, among the lowest globally. Expenditure on UHC alone is estimated at 3.8 per cent of the GDP.
Free medicines: Central procurement of drugs must be started to ensure free supply of essential medicines.
Infant mortality: India accounts for 1.65 million under-five child deaths every year — 23 per cent of the global burden of 7.18 million deaths. Infant mortality is 42 deaths for every 1,000 births. Universal immunisation is needed.
The challenges
Finances: Experts have suggested general taxation (health cess) and taxes on tobacco products to finance the UHC. The challenge will be the tobacco lobby.
Removing disparities: Medical colleges are unevenly distributed, leading to several areas being under served. While Bihar has one medical college for 11.5 million and UP has one for 9.5 million, Kerala and Karnataka have a college for every 1.5 million. The skewed health facilities is a challenge.
NRHM: The UPA's NRHM programme was meant to increase the availability of doctors, nurses and healthcare facilities, but has not delivered its targets of reduced infant and maternal mortality. It needs a review. CAG has pointed out gaps in performance.
Human resources: India has one doctor for every 2,000 persons against the WHO norm of at least one for 1,000. The number of doctors must be raised to address the health needs of a growing population. The nurse-to-doctor ratio of 1.5:1 must be improved to 3:1.
What the manifesto says
Promises a new national health policy as the current one was framed in 2002.
UHC to reduce out-of-pocket spending.
Review of NRHM.
One AIIMS-like institute in every state.
Initiate National Health Assurance Mission for accessible, affordable healthcare.
Universalisation of emergency ambulance service 108.
— Aditi Tandon
"Public spending must go up to 4 per cent"
Health should be any government's top priority. Universal health coverage must be rolled out by 2025 and public spending on health must go up to 3 per cent by 2020 and 4 per cent by 2025.
Vinod Paul, Hod, Paediatrics, aiims
Foreign affairs

Mend fences with neighbours
What needs to be done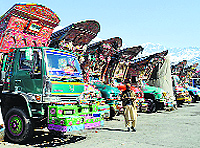 Reach out: The new government has to take some path-breaking initiatives to mend fences with neighbours and also reassert India's rightful place in the comity of nations.
Pak, China: The new government will have to prioritise ties with countries like Pakistan and China which are a threat to the country's security.
The challenges
Afghan endgame: The immediate challenge confronting the government will be the situation unfolding in Afghanistan in the run-up to the withdrawal by foreign troops. India, which has huge stakes in the stability of Afghanistan, will have to ensure that it does not become a mere spectator in the endgame in the embattled nation.
Talks with Pakistan: The new Prime Minister's diplomatic skills will be put to test when it comes to dealing with Pakistan and China. Pakistan has already indicated its desire to resume the stalled dialogue quickly once a new set-up is in place in Delhi. However, India must make it clear to Pakistan that terror and dialogue cannot go together. Bilateral trade will get a boost with Pakistan expected to give Non Discriminatory Trade Access (NDMA — a term coined by Islamabad in place of MFN) to India.
China factor: With parallels being drawn between the young new leadership in China and the one which is assuming office in Delhi, here is an opportunity for the two Asian giants to open a new chapter in bilateral ties. Having drawn lessons from the May 2013 prolonged military standoff at Depsang in the Ladakh sector, New Delhi will have to do some tightrope walk to ensure that Beijing lives up to its commitment to maintain the sanctity of the LAC. One may see considerable progress on proposed Chinese industrial parks in India and the Bangladesh-China-India-Myanmar trade corridor. However, India will have to nudge China to see that its pharmaceutical, IT and agriculture sectors are provided unhindered access to Chinese markets so that the yawning trade deficit could be bridged. Notwithstanding the fate of Sino-Indian relations, Delhi is expected to consolidate the strategic relationship with Japan.
US ties: US President Barack Obama has gone on record to say he was looking forward to working with the new dispensation in Delhi. However, it will not be easy for both governments to repair the relationship affected by the arrest of Indian diplomat Devyani Khobragade in New York.
Neighbours: Putting relations with Sri Lanka, Bangladesh and other neighbours on a high pedestal will also be high on the agenda of the new government.
What the manifesto says
The party has made it clear that its government will accord priority to pursuing friendly relations in the neighbourhood but would not hesitate from taking strong stand and steps when required.
It has also promised to strengthen regional groupings like SAARC and ASEAN.
"Pak, China a threat"
The new government will have to accord priority to dealing with countries such as Pakistan and China which are the most problematic for India and endanger its security.
Kanwal Sibal, former foreign secretary
— Ashok Tuteja
Agriculture

Innovate to increase productivity
What needs to be done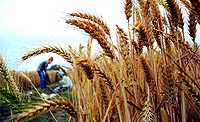 Scientific intervention: Apart from policy inconsistencies, the sector now also has to deal with issues like climate change. One of the main responsibilities of the government will be generation of innovative ideas — scientific and technical interventions — to increase productivity, tackle temperature variations and reduce dependence on the rain god.
PDS: Plug loopholes in PDS
Yield: While production has gone up remarkably, productivity or the average yield continues to be poor. Experts fear that India may become a net importer of food grain in another 20-30 years to feed its growing population.
Water resources: Limited water resources and unavailability of irrigation in large tracks of farmland (more than 66 per cent) makes the situation tougher. The current water use efficiency in irrigation is just about 40 per cent. There is an urgent need for efficient technologies for the judicious use of water.
The challenges
Small growers: Ranking second worldwide in terms of output, agriculture is the principal means of livelihood in India. However, despite a slew of subsidies (fertilisers and diesel) and sops like farm loans and waivers, the sector continues to suffer. The feeling is that government benefits were cornered by affluent farmers, leaving marginal and small growers to fend for themselves.
Suicides: An increasing number of farmers are committing suicide across the country, including the affluent Punjab.
Productivity: The subsidy on fertilisers has taken a toll. Overuse has resulted in the degradation of land and reduction in productivity. The Green Revolution was aimed at self-sufficiency in wheat and rice and its growers benefited. But the dedicated concentration that changed Punjab, Haryana and western UP into grain bowls has left many parts in desperate need of attention.
Monsoon: India depends on monsoon and with the IMD predicting less than normal rains, it may be the first challenge before the new government.
What the manifesto says
It is committed to agricultural growth; increase in farmers' income and rural development.
Will review laws and schemes to ensure a corruption-free efficient implementation of food security.
Revision of existing PDS with best practices followed worldwide.
Address under-nutrition and malnutrition.
Encourage production of cereals, pulses and oils.
Transform the Food Corporation of India.
Increase public investment in agriculture and rural development.
Enhance profitability in agriculture — minimum of 50 per cent profits over the cost of production.
Cheaper agriculture inputs and credit and latest technologies for farming and high yielding seeds.
Linking MGNREGA to agriculture.
Low-water consuming irrigation techniques and optimum utilisation of water resources.
Soil assessment based crop planning.
Agro food processing clusters.
Organic Farming and Fertiliser Corporation of India to promote organic farming and fertilisers.
GM foods will not be allowed without full scientific evaluation.
National land use policy to look at the scientific acquisition of non-cultivable land and its development.
— Vibha Sharma
Home Ministry

Time for Pan-India anti-terror centre
What needs to be done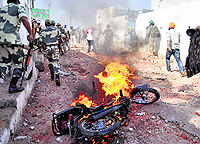 Fighting terror: The fulcrum of ensuring smooth internal security will be the Home Ministry. The government will have to consider setting up a pan-India anti-terror body. The outgoing UPA-II had proposed the National Counterterrorism Centre (NCTC), but Chief Ministers, largely of BJP-ruled states, including Gujarat, opposed it. The sooner sense dawns, the better it would be. The Modi government should ensure the formation of such a centre. Centrally monitoring tips-offs on terror is perhaps the only option to bring about the diverse police forces on the same page and the same level of involvement. This can ideally be under the Intelligence Bureau.
Riots: The communal situation has been tense in the past with incidents of riots being reported from Uttar Pradesh, Bihar, Madhya Pradesh, Rajasthan, Assam and Maharashtra. The Communal Violence Bill, which would empower the Centre to send in forces in case of communal riots, can be considered. But policing is a state subject and could face trouble from states.
NATGRID: The NATGRID, which collates information from 21 databases to keep tabs on suspicious people, is ready, but it should be expanded. Naxals have largely been on the back-foot in the past several years. The new government has won comprehensively in Jharkhand and Chhattisgarh and would want peace to prevail. Covert operations to nab people like Mujahideen's Yasin Bhatkal in Nepal or Abu Jundal, one of the masterminds of 26/11, from Saudi Arabia, will need the nod from the very top and a lot of diplomacy.
TADA, POTA: The government should not rake up repealed laws like TADA and POTA and create fear psychosis. Such laws are largely misused by corrupt policemen to put anybody behind bars on false charges. The Unlawful Activities Prevention Act (UAPA) amended in 2009 is potent enough to tackle all terror acts, besides money laundering.
The challenges
Nonpartisan: Almost a dozen persons of right-wing affiliates are behind bars and facing various charges for blasts in Malegoan, Ajmer and onboard the Samjhauta Express. The Home Ministry will have to be fair and not even seem to favour any such person. Notably, in the past, people have been punished for the Gujarat riots and this includes a minister in the Modi's state Cabinet. The intelligence agencies work in silos and sharing of information takes place on a need-to-know basis. Can a Modi-led government bring in a change?
Reorganisation panel: There has been a demand to create a states reorganisation commission. The government should look into this demand.
What the manifesto says
It promises zero-tolerance on terrorism, extremism and crime. No compartmentalisation, but a clear roadmap to address these issues.
It talks about reforms in the national security council, which will be accountable for disseminating real-time intelligence. At present, the multi-agency centre under the Intelligence Bureau does it.
The BJP had talked about a national plan to tackle Maoists and also setting up a system for the swift and fair trial of terror-related cases.
— Ajay Banerjee
defence

Decrease dependence on imports
What needs to be done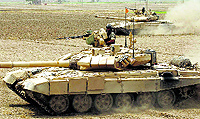 New arms: Sharper focus is needed on revamping the lackadaisical process for acquiring new weapons, aircraft, warships and guns. Too many layers in the process allow middlemen to enter. The domestic defence production base needs to be built upon and focus should be on locally produced equipment like the LCA-Tejas fighter aircraft, Arjun tanks, under-production 155 MM artillery guns and Shivalik-class warships.
Joint production: Emphasis must on joint production. The Fifth Generation Fighter Aircraft being produced with Russia needs to be disentangled from the web of issues. India is seeking drawings and designs of the engine which Russia is reluctant to share. The multi-role transport aircraft project between the two countries is not even off the drawing board. The US has offered co-development of military products, which could be considered.
Sea vessels: Power projection in the Indian Ocean will need greater thrust by way of adding sea-going vessels and over flying specialised surveillance planes. The two nuclear-powered submarines planned to follow the Arihant, the first home-build nuclear-missile-capable submarine which will need to be readied for sailing in the next five-six years. The INS Vikrant, the indigenous aircraft carrier, is under-construction since 2009 while its follow-on ship needs to be scheduled for construction.
Maritime authority: A new maritime authority with a dedicated security adviser is needed.
Arty guns: There has been a five-year delay in the purchase of 126 fighter jets from French-maker Rafale. The artillery gun purchase programme has not moved an inch and not a single new gun has been purchased since the late 1980s. The Ordnance Factory Board's 155 MM replica of the Bofors holds promise and can be made the standard artillery gun. New rifles are needed for troops, who are using 20-year-old design INSAS. Not a single conventional diesel-electric powered submarine has been produced in 15 years. The six under construction at the Mazagon docks, Mumbai, need tighter time schedules.
Self-reliance: The outgoing Defence Minister AK Antony's focus on 'made in India' can be followed more zealously for India to be self-reliant and less dependent on imports. The aspect of integrating the armed forces with the Ministry of Defence, which was ignored by Antony, can be taken up.
The challenges
Funds: The BJP-led NDA has got the majority in the Lok Sabha and will have no alibi of facing pressure from allies, but providing money will be a challenge. The Defence Budget for the year 2014-15 hovers around $37 billion while China has $ 131.57 billion budget for the year.
Mountain corps: More than Rs 70,000 crore is needed to raise the mountain strike crops aimed at stalling Chinese aggression.
Coastal radars: A chain of 46 coastal security radars has come up. The next phase needs money and planning. More dedicated military satellites to augment the lone naval satellite, Rukmini, are required.
What the manifesto says
Defence manufacturing will be encouraged and local industry will have a larger share in producing military hardware.
The government will ensure greater participation of armed forces in the decision-making process of the Ministry of Defence.
— Ajay Banerjee