Junior football camp kicks off in city
Trials to be held till June 6; open trials scheduled for June 7
Tribune News Service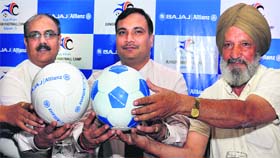 Jigar Singh, former football player (first from right), along with a representative of Bajaj Allianz during an interaction with the media in Jalandhar on Thursday. Tribune photo: Malkiat Singh
Jalandhar, May 22
Continuing their tradition of holding camps to dig out sporting talent in various cities, Bajaj Allianz Life Insurance is all set to launch the selection process for the Junior Football Camp (JFC) in Jalandhar for the second consecutive year. The firm has launched the selection process in the city for the second time and for the fifth consecutive year nationally.
This year, a talented teenager from the North Zone, which includes cities like Jalandhar, Delhi, Chandigarh, Lucknow and Dehradun, will get a chance to participate in the international football camp to be held in Munich, Germany, in August. In addition to this, cash prizes worth Rs 75,000 will also be given to the winning team in the zonal final.
The Jalandhar camp will target 1,500 students from across 25 top schools, football clubs and academies in the city. In addition, Bajaj Allianz will also conduct the selection process in Mumbai, Pune, Chandigarh, Dehradun, Delhi, Kerala, Goa, Lucknow, Bangalore, Kolkata and the North East. Over, 40,000 youngsters will be targeted during the selection process that will take place in June and July across the country.
Trials (to be held at over 25 schools in the city) to select the best two-three players from each school - have already begun. The screening process started on May 6 and will continue till June 6. Open trials will be held on June 7 for students who were not part of the selection process. Students still interested in participation can give a missed call on the phone number - 022-3301-0033. Commenting on the initiative, Prabhat Tripathi, Zonal Manager, Bajaj Allianz Life Insurance, said, "The objective of the football camp is to provide a platform for young talent in football in India. Last year, Rahul Atwal from Jalandhar was chosen and got the opportunity to attend a training camp in Thailand. This year, the stakes are being raised and the winner will get a chance to visit Munich in Germany to train under coaches from FC Bayern Munich - one of the best football clubs in the world. The winner will also interact with football players from the club."
Jigar Singh, former international football player, said the camp is a great opportunity for sportsmen to interact and learn from the best talent in the world.