Culture needs cash, not just policy
Vandana Shukla talks to Ratan Thiyam,
thespian & NSD Society chairperson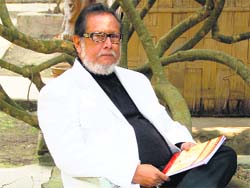 ratan Thiyam, playwright-theatre director and winner of RS Sangeet Natak Akademi Award (1987), Padma Shri (1989) and John D Rockefeller Award (2008), was awarded the Sangeet Natak Akademi Fellowship in 2012, the highest honour conferred by the akademi in performing arts. Born in 1948, Thiyam is known for writing and staging plays that use ancient Indian theatre traditions and forms in a contemporary context. A former painter, proficient in design, script, music, dance, choreography, costume design and direction, Thiyam is a great poet too. He is treated as one of the leading contemporary theatre gurus, in the league of Peter Brook, Tadashi Suzuki and Jerzy Grotowski. He is also the founder-director of Chorus Repertory Theatre, set up on the outskirts of Imphal in 1976. His productions profess a deep concern for social welfare and spiritual yearnings in the midst of the political chaos of the modern world. He uses ingenious stagecraft of breathtaking aesthetics and laces it with profound and layered meanings. This lends a universal appeal of his theatre, which has taken his troupe to 30 countries. Thiyam is a former director of the National School of Drama (1987-88) and is presently the chairperson of the NSD Society. Excerpts:
For a country of such cultural diversity, why should there be just one NSD in the Capital?
We are trying to decentralise many things. We are hoping to make the NSD a centre for excellence or advanced studies. A lot of work is concentrated around reaching out to the people from all the states of India, as also outside India, in this effort. People say it is confined to Delhi and we are trying to come out of this frame. It is a difficult task. We have been successful to a certain extent. We have introduced several initiatives with other culturally conscious organisations. The NSD opened Regional Resource Centres (RRC) across India, the first of which was opened at Bangalore in 1994. But I do agree that we need many regional schools of theatre in India. For the last two years, the NSD has been associated with the Delhi International Arts Festival — a cultural extravaganza of dance, music, theatre, films, exhibitions — and OCTAVE, a cultural festival organised by the Ministry of Culture in collaboration with the Zonal Cultural Centres, in which it was involved as one of the nodal agencies.
Many of our traditional art forms, especially in the genre of folk theatre, are dying. What is the NSD doing to save them?
We have introduced two festivals — Adi Rangam and Adi Bimb. They have turned out to be highly successful in bringing the art and traditions of the tribal people to a bigger platform. Adi Bimb, the first-of-its-kind tribal art festival, was held in the sleepy village of Dwaronda, near Santiniketan in West Bengal, with nearly 600 folk artistes and 30 tribal groups in February this year. It was a very successful national tribal festival, but then journalists asked me why we were doing it in a village nobody knew about. We were trying to showcase that scarcity of resources does not affect the richness of art. Tribal life is still very rich because they live with nature. Their demands are basic — fire, water, cow dung. They live by making few demands on nature and contribute little to corruption. Rising demands from limited resources causes corruption. Then it spreads out everywhere like an epidemic. For them, it's difficult to get corrupted because their demands are few. It is for us to learn how to celebrate life and art on minimalist resources. They have enticing songs. They dance without rehearsals. They can go on the whole day — eat, sing, talk. We introduced journalists to a different way of life and art, which was not possible in Delhi. Then, we did Adi Rangam in Mumbai; to introduce the tribal rituals and performing arts by over 650 tribal artists from Kashmir to Kanyakumari and the North-East. From them we could learn the basics of existence without technology and artificial comfort. The extinction of art forms is worrisome. We are trying to revive them but we are equipped with only a small mind. How much can we do?
You once said real art attacks the wrong system. In the times of corruption, how does art help?
Art is made of only two things — beauty and truth. What is stated in "satyam shivam sundaram" is eternal and universal. These two components lead to aesthetics. Naturally, when you look at beauty, you cannot see ugliness. You can't look at wrong things when you look at the truth. Art creates aesthetics. Its very basis is truth and beauty. It is very simple, but at the same time, difficult to practice.
India has nothing to showcase except its culture. Why don't we have a policy?
The policies are in place. At different times, different committees were set up to work out a plan. The Bhabha Committee (1964), Khosla Committee (1972) and Haksar Committee (1989), all have submitted their reports. In October 2013, Parliament's standing committee on transport, tourism and culture recommended a comprehensive review of the constitution and working of the autonomous cultural bodies like the three akademis, NSD, Indira Gandhi National Centre for Arts and National Gallery of Modern Art. It suggested, only artistes should be allowed to head these institutions and the autonomy of these institutions should be maintained. It also suggested that a culture cadre should be created, specifically to man the culture organisations. But when your entire budget for culture is zero, almost zero, how can you think of a culture policy? Culture is not their priority. You can think of a policy when you have some money in hand. All these policies are there without the money to implement them. I am on a high-powered committee on culture, but I feel it is a mockery when we have policies and no money to implement them.